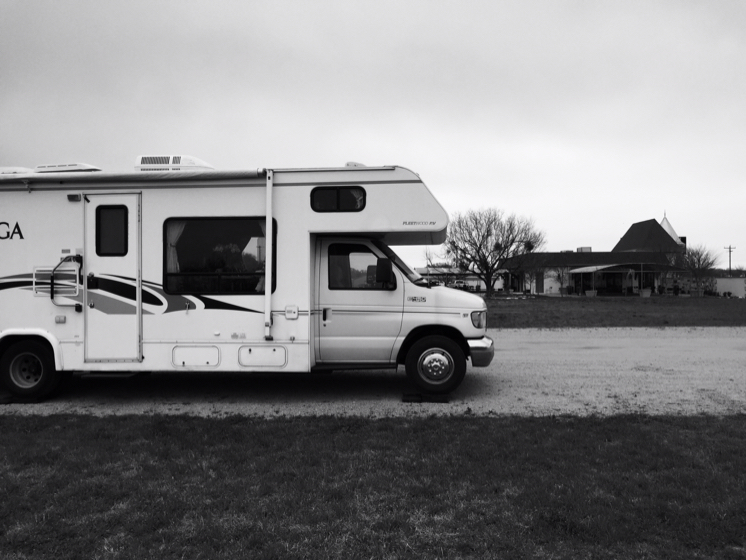 Our first ever Harvest Host stay!
Current Location: Ft. Stockton, TX
A day without a friend is like a pot without a single drop of honey left inside.
~ Pooh Bear
~~~~~//~~~~~
As always, one of our favorite parts about exploring the country is catching up with family and friends. We stopped in the Houston area for a visit with friends and loved getting to catch up with them, though they may have gotten more than bargained for!
You may not recall that on our very first day on the road, almost 2 years ago, about 30 miles into our sojourn, we ended up stopping and getting a front brake caliper replaced. Apparently we should have gotten both of them, as we've been having intermittent issues with the other. We finally decided to have it looked as it'd been acting up more over the past month, and thinking it would give us an additional evening with friends in the area (which it did!)
Arriving in Conroe, TX Wednesday, we stayed at a nearby campground for two nights, catching up on some chores during the day and visiting in the evenings. Friday morning we pulled into a heavy-truck repair shop and they got right to work on the brakes. That night we stayed at Brant and Jami's house, enjoying our time with them and their super-cute kiddos. Saturday we picked up the RV just 30 minutes before the shop closed for the weekend and prepared to set on our way.
The drive between the shop and the house, however, gave Matthew pause for concern, the RV was pulling to the left and the brakes smelled hot – but it was too late, the shop was closed for the weekend. Generous, gracious hosts that they are, Brant and Jami allowed us to stay with them a couple more nights while we left the RV at the shop and waited for them to re-open on Monday. Monday morning we were there as the doors opened and they quickly determined that the rotor assembly also needed replaced as it was warped beyond adjustment.
They didn't finish until mid-afternoon, so we spent one more night with friends, time that Ashley and I certainly enjoyed. It was great to catch up and get to know their children (whom we hadn't previously met!) and even be there for the arrival of the newest family member, an adorable furball named Bella. A few years ago, Ashley was set on getting a Golden Doodle puppy, so seeing as that never panned out she was happy to help as a temporary puppy-sitter.
Tuesday morning we hit the road (no false starts this time!) and traveled on to the Texas Hill Country for a couple of nights in Fredericksburg, one of which was at our first "Harvest Host". We were thrilled to try a new type of overnighting experience at the Messina Hof Winery. Harvest Hosts are a network of vineyards, farms, museums, and more that allow free overnights to travelers (with the expectation of a small courtesy purchase in exchange). It was a delightful, quiet place to spend the night and we enjoyed looking around their tasting room and property.
Now we're just north of our next National Park, Big Bend. There doesn't seem to be any cell signal there, so we're going to be off-grid for a few days. We're excited by the opportunity for hikes, bicycle rides, and being out of urban environments once again!
Trucking Along,
Matthew & Ashley
P.S.- There's still some of Ashley's Adventure-Some Soaps available on Etsy (which is stored in our shower when traveling). If you're curious/interested, here's the store: www.etsy.com/shop/AdventureSomeSoaps