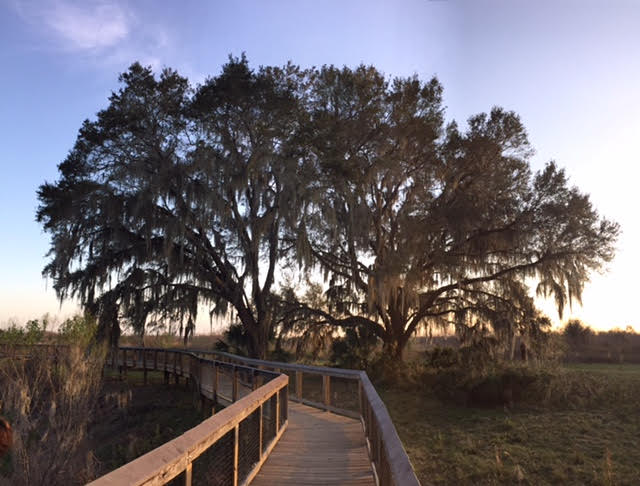 Oak tree with Spanish Moss in Paynes Prairie State Park
Current Location: Conroe, TX
Little by little one travels far.
~ Spanish proverb
~~~~~//~~~~~
Since last week we've continued on in traveling mode… spending a couple days in Gainesville, FL with some superb family, Ashley's Uncle and Aunt – Jack and Arlene. The timing though was less-than-ideal as we managed to visit on their once-in-a-decade cold catching… though thanks to Ashley's hospital-honed immune system we seem to have emerged safely from the house of pestilence. We had a wonderful time despite the germs, as any time spent with them is great. We stayed at Paynes Prairie State Park for a night where we had fun riding our mountain bikes around the park trails. We also we made a day trip over to St. Augustine during our visit.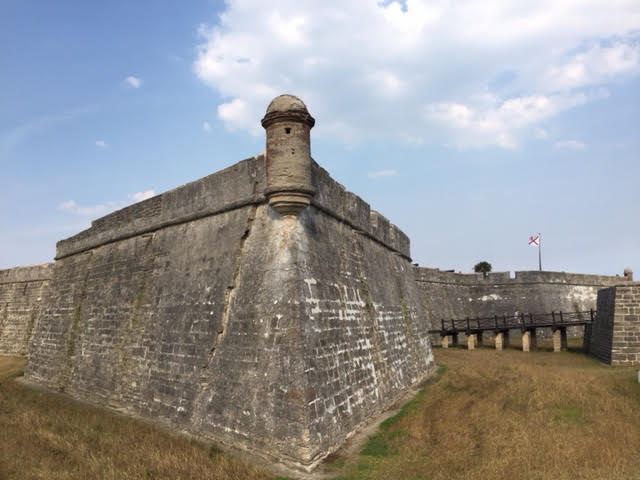 Castillo De San Marcos National Monument, St. Augustine, FL
Leaving Gainesville we traveled across the Florida panhandle and spent the night in a lovely National Forest campground (for only $3!), then a night in Alabama and two in Mississippi at Gulf Islands National Seashore in Ocean Springs. One night at Gulf Islands just wasn't enough so we played the RV shuffle to snag another walk-up site for a second night.
32 National Parks (of the 47 in the contiguous US)
34 states (of 48)
7 National Park Sites
Then it was on to Louisiana. As huge fans of cajun- and creole-inspired foods, how could we not stop! According to our research, a good place to visit for authentic creole food was a family owned and operated place called Dooky Chase, established in 1941 and famous for becoming the meeting place in New Orleans for civil rights as well as music and entertainment. It has also been frequented by many Presidents while visiting the area. Since it's the only place we ate, we can't compare, but everything was delicious! Ashley enjoyed one of our favorites, red beans and rice with some smoked sausage while Matthew sampled everything on the lunch buffet. And the peach cobbler grand finale was fantastic! To walk off some of the meal we headed into the French Quarter for a stroll. It's not quite our kind of place, but it was interesting and at least we can say we've been there!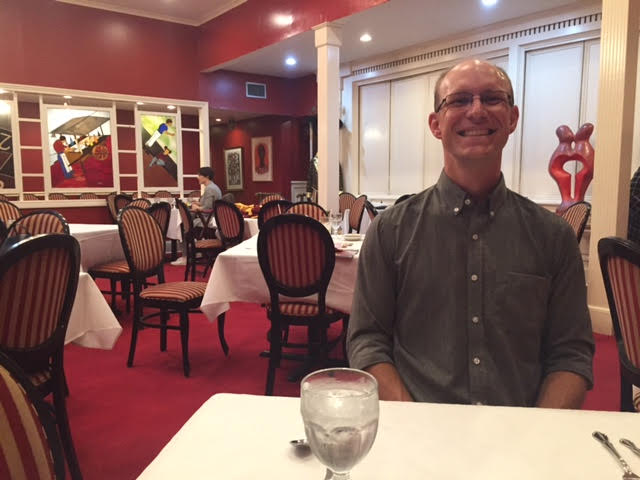 Dooky Chase restaurant, New Orleans, LA
Next was a trip north of Houston, TX to visit some friends we haven't seen in years. We pulled in yesterday afternoon and settled in to a campground. Having multiple past experiences playing Cousin Eddie in a series of parking lots and neighborhood streets while visiting with people it felt awfully nice to pull into a campground and know we'd be stationary for a couple of nights! We visited last night and look forward to more time together today.
This week will find us travelling through Austin, TX and "hill country" on our way to Big Bend. Unfortunately, I think we'll be running in to spring break crowds at Big Bend, but we're hoping we'll still manage to grab a spot somewhere. With Texas being mostly privately owned land, there aren't a lot of choices as far a free/cheap camp spots go. Once we hit Big Bend and Guadalupe Mountains we'll head in to New Mexico and hopefully slow down our travelling pace a bit.
Adventuring Away,
Matthew & Ashley
P.S.- Ashley still has soap available in her Etsy store, in case you might be interested in some: www.etsy.com/shop/AdventureSomeSoaps