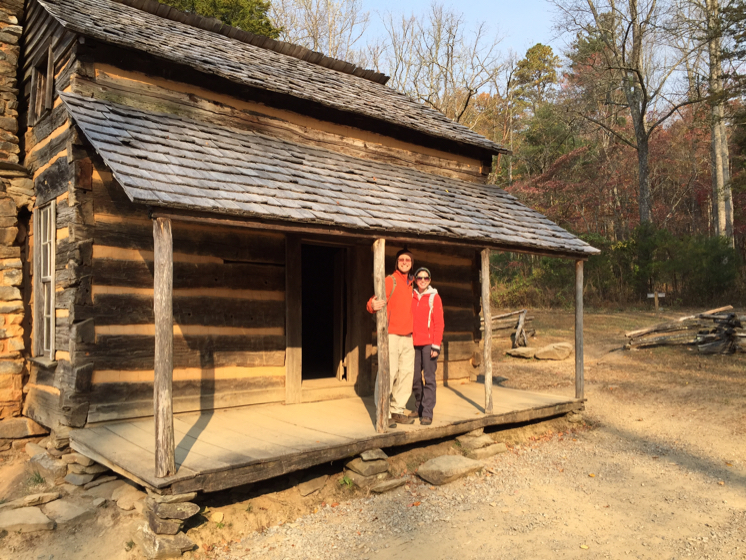 Current Location: Fayetteville, NC
Work hard, save your money, and keep your nose clean.
~ Sam French, Jr.
~~~~//~~~~
This week finds Adventure-Some on the night shift! While it doesn't seem like a lot has happend in the last few days, at the same time everything has changed since our last email!
We visited with Ashley's sister, bro-n-law, and the nieces for a few fabulous days in Newport, TN. While there they took us exploring in nearby Great Smoky Mountains National Park, where we had a wonderful day checking out historic buildings (like a working mill with a water wheel), watching sorgum molases being made, and hiking along a delightful creek up into the mountains. Our timing worked out splendidly, as we even got to see Bailee (our oldest niece) on her 13th birthday!
Then it was time to continue on our way to Fayetteville where we settled in at our current location at Lake Waldo's Beach RV Campground. Of course, there is no lake, as the levee was damaged over the summer and has been drained for repairs, which the recent Hurricane Matthew delayed.
Ashley made it through two days of hospital orientation and then a couple of night shifts on her unit. Tonight she will begin working on her own. Since she's going to be working nights she is planning on sticking to a sleep-during-the-day schedule to make it easier. Matthew's also switched sleeping schedules so that we can maximize our time together.
Sleep deprived while switching schedules and focusing on orientation, we've been relative homebodies this past week. Cooking, reading, and getting out for a little bit of local exploration have been our primary activities.
Starting Thursday Ashley's going to have a 4 day weekend, however, so we expect to get some different type of adventuring done then.
Until next week, Happy Thanksgiving!
Adventuring away,
Matthew & Ashley