Our last post explained the logistics and preparation of our Wonderland journey, so now on to the good stuff, the actual trip and daily notes we took along the way.
Day 0
From Bremerton to White River Entrance
Ranger Jonathan at the White River Backcountry Information Center got us a permit on the 1st try at 2pm. Matthew motorcycled to Longmire to drop off our food cache and got there just before closing time at 4:59 pm. We overnighted at White River Campground which was super convienient because we start the trail tomorrow at the White River trailhead a few hundred feet away.
Day 1
White River Campground Trailhead to Granite Creek Camp (8 mi)
It was a short day and we arrived in camp at about 12:30 pm. It was a good way to start out, an uphill climb most of the day so a good way to break in and get our legs used to climbing. We were assigned to the group site and had a pit toilet and bear pole all to ourselves. We heard from another group that tonight was accidentally overbooked (apparently the permit admission system had been glitchy) so we might end up having to share sites. We took a nap and woke up to some neighbors in our camp site, which was fine with us, there was plenty of space and we were just happy to be on the trail. Clear skies today gave us some views of Rainier from the Sunset area of the Park.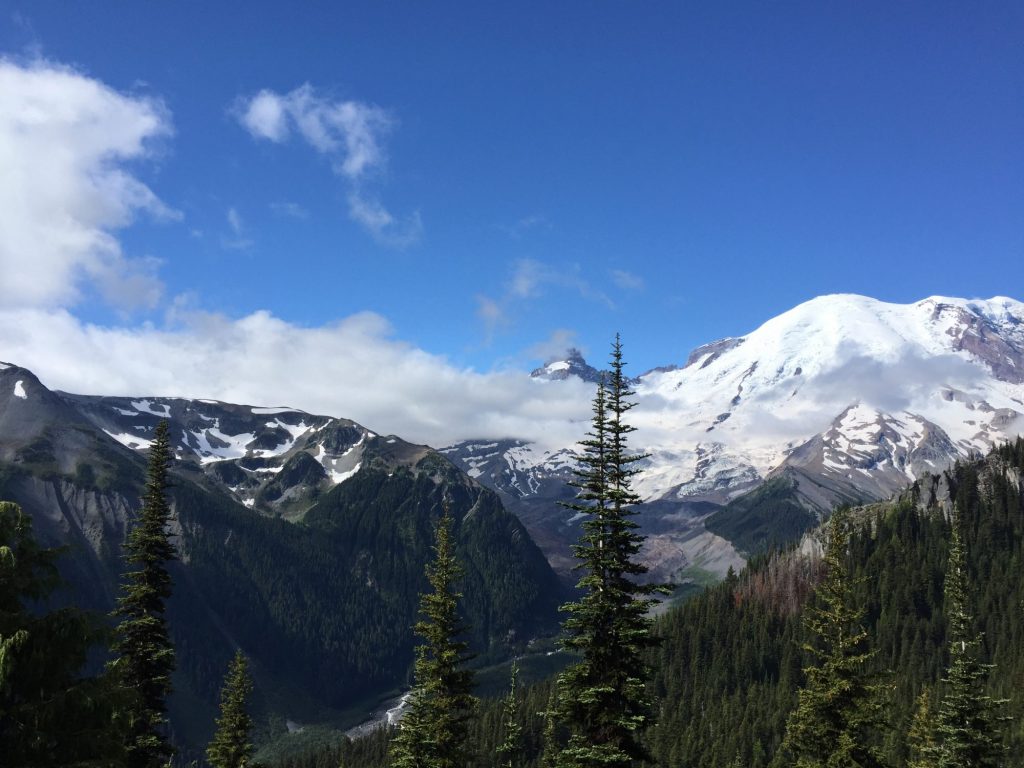 Day 2
Granite Creek to Cataract Valley on Spray Park Trail (10.5 mi)
Passed Mystic Lake today around our mid-way point and soaked our feet in the cool water for a while. Passed trail crews working along the way. Also picked and snacked on cloudberries growing alongside the trail, what a delicious treat! We are taking the Spray Park trail as an alternative to the official Wonderland trail for this section as it is supposed to be more scenic. Cataract Valley camp was overbooked and pretty crowded (there were like 3 groups that had to share the group site) but we arrived early enough that we had a spot all to ourselves. It was very damp in the evening, I think we hiked into and camped right in the middle of a fog layer.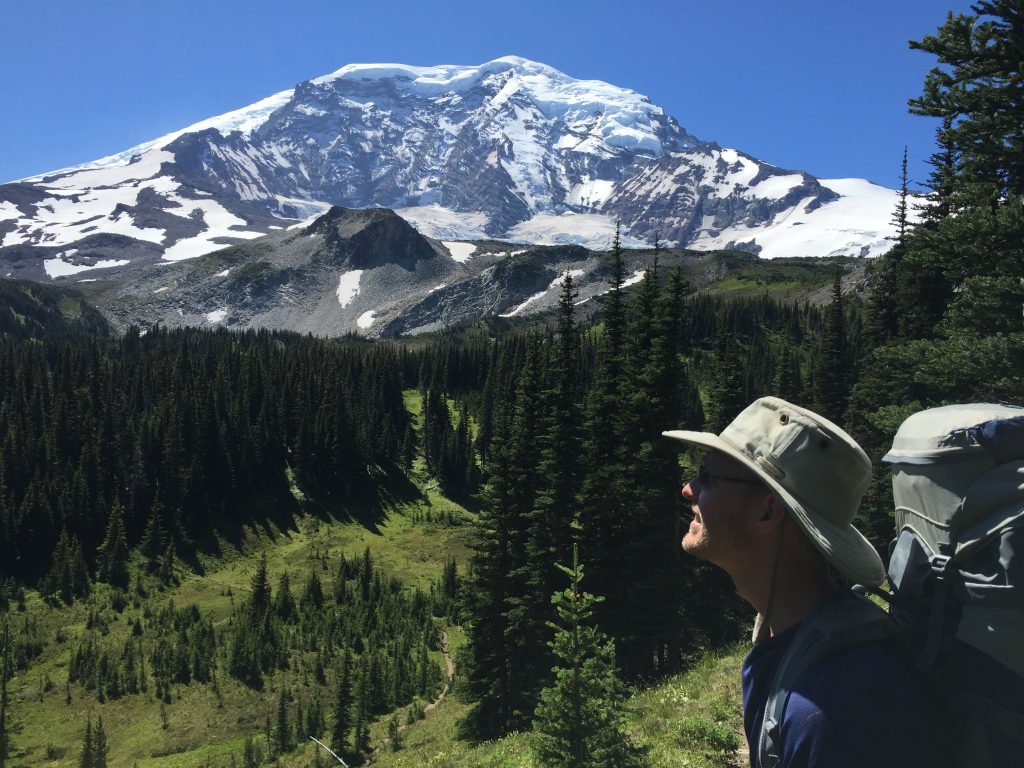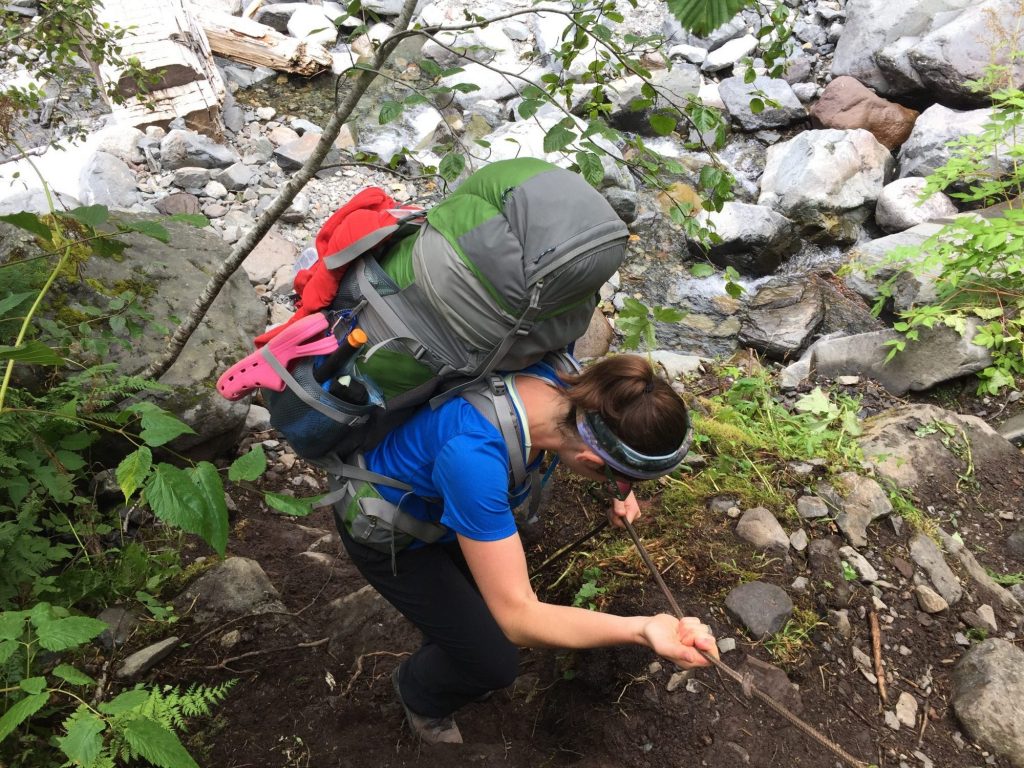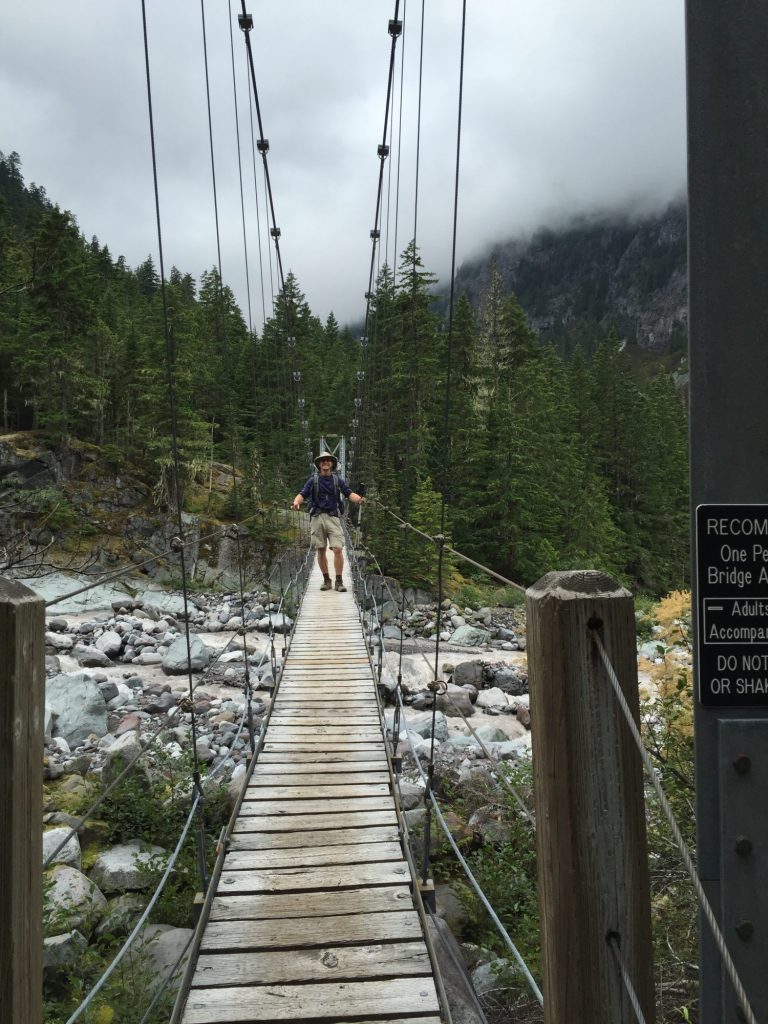 Day 3
Cataract Valley to South Mowich River Camp (10.2 mi + 0.6 mi detour to Mowich Lake = 10.8 mi)
The meadows of Spray Park were amazing and filled with tons of mulitcolored wildflowers! Rainier was towering above us, overlooking the beautiful meadows. We crossed some snowfields here and climbed along talus slopes but nothing troublesome. The flies and mosquitoes were out with a vengeance today though! We made a detour up to Mowich Lake for water and extra toilet paper (the one thing I should have packed more of for this leg! – we have a roll waiting in our resupply cache). Made our way down to South Mowich River and got a great sandy camp site right on the river with lots of sunshine. We were able to dry out all of our damp stuff from camping in the cloud at Cataract Valley. South Mowich River camp has a neat little shelter, but the weather was so incredible no one had to use it. We scooped up some river water in a gallon ziplock and took our first ziplock bath of the trip, washed our sweaty socks, dried out in the sun, and enjoyed the rushing sounds of the river 🙂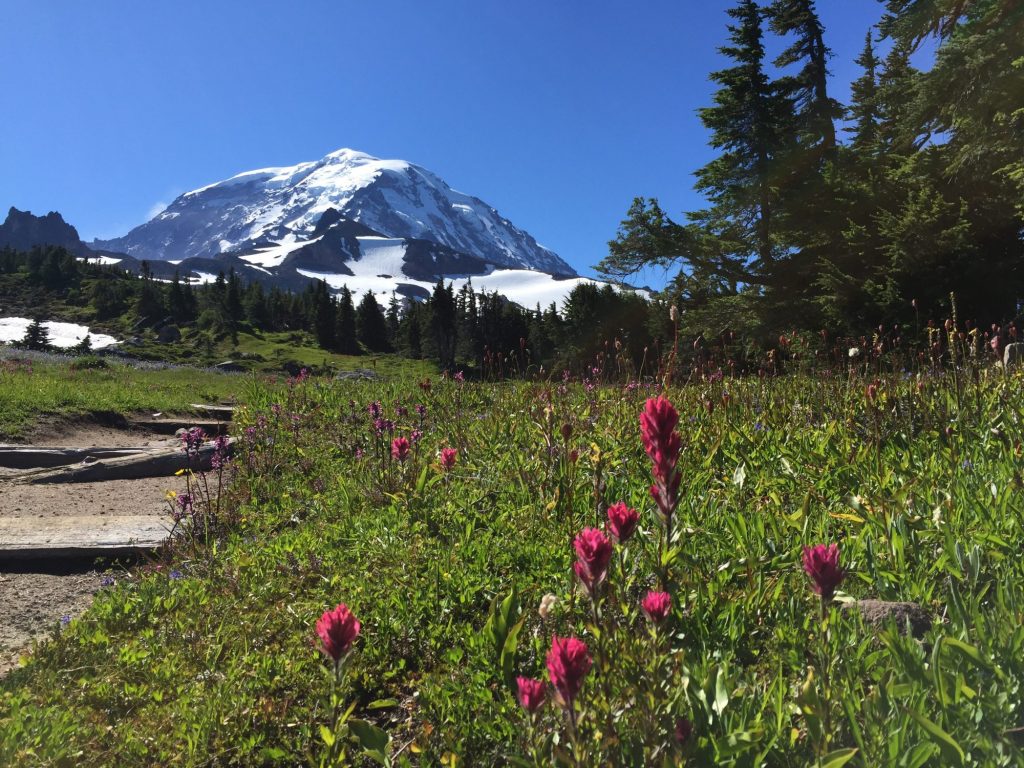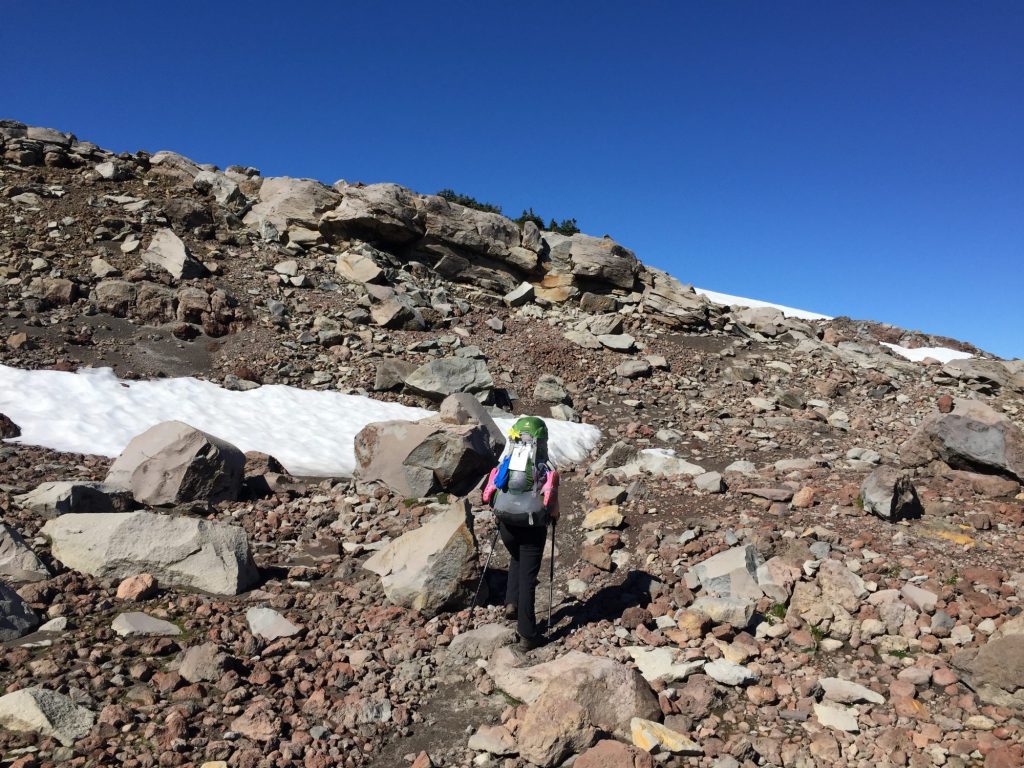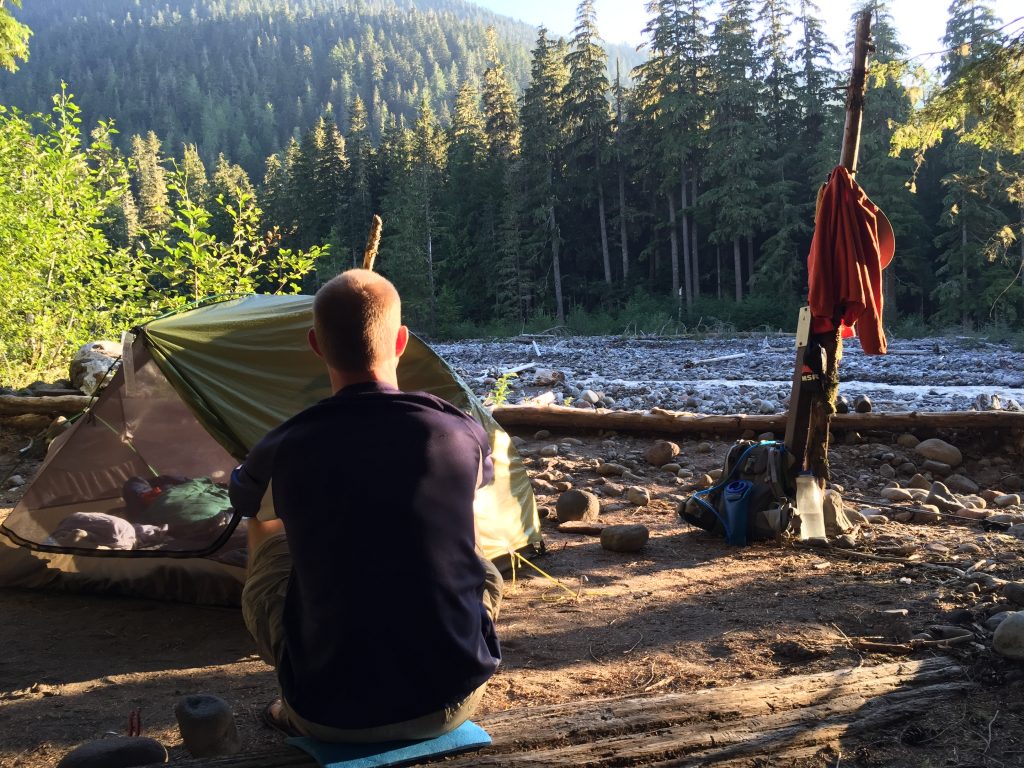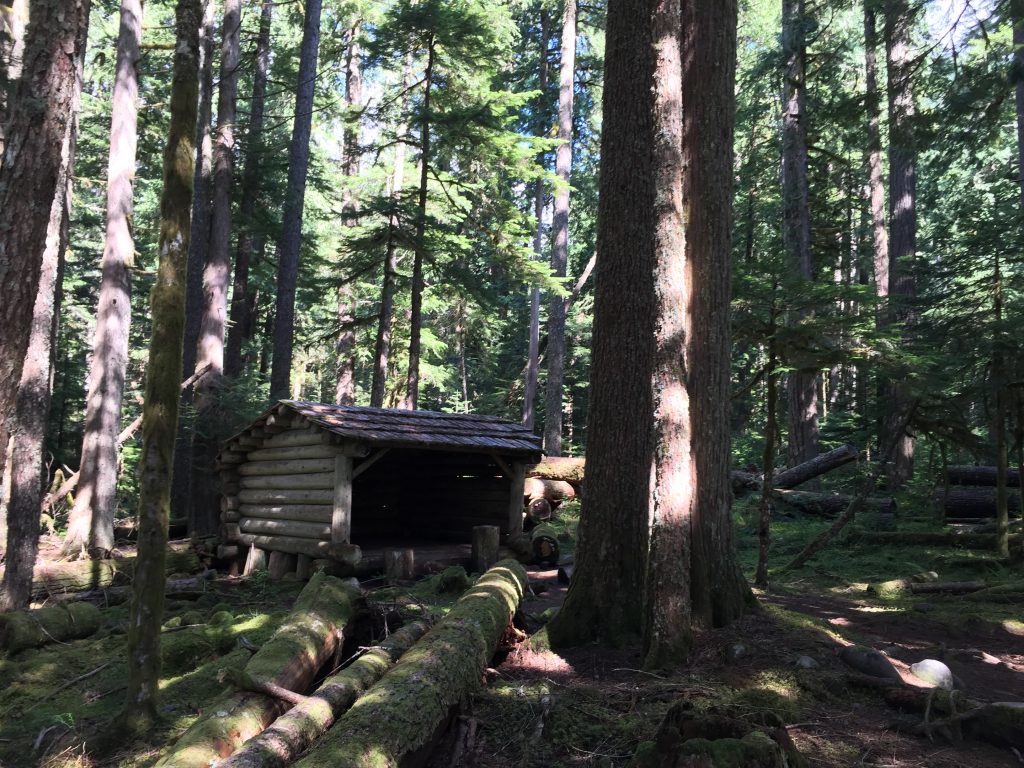 Day 4
South Mowich River Camp to North Puyallup River Camp (11 mi)
It was a long but gradual uphill hike to Golden Lakes where we stopped for water and lunch. Got to camp around 2 pm and headed 0.1 miles down the trail to the bridge overlook on the North Puyallup River. What an amazing view! Stunning ridges and cascading waterfalls. We ate dinner on the rocks, admiring the view, and chatted with a group of 4 from Seattle we had been leap-frogging with the last few days. We also found more cloudberries and wild mountain strawberries to snack on! Our favorite camp area thus far!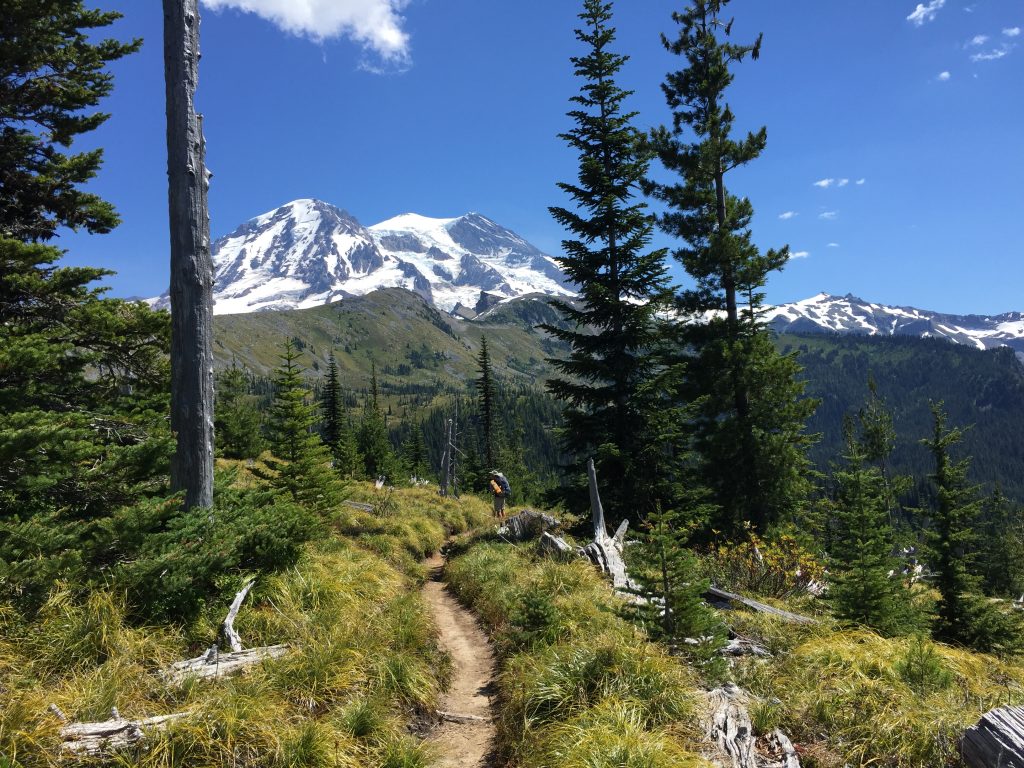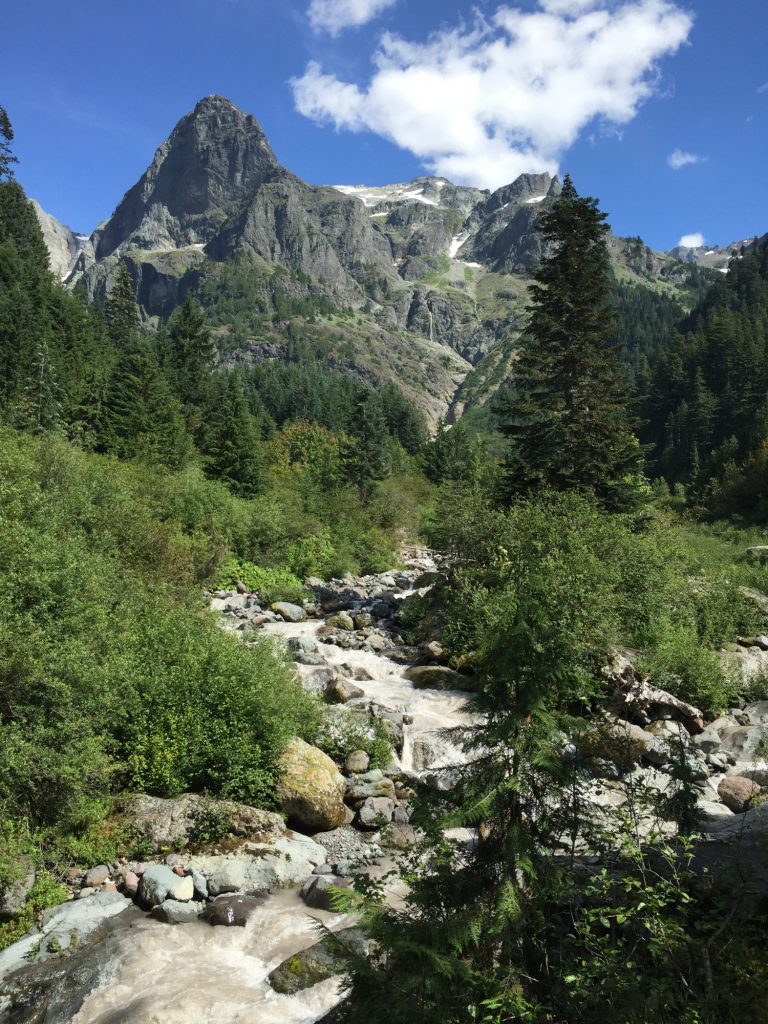 Day 5
North Puyallup River to Devils Dream Camp (13.5 mi)
Killer day but some of the most outstanding views! After our morning climb to Klapatche Park (where we snacked on berries the whole way up) we took a pit stop and much needed swim at St. Andrews Lake. We didn't bring swim suits, but trail traffic was pretty slow so we took turns being the lookout while the other went for a quick skinny-dip. We felt like whole new, fresh people afterward. The amount of sweat that has poured out of our bodies each day is baffling. It was a roller coaster of ups and downs today, and I was out of energy by the end of the day, but it was so worth it. Our favorite view was at the top of Emerald Ridge, where we finally got a sense of just how spectacularly massive and imposing Mt Rainier is. We could also really see the stunning blue tinge of color in the crevasses of the glaciers. Indian Henry's was also really beautiful with meadows full of flowers – only wish we had admired it a bit longer, but it was nearing the end of our day and I was itching to be done. We arrived to camp pretty late for us, around 6 pm, and ate our much earned Chili Mac while swatting away at the mosquitoes. Devils Dream was a very buggy area.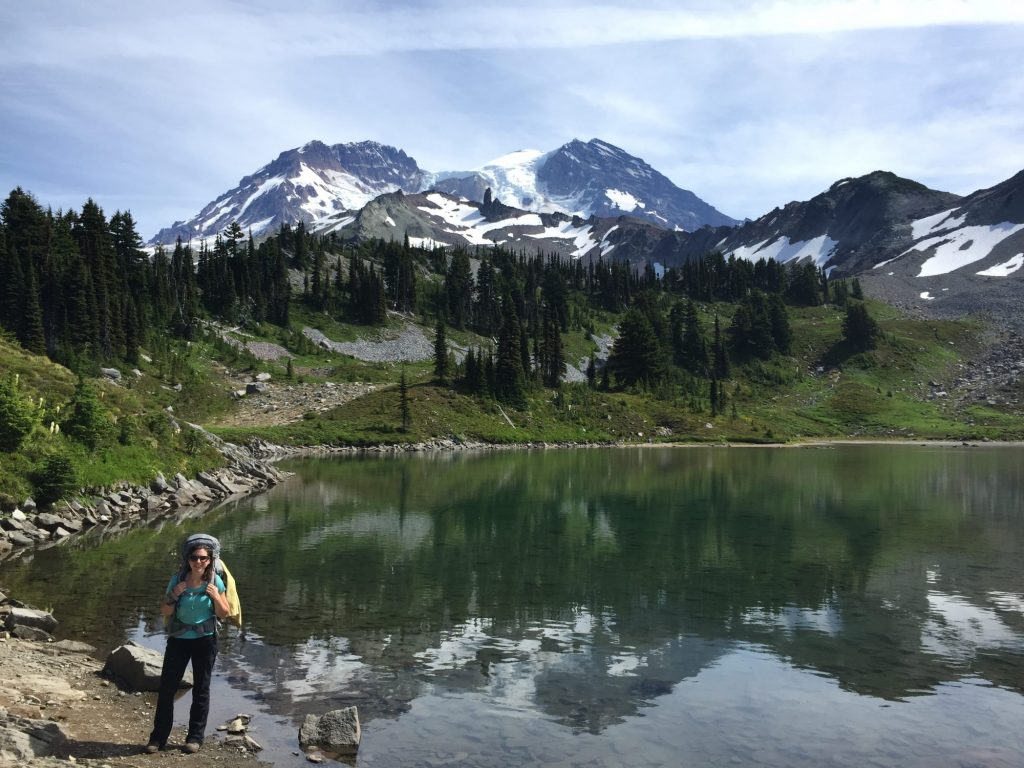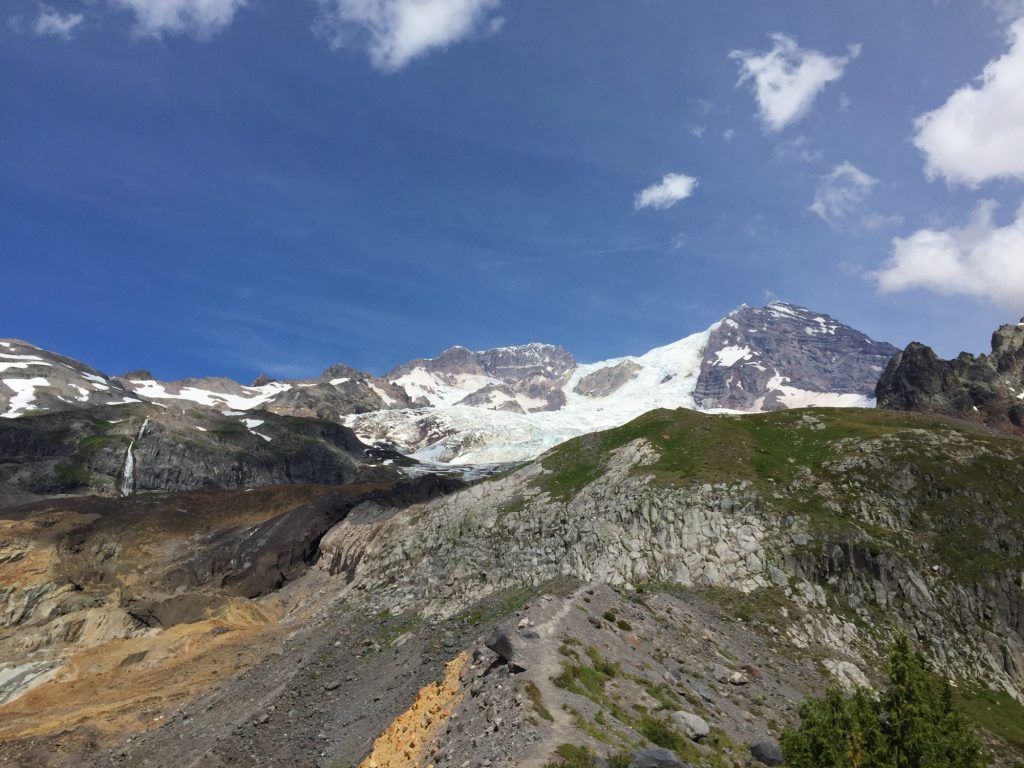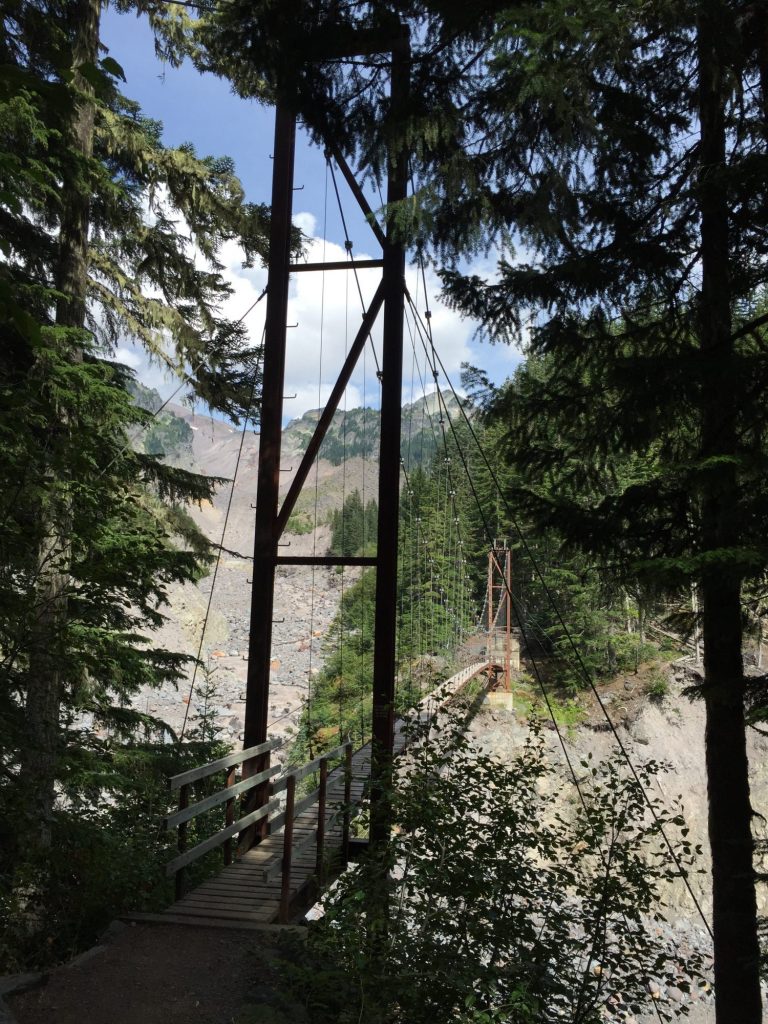 Day 6
Devils Dream to Pyramid Creek Camp (2 mi)
Now this day almost broke us 🙂 Just kidding. To make our permit work, we had to do a short 2 mile day to Pyramid Creek. This actually worked out really well since we had a strenuous day yesterday, thus a short day proved to be a welcome break. It gave us a chance to rest and just enjoy our time admiring the view of Rainier from Pyramid Creek. Considering it was a whopping 2 mile day downhill, it would have been easy to do the Wonderland in 9 days instead of 10, but because of campsite availability, this is what we ended up with. We arrived in camp at 9:30 am (and that was after a leisurely breakfast at Devils Dream), hung our stinky clothes to air out (they needed it badly after 6 days of sweat accumulation), took another ziplock bath, ate lunch on the creek bank enjoying the view of Rainier, ate some wild black raspberries for dessert, took a nap, and played a few rounds of cards. It was a great, relaxing day!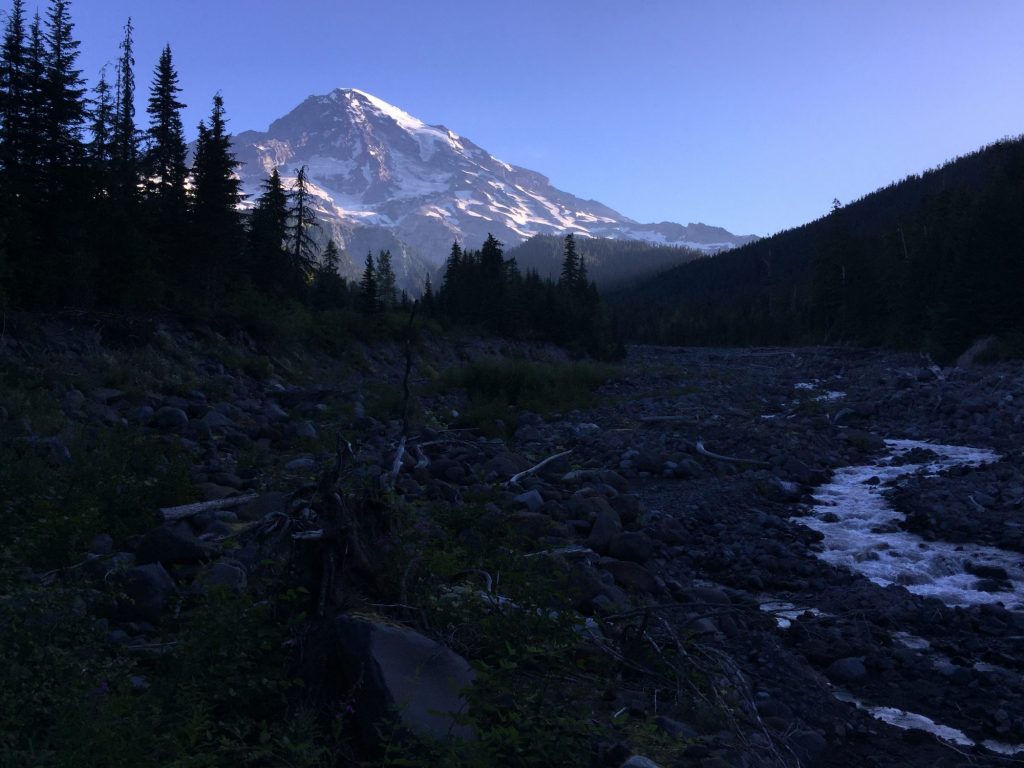 Day 7
Pyramid Creek to Paradise River Camp (6.5 mi)
We were well rested and got an early start. Arrived at Longmire to pick up our food cache around 10 am – just in time that the Longmire National Park Inn Restaurant was still serving breakfast and we were craving some eggs! So we treated ourselves to omelette breakfasts (technically it was 2nd breakfast, but we were still starving), which were delightful, and headed on our way. Hiked past Carter Falls which we visited on on our last trip to Rainier except this time we could actually see the mountain from the trail! We were the first to camp again, so we nabbed our spot and then went to play in the river. We had a celebratory "food cache day" dinner of pesto tortellini topped with tilapia in a marinara sauce. It was amazing! Some of the other hikers put cans of beer in their caches as celebratory treats 🙂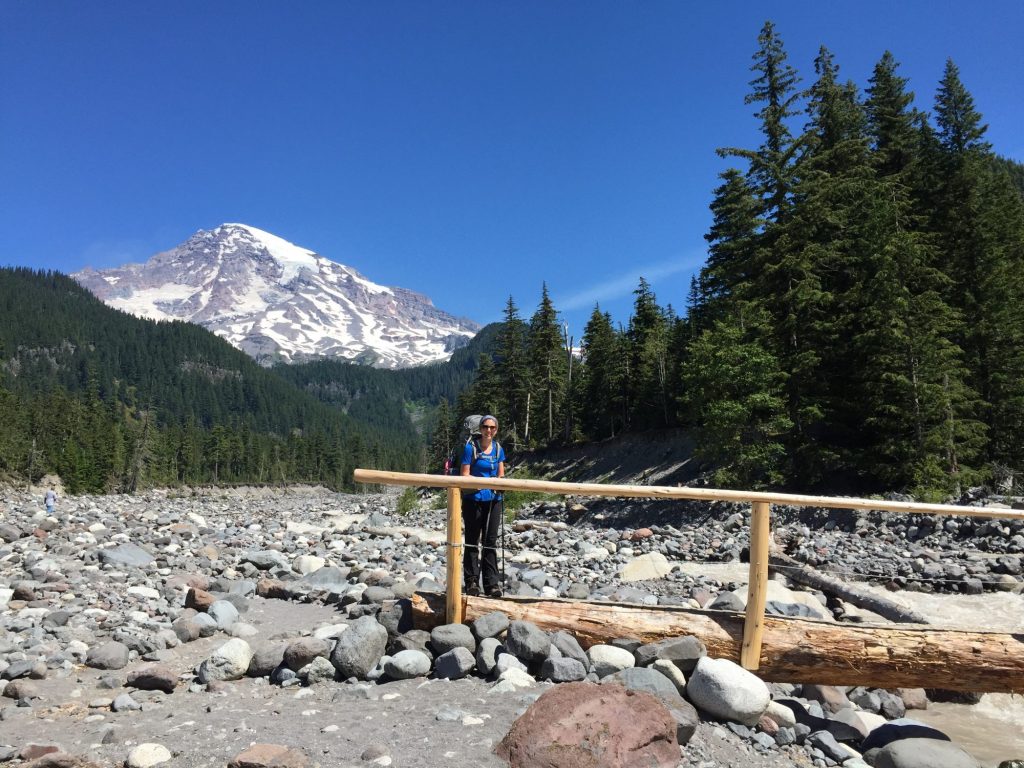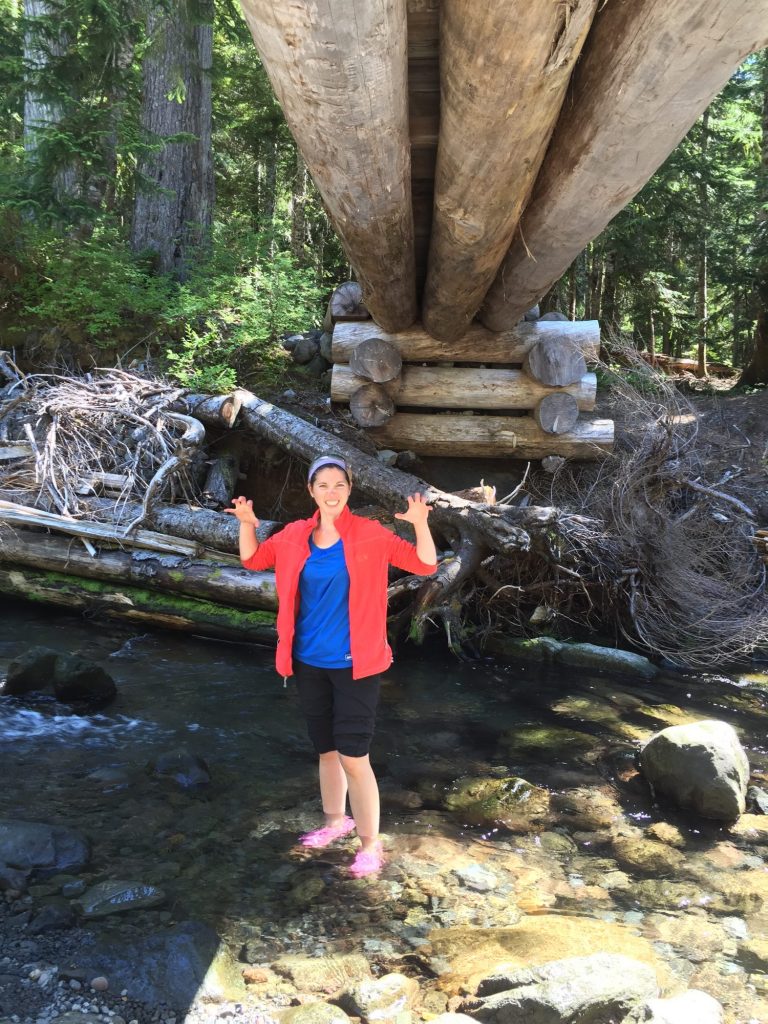 Day 8
Paradise River to Olallie Creek Camp (14.7 mi)
Olallie Creek Camp is actually located 1.3 miles off the Wonderland Trail on the Cowlitz Divide Trail, but all the campsites on the Wonderland near this area were filled up when we got our permit, so this was a great alternative. The scenery today was not that spectacular, mostly just hiking along river beds and forests, but the trail-side berries were abundant and we finally felt confident in our identification of huckleberries after talking to other hikers yesterday, so we started enjoying them too! We hiked past Reflection Lakes in the early morning and got some great pictures of Rainier mirrored in the still water. Olallie Creek camp was fabulous. It was literally right on the creek with a deep swimming hole just below our camp site. There were no other campers in the campground that night and we were surrounded by huckleberry bushes!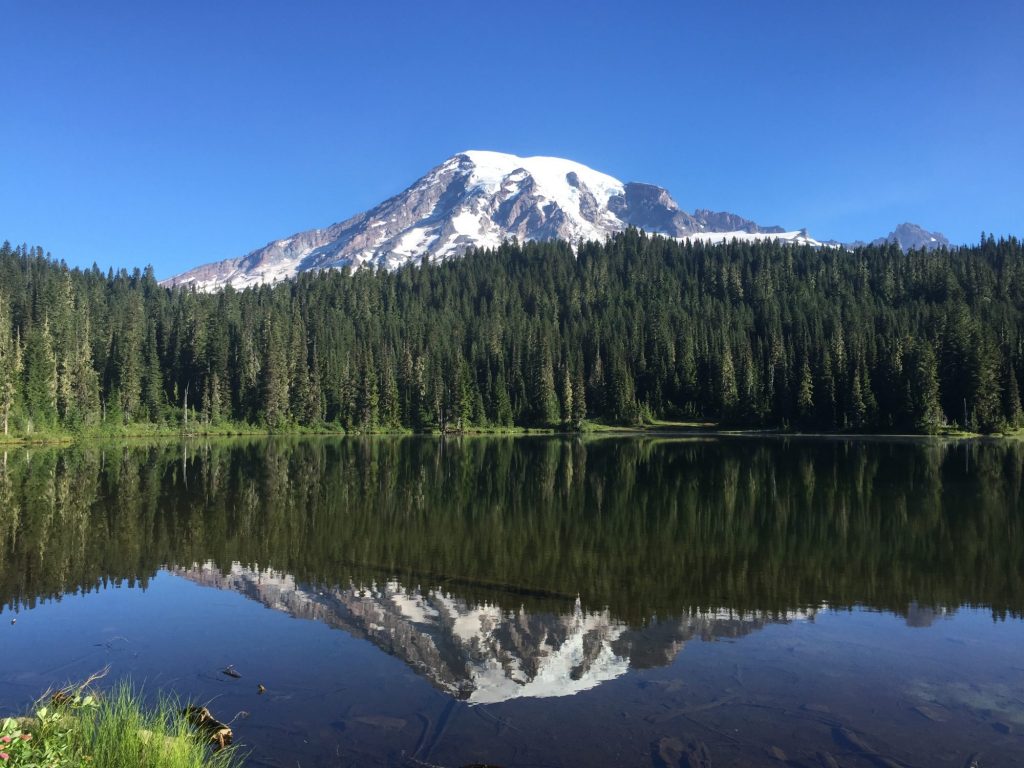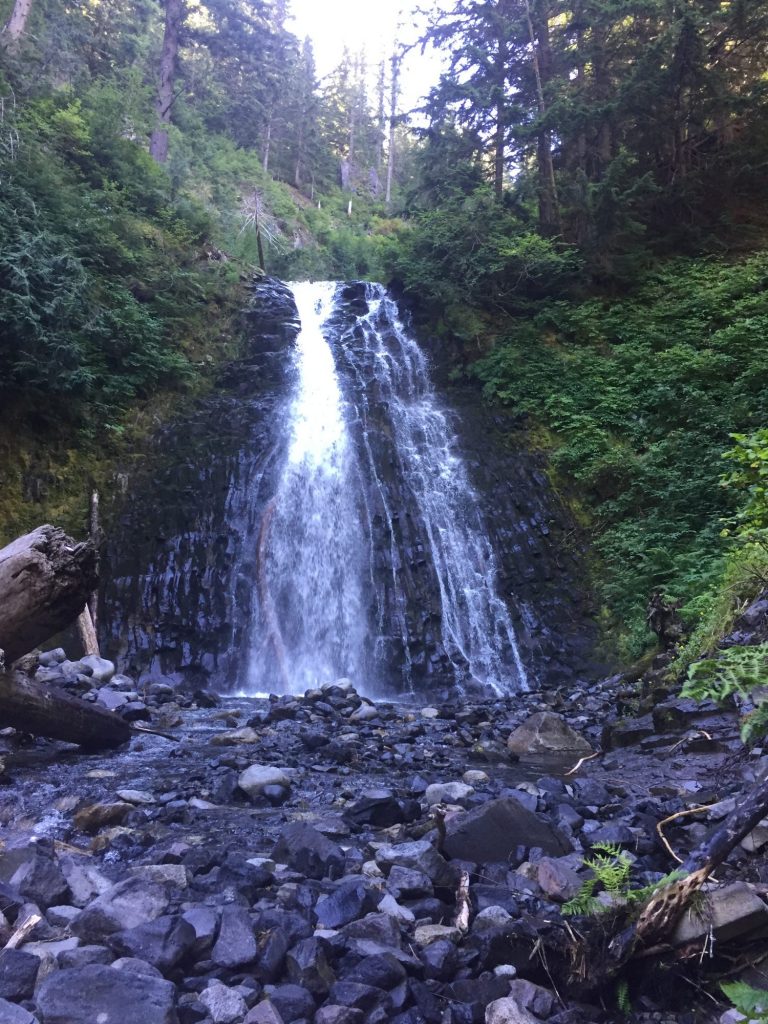 Day 9
Olallie Creek to Summerland (10.4 mi)
The surrounding huckleberries made a great addition to our morning oatmeal. We saw a black bear in a tree across the creek as we left camp in the early morning. He was enjoying some huckleberries too! 🙂 It was a day of continual climbing, but the views were so spectacular we hardly noticed the climb (well, that might not be entirely true, but this is my rosey retrospect). It was definitely some of the best scenery of the entire route. Working our way along a ridge for most of the day, we saw incredible views of Mt Adams and Mt Hood in the distance. We took a break at Indian Bar, which is the camp located in a huge bowl shaped basin with the Ohanapecosh River running through it. Some of the most stunning wildflower displays of the trip were here as well. I used the pit toilet at Indian Bar which had the best view of any backcountry pit toilet yet! It had views of the wildflower meadows, the cascades tumbling down the cliffs at the head of the basin, and the crown of Mount Rainier above it all. A "throne" indeed! From Indian Bar and working toward Summerland we rested atop the Panhandle Gap (the highest point on the trail at 6,901′). Summerland camp was stunning and we had views of Rainier out our tent as well as a marmot and ptarmegan for neighbors. A spectacular place to spend our last night and an amazing finale to the trip!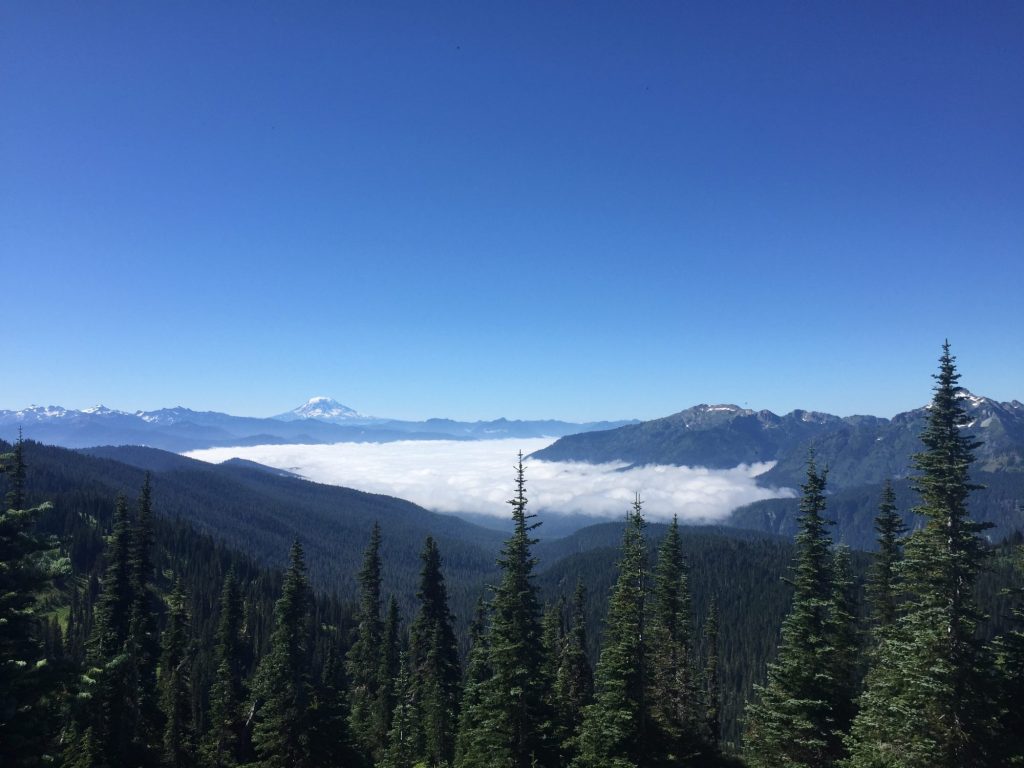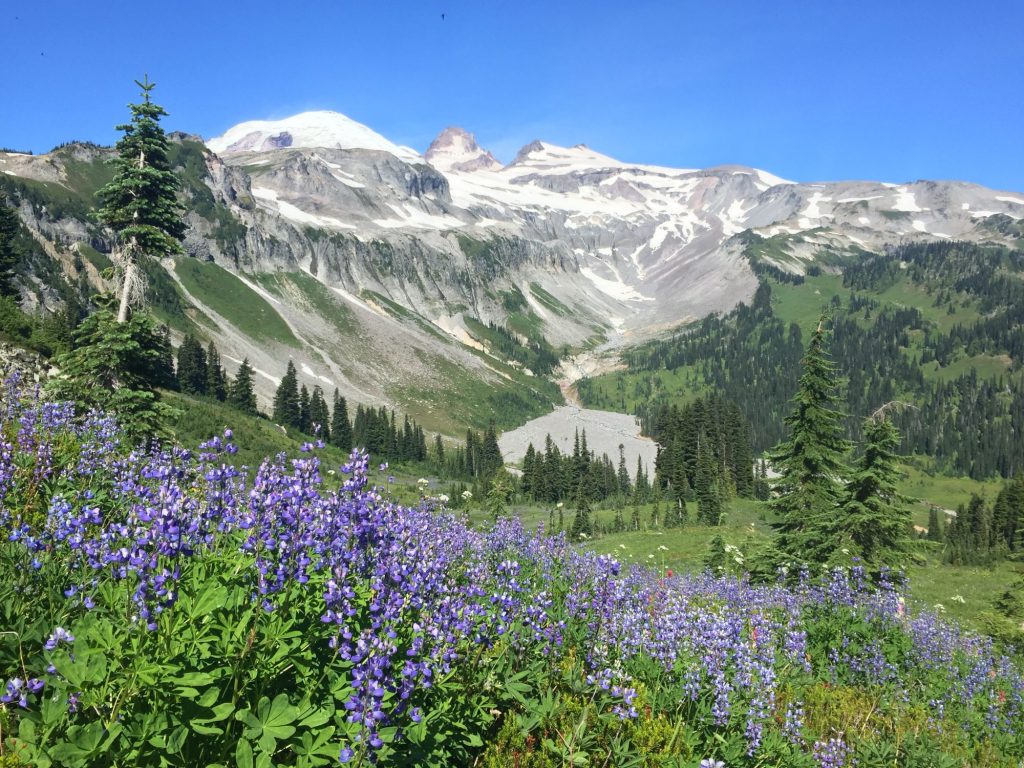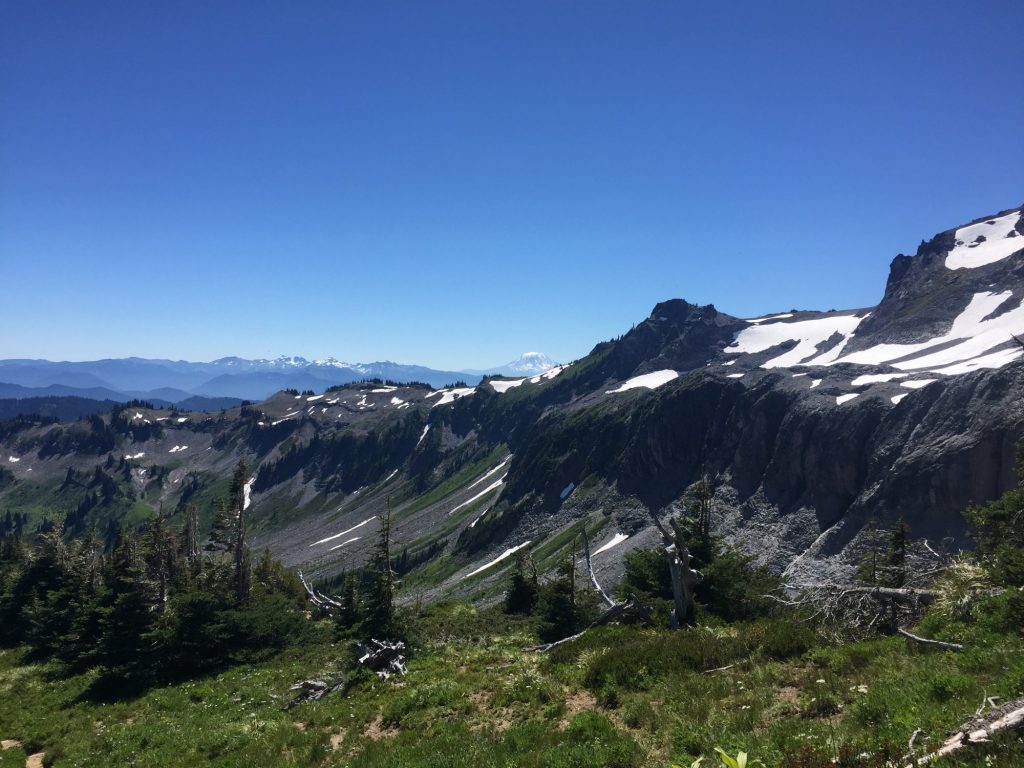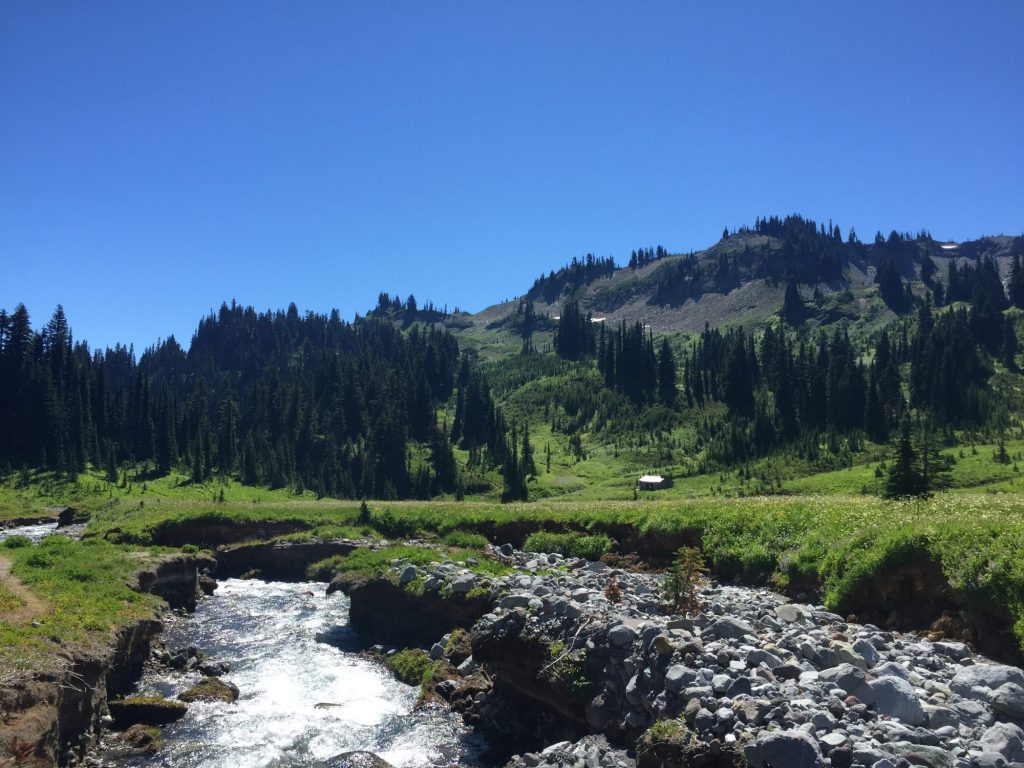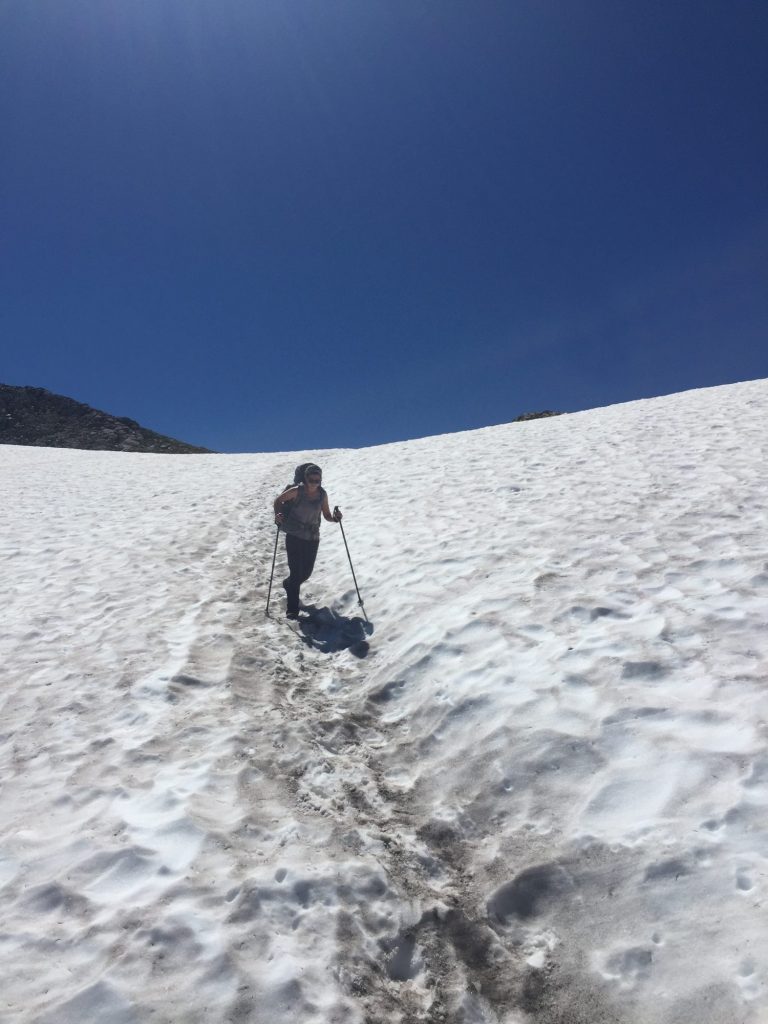 Day 10
Summerland to White River Campground (6.7 mi)
And incredibly easy day of working our way down. We were back to the RV by 10:30 am. The trail was amazing and definitely full of wonders! Drove down to Longmire to pick up our empty cache bucket before heading out of the park.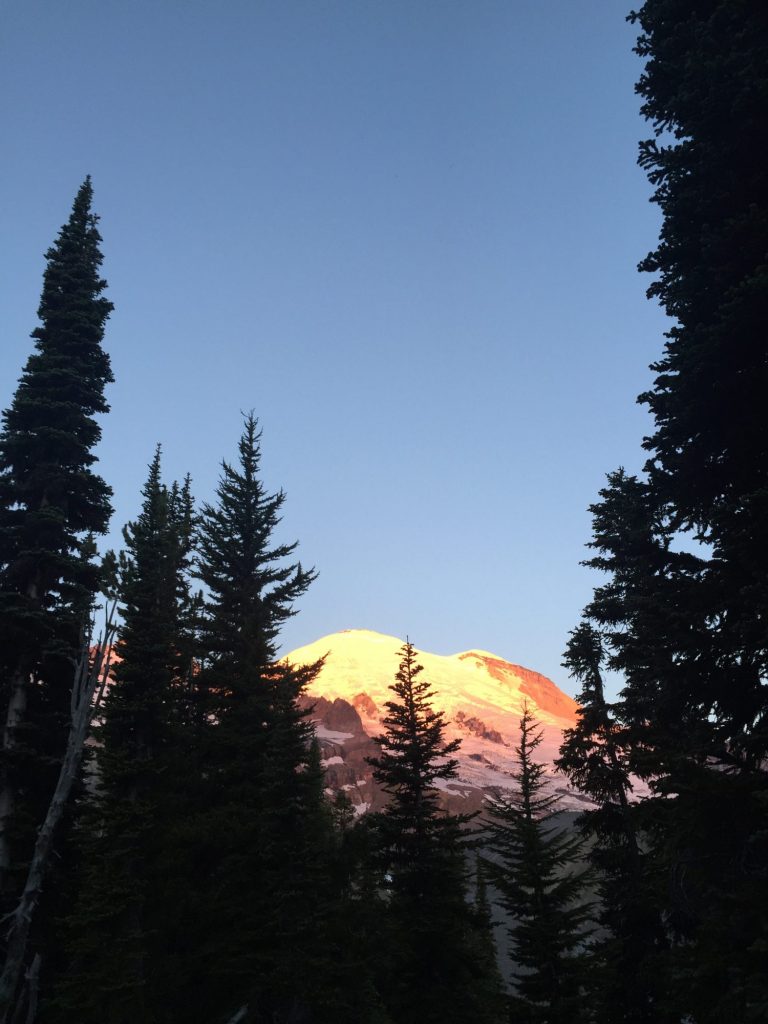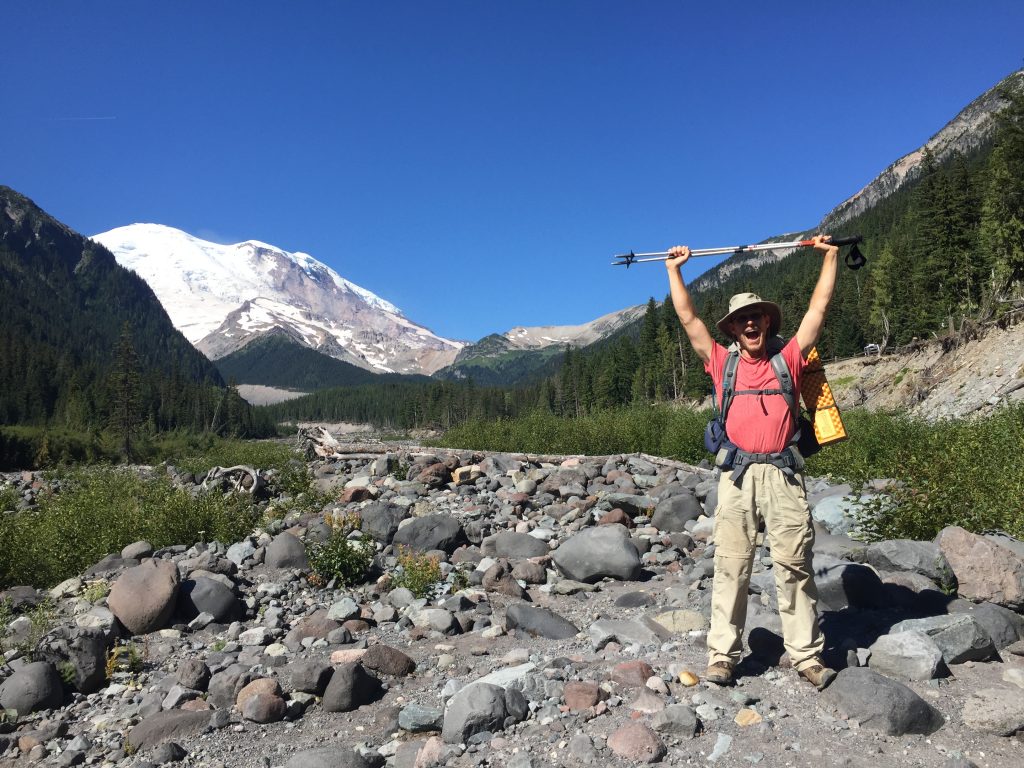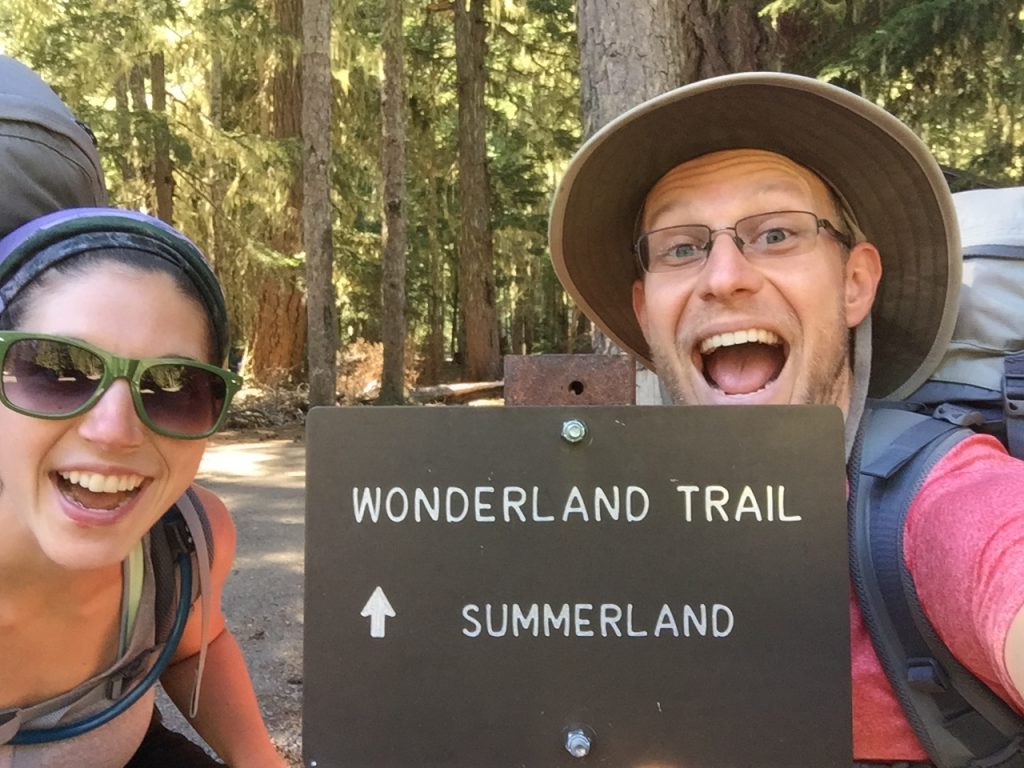 So there you have it! The trail was amazing and definitely recommended. There aren't enough adjectives to describe what you see and pictures fail miserably at capturing just how captivating and mesmerizing this landscape is, so you'll just have to go see for yourself :).  If you do have plans to hike the Wonderland yourself here are some of our top recommendations:
Most Scenic Camp Sites:
South Mowich River
North Puyallup
Klapatche
Indian Bar
Summerland
Favorite Views:
Skyscraper Pass
Spray Park
Klapatche Park
St Andrews Park
Emerald Ridge
Indian Henrys
Indian Bar Area
Panhandle Gap
Summerland Area