Started the morning early with a quick breakfast and then packed our daypacks to head up the mountain, past the General Sherman tree, and on to Wolverton where a Ranger recommended to us the 14 mile round-trip Pear Lake trail – a harder, longer trail that affords more solitude. Geared up with many layers of clothes, we take off up the twisty mountain road on the motorcycle. It is a clear morning, with blue skies and sunlight. We make it to the Giant Forest Museum and decide to stop and look at the information displays. Lots of cool facts about sequoias and we learn quite a bit. Across the road from the museum is the road to Moro Rock, a huge, dome-shaped granite monolith that you can ascend via lots of carved steps for views overlooking the Kaweah canyon. Since it's a clear morning, we decide to detour to Moro Rock for a quick hike to enjoy the views. Unfortunately, once we get to the rock and begin our ascension, a large cloud of fog rolls in unnaturally fast and obscures our views before we can make it to the top. We continue however, but all we can see around us is a bunch of white mist. Ah well, it was a fun climb and a good morning warm-up.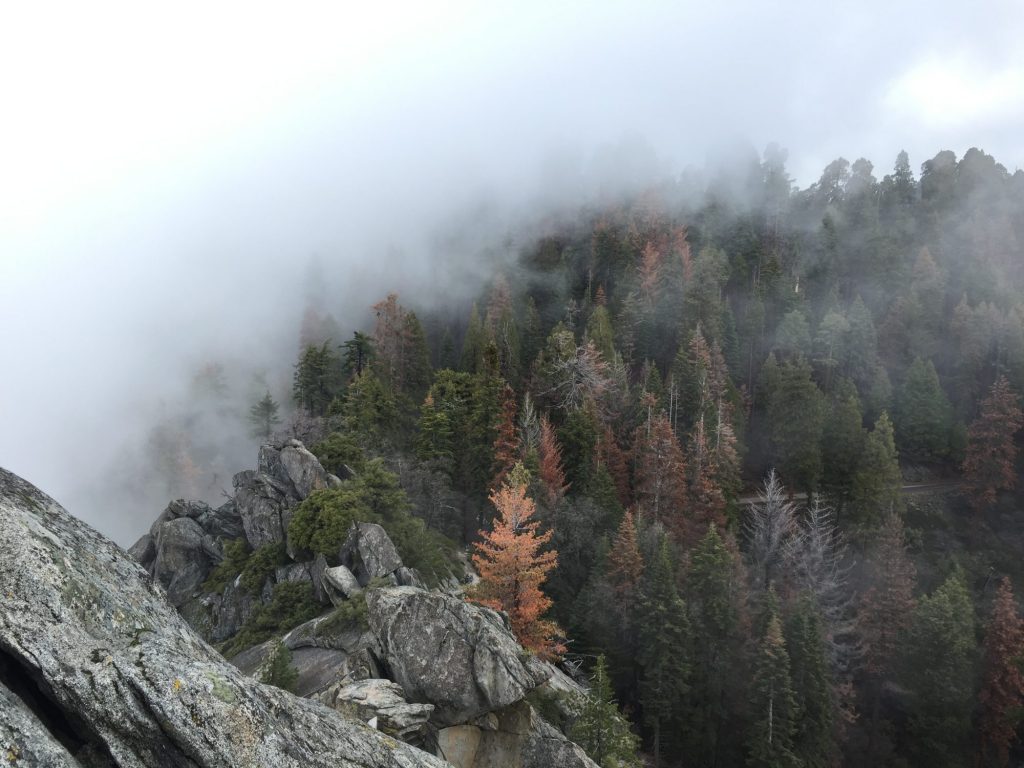 Hopping back on the motorcycle, we drive under Tunnel Log, a large fallen sequoia tree spanning the width of the road with a tunnel carved out of the center so that automobiles can drive through it. We've never driven through a tree before, so that was pretty cool. Back on Generals Highway, we finally head towards the trailhead, park and begin our hike. It's begins as a gradual ascent with patches of snow and ice here and there, but as we hike higher the trail becomes mostly hard-packed snow. We are both noticing the effects of the elevation as we're at about 8,000 ft and have been living at sea level for quite a while now! The trail splits for Pear Lake and we follow a steep grade up (no switchbacks at all!) "the Hump" – by which they mean mountain. It's slow going through the snow and we have to make more stops to catch our breath than normal. We are following a snow shoe trail through the woods and not an actual hiking trail. We finally break for lunch and discuss our options. The thick, soupy mist has finally caught up to us. It's damp and we can't see very far in front of us, which means even if we do make it to Pear Lake we probably won't be able to see it very well. I love doing hard hikes and being rewarded with amazing views, but without an amazing view it just feels like a lot of work for nothing. So we decide to turn around, head back to the motorcycle, and go back to the Giant Forest and do some more hiking among the amazing sequoias. The hike back down is an adventure because it's all snow and basically straight down – we do a lot of slipping/sliding, and finally deciding it's easier to just go with it, we ski down on our shoes using our hands as stabilizers. It was really a blast!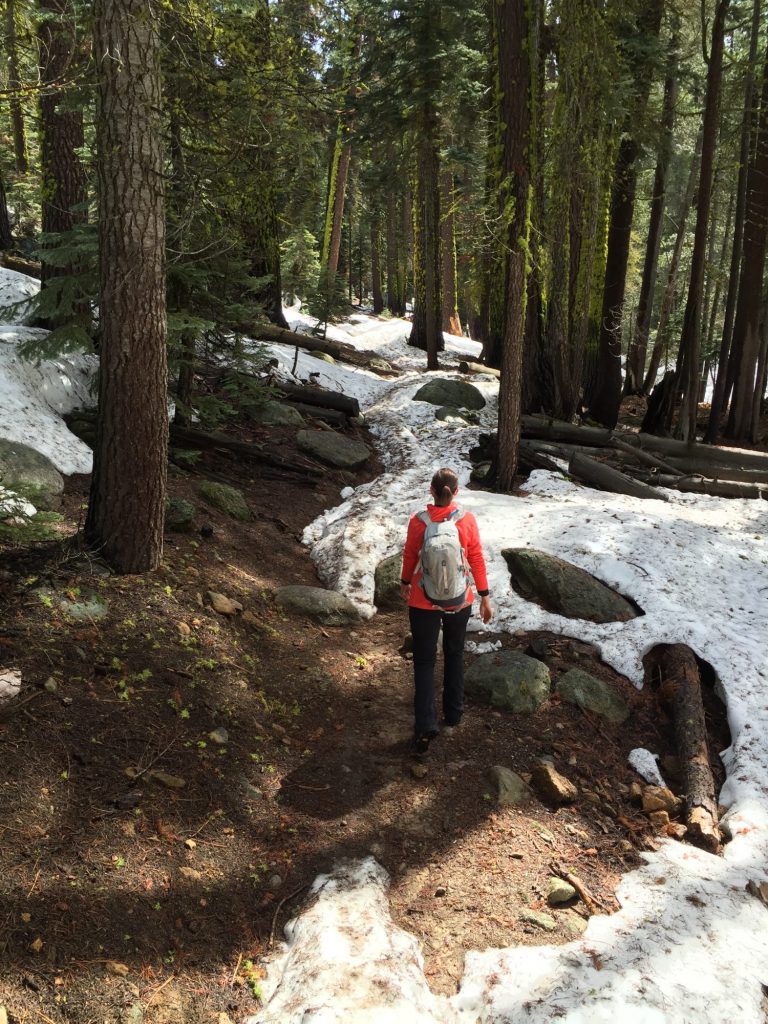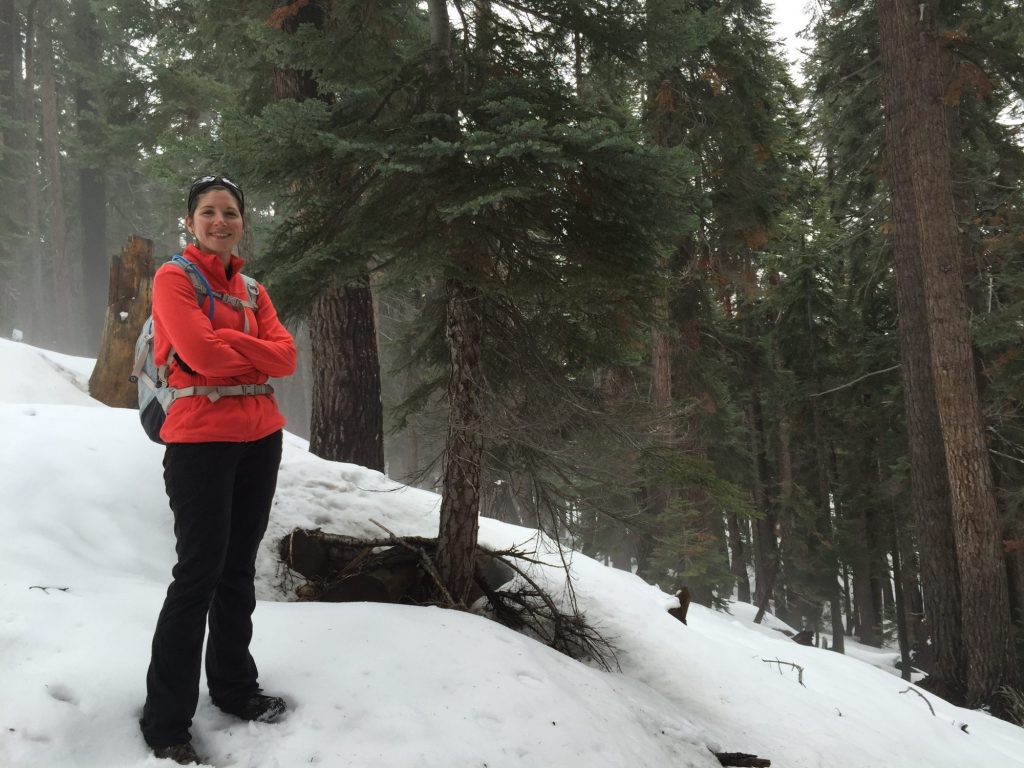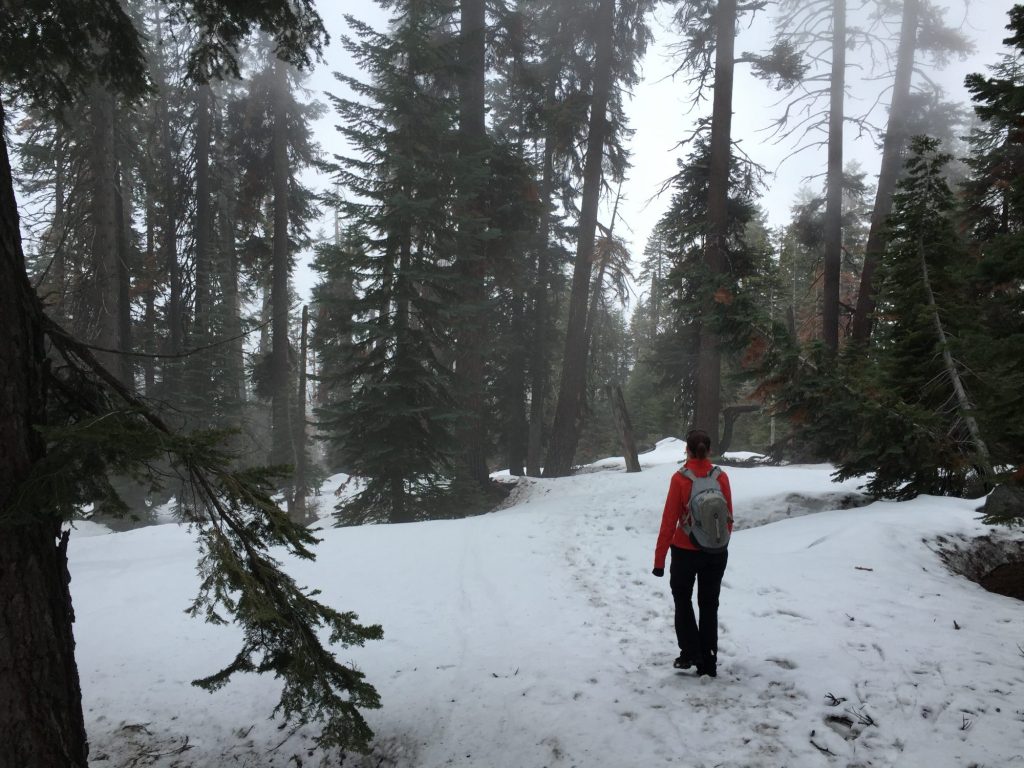 Back in the Giant Forest area we walk around Big Trees trail, one of the best areas for sequoia growth. We see some amazing trees, and as the fog rolls in yet again we take a seat on one of the benches and make an afternoon coffee to enjoy among these gentle giants. Then it's on to Tharp's Log trail, where Tharp (one of the first European settlers in the now Park) built a cabin incorporated right into a fallen sequoia. Very cool and rustic! A perfect natural dwelling (if you don't mind a tight fit). From there we continue our hike to Chimney Tree, a hollowed out sequoia stump you can walk into. These trees are so massive and majestic. It's hard to explain just how awe-inspiring they are. Walking among them feels almost sacred and spiritual, especially when they're emerging from and disappearing into the mist.
Done with our sequoia hikes, we head back down the mountain and back to the campground for dinner. We take a quick mini-hike across the road from the campground to the Marble Fork of the Kaweah River. We spot a few beautiful bright red salamanders along the trail that look like some kind of science experiment. Back at the RV we make a quick dinner and then head to bed for an early night. Great, full day!