Journal entries are just that – the digital copy of my hand-written entries in my journal. If you aren't interested in the daily details of our adventure, feel free to skip on to the next "regular" post.
Slept right through the concert with no problem and took out my ear plugs. The problem arose about 3am when I hear a generator running nearby and couldn't find my plugs again. So I dozed off and on until the alarm went off at 5.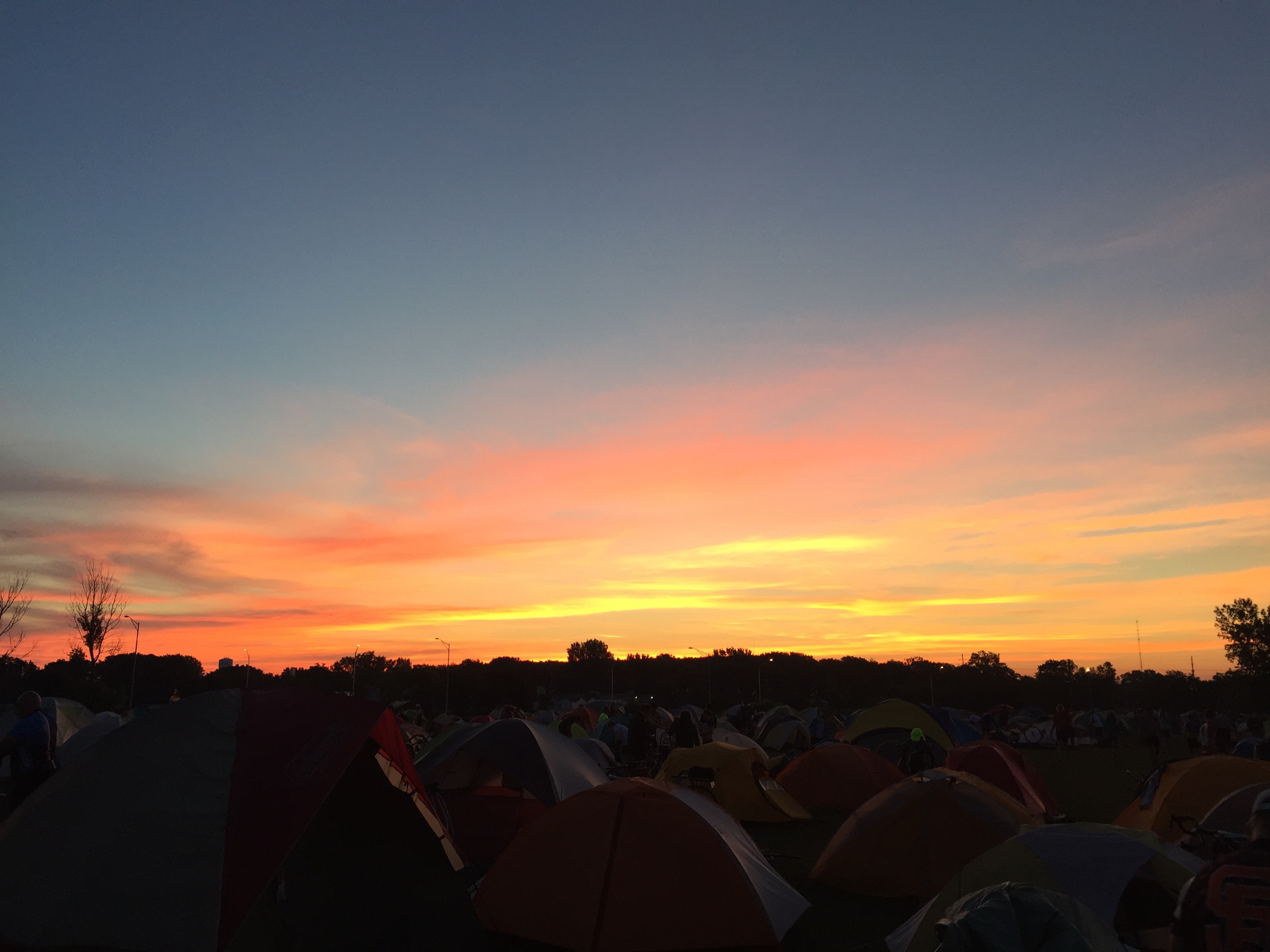 Busy morning – everyone seemed to be up and stirring already. There was a line for the porta johns, which is a first that early in the morning. Really pretty sunrise while packing up, though. We hit the road right about 6:00.
Didn't take long to reach Whittier, 16.1 miles along, though I didn't realize it at the time. Thought we had another couple of miles to go and that this was just a wide spot in the road. So we headed along until we found Farm Boys Breakfast.
There were only about 4 people in line in front of us, which is unheard of! We got breakfast burritos. I gave instrucitons on how I normally make mine – "I want everything, burritos aren't supposed to close." He did a great job, even managed to wrap it, but just barely!
Oh, we had picked up bananas at Walmart yesterday and ate one of those for breakfast before heading out. That and the burrito seemed to really fuel us well – the're more like something we would fix for ourselves on a regular day.
Springville was only 3.3 miles away from Whittier so it was a quick trip after breakfast. When we pulled out of the breakfast stop there were at least 100 people in line, so we lucked out. The road was a lot less crowded too, so that was great. It's a lot more enjoyable to not be fighting crowds.
Went through Springville pretty fast and headed on to Mount Vernon, 10.7 miles away, today's meeing town. A college town, it was really nice with lots of cool architecture. We saw the Beatles, stopped for rhubarb crisp- and were curious about the rhubarb brats but didn't try any and found "Fuel" a great-looking little coffee shope. Went in and grabbed a latte and a pour-over coffee. Running fast today, we sat in back (on chairs without pedals!) and enjoyed a delightful chat with John, a Brit who lives in Iowa and has ridden 17 of the last 19 RAGBRAIs!
He shared that, unless you're racing, mountain bike clips are more than sufficient on road bikes, and that they would be really useful on long rides like RAGBRAI. Like everyone else, he was surprised and impressed that we've really only been riding for a year. Apparently that's something rare. Also, our actual practice seems to be rare. It is a big time commitment to get the full training in, but we are so glad that we did! With a couple of rough days when we were tired, we never really hurt and today we're feeling great.
John also had a different approach to the ride. First of all, he relay drives it. Use a truck and trailer for luggage and bikes – drive to a designated meet-up spot and the driver switches out with a rider and they continue on. So everyone gets to ride every day, at least a part. Secondly, they go off-route, visiting other towns. No lines for food or bathrooms and the town is so excited to see them because they're otherwise bypassed. Tactics to remember for future visits!
We finished our chat and coffee and checkd the weather before heading out. Looks like rain in a few hours. Maybe we can beat it.
There was a group giving out Milkweed balls to throw on the road side while riding. Monarch butterflies migrate through the area and solely lay their eggs on Milkweed; the young only eat Milkweed. With agressive mowing and spraying the plants have dimisnished in number, causing Monarchs to do the same. Ashley picked up one seed ball and I received three. Along the route we later threw them off into other batches of wildflowers, hopefully helping increase the numbers of beautiful natural things.
Lisbon is 2 miles on, and Sutliff Cider 2.4 past. Barely slowed for them and took the 10.2 miles on to Solon. Stopped for a break – ate our second bananas, checked out bags and wallets made out of old bicycle inner tubes and headed on.
Coralville Dam was 15.2 more miles. It started to sprinkle on us just was we reached it. It was certainly neat to ride across the top of the dam that was lined with American flags. Just a shame it was raining.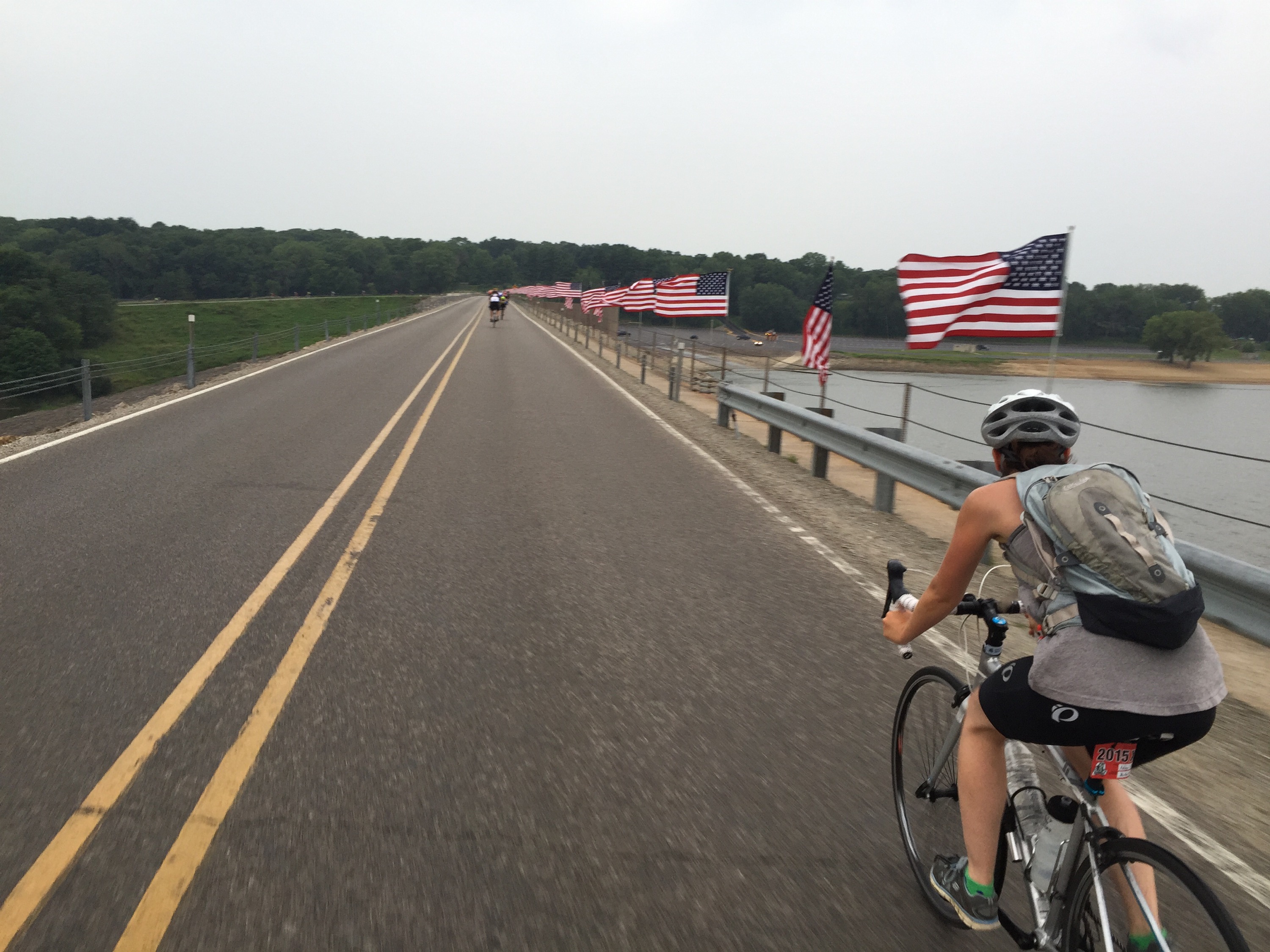 Rained the remaining 5.7 miles in to Coralville. 65.6 miles total and the second hilliest day at 2,955 feet of climb. Lots of them were rolling hills and were fun to ride. Only a couple of long steep ones and only the one after the dam was rough as it was uphill from a flat start.
Arriving in town was confusing. I'm not sure they were quite ready for us and the rain didn't help. I turned into the Expo area and rode across the red carpet before turning around to catch Ashley. Made it in to the baggage area where she caught me. Grabbed our bags and headed to the far side of the field to set them up.
Still raining, so we set up the rain fly and I held it against the rain while Ashley put up the footprint and tent underneath, keeping them dry. We crawled in and peeled off the wet clothes and swapped into dry ones.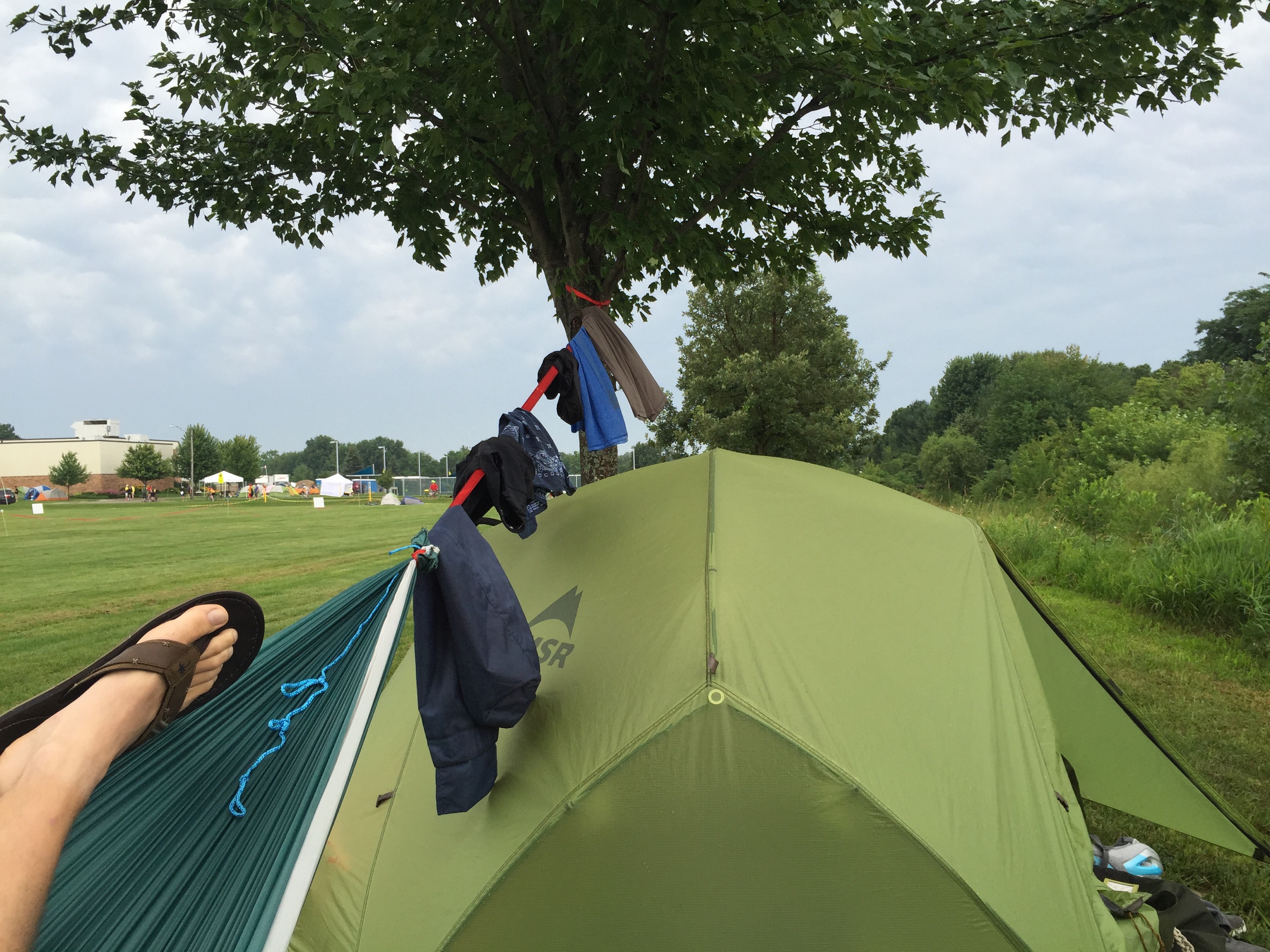 Though it was windy still, the rain stopped soon. Ashley headed off for showers and I set up the hammock (finally!) and laid around for a bit.
When she got back we walked half a mile down to Tierra Coffee for a drink. Arrived in camp about 12:30 so lots of time. Split a cookie and had our drinks while topping off our phones and using the wifi. Finally finished our drinks and walked across the parking lot to see what New Horizons Co-Op had to offer for supper.
We were hungry, so everything sounded good. However, we finally settled on fresh-made sandwiches and split a pre-made salad. I picked up a rootbeer and we grabbed bananas for tomorrow's breakfast. After paying we sat in the eating nook to enjoy our fare. We were definitely not disappointed!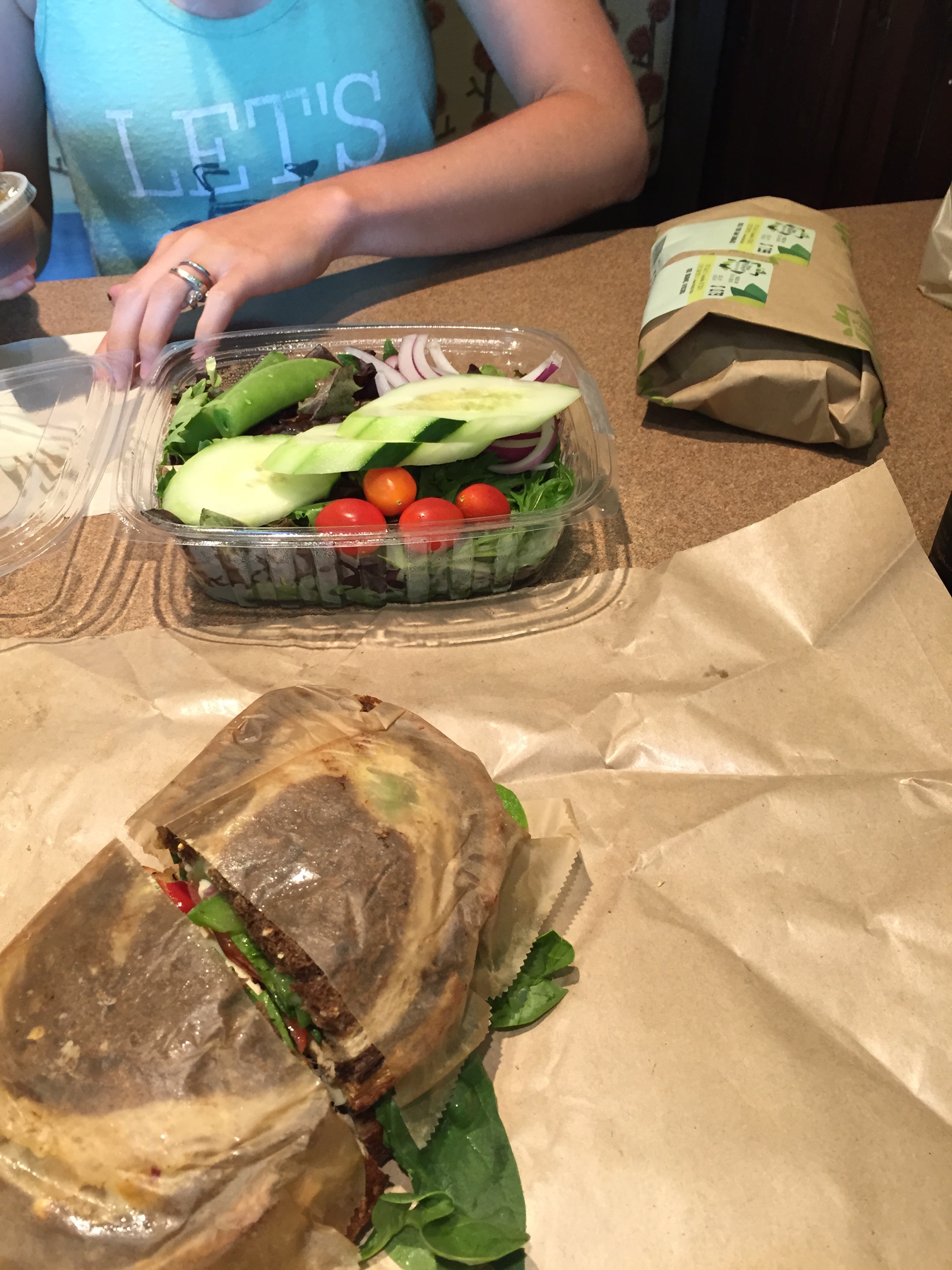 After eating we sauntered back to camp. Ashley sat at the trolley stop, waiting for me and looking at route options. I went to drop off bananas, grab our water bottles and check that Scott found our tent – he had texted that he'd made it in and asked where we were set up. He had found us. We chatted for a few minutes and I told him about the co-op and library locations before going to meet Ashley.
She was only interested in one of the trolley routes, so we went on down to the main entertainment area on the bus. Perused a wine shop and then walked down the red carpet in search of popcorn. stopped at a first aid station for a band-aid – Ashley's wet flipflop was beginning to irritate her instep. She thought it odd to have someone apply a bandaid for her; she's pretty confident in her ability to do so, after all. 🙂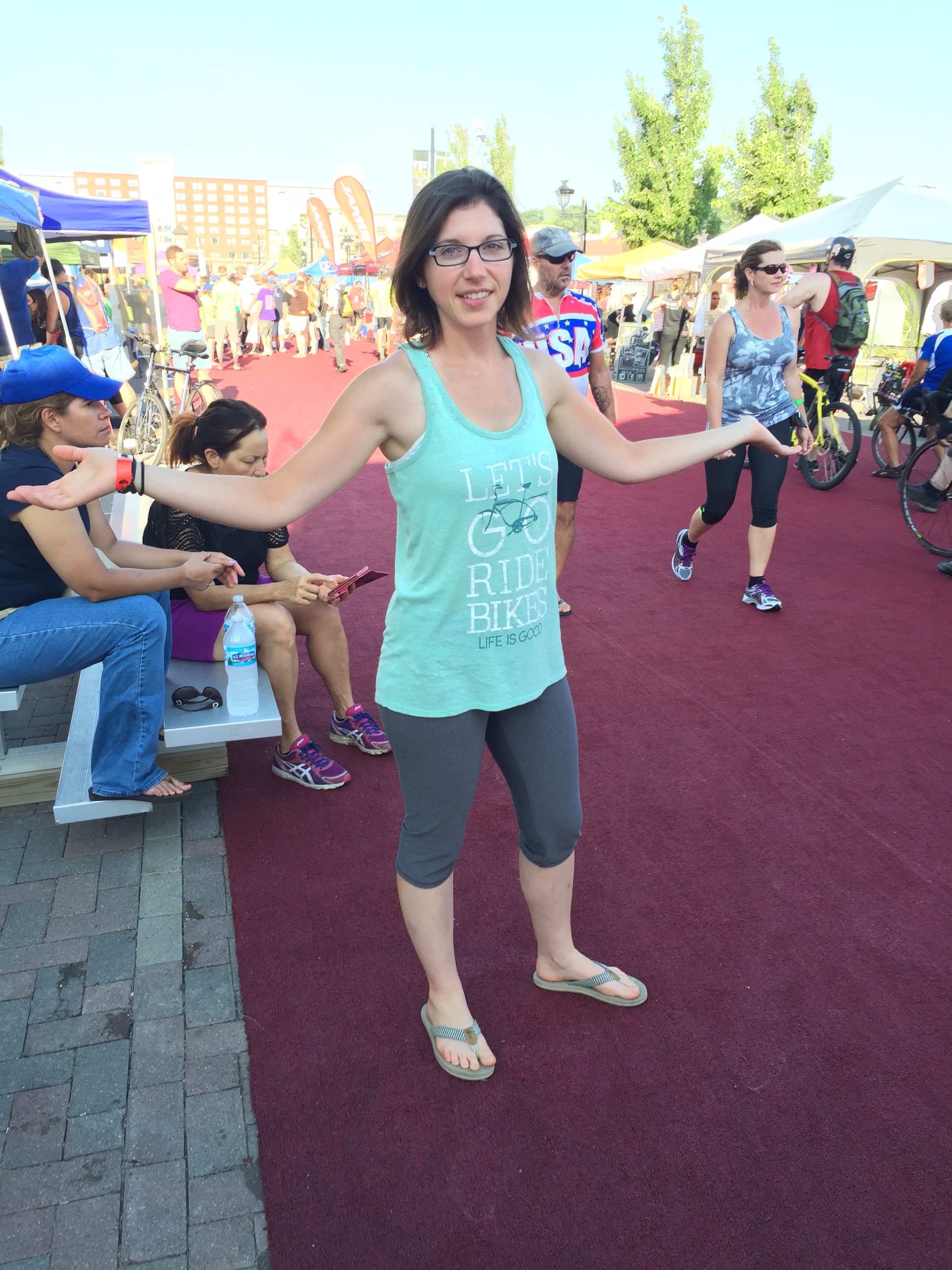 We settled on the free popcorn from the solar trailer. Neat set-up, with solar panels on the roof that power everything, including the popcorn maker. So it was solar grown, solar popped, popcorn!
Taking our dessert we headed back onto the main road to visit a Coffee and Wine bar. Ashley had a sangria and I settled on a lemonade. While sitting I sketched the scene out the window.
Finishing our drinks we grabbed the trolley back to camp. Ashley headed into the tent while I hopped into the hammock, which had become quite the clothesline in our absence. Journaled for the remaining sunlight then prepped for tomorrow and finally bed time. Took a bit to fall sleep. Not sure how much of that is due to the caffeine in the coffees, the sugar in the lemonde, or the band playing just on the other side of the trees.