Knowing where we were going, we had a leisurely breakfast and then packed up the RV to head out of the park. We left, headed up into the National Forest just outside of the park itself and snagged the camping area that caught our attention yesterday. Didn't take us long to get leveled and in place, so we packed lunch, layered up our clothes, and headed back into the park to explore the Yosemite Valley.
The ride there was easy and a delightful mountain road with light traffic. The tunnel was, as always, fun to ride through. Emerging from the tunnel on the valley side was amazing – Ashley's eyes misted up. El Capitan sits, watching over the entrance to the valley, waterfalls are scattered around the valley walls, and the floor is carpeted with a variety of green trees and meadows.
We stop and check out Bridalveil falls. So glad I had my rain gear in my pack – the mist left you soaked! I didn't get a good view, though, as it was not only so misty but also backlit by the sun. Ashley waited longer than me and was able to get a clear view.
On into the Valley floor, we parked and headed into the visitor center to learn more. Received some trail recommendations and then hiked over toward the Lower Yosemite Falls trail for lunch. I enjoyed a fabulous view of Half Dome while eating, then sketched it before we headed out. Walked the path up to the bottom of Lower Falls. That's an amazing amount of water to fall so far!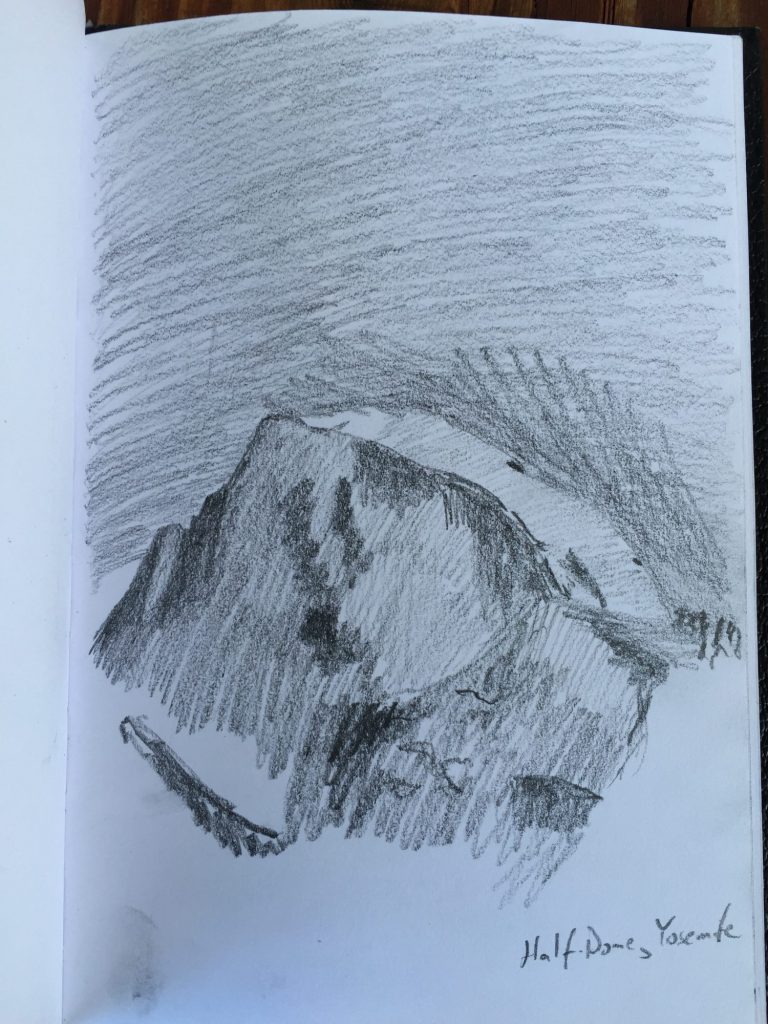 Back out on the road we catch the shuttle and ride around for a few stops – we get off and walk through the meadow, across the bridge over the Merced river. Just going slowly and enjoying the views.
Again on the shuttle we ride around the loop to the Mirror Lake stop. Get off and hike up to the lake, where we enjoy the view of Half Dome from down below.
Out on the road once more we ride the shuttle into the village. The art gallery and art center are closed. We check out the store – it's a full grocery store in there! and then gear back up for the motorcycle. 3 layers later, we head out for home. Of course, we manage to get stuck behind the slowest cars possible. At home we fix supper and plan out the next few days. Hike to the Upper Yosemite Falls tomorrow, a break day on Sunday, and then the JMT on Mon-Wed.