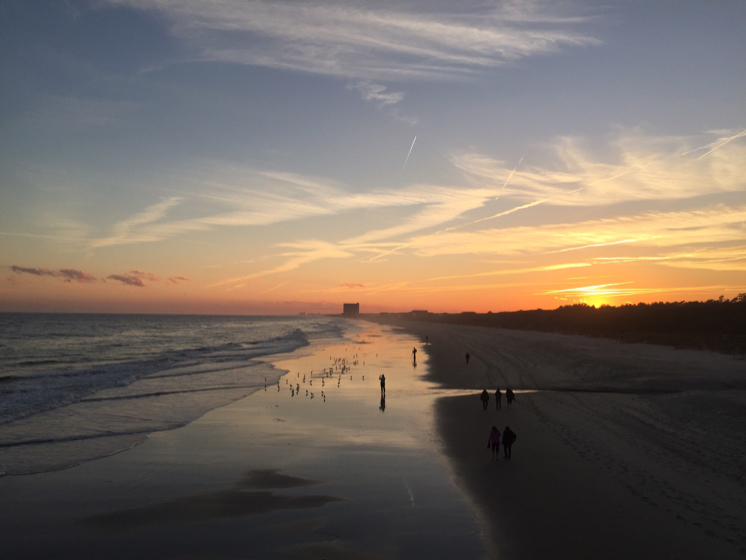 Current Location: Fayetteville, NC
I go to nature to be soothed and healed, and to have my senses put in order.
~ John Burroughs
~~~~~//~~~~~
Feels like we've finally been busy! Matthew's been having a lot of fun sketching and has been updating his art website. Even more exciting, however, was our road-trip this weekend (a vacation?) down to Myrtle Beach … where we met up with Jackie for a visit!
She travels a lot for work and we arranged a meet-up, knowing she would be near-by. Ashley's schedule request didn't go as hoped (no surprise) but we were able to head out Friday once she got off work and in a short 3 hours we had settled in at the delightful Myrtle Beach State Park campground. Jackie caught up with us and we spent a fabulous afternoon/evening together – chatting until early Saturday morning. Unfortunately, Jackie's flight back to the Pacific Northwest was only a few hours later, so our visit was all-too-brief (though we'd say that no matter how long it lasted).
We had all day Saturday to explore. Started off the day with a walk along the nature trail and back along the beach. Then into town for a stroll along the boardwalk, art gallery and coffee shop exploration… it was a fabulous day spent together!
The minimum stay at the campground was two nights and Ashley had to be back at work Sunday evening. So that morning we both woke early, packed up and meandered out. Stopped for a delicious breakfast before leaving Myrtle Beach and then bee-lined back to Fayetteville. Laundry to be done and naps to take before work that night.
While it was a shame to visit for such a short time, it was great to be back on the road again! Sitting still, we've allowed clutter to build up a bit inside the RV, so it was definitely refreshing to pack everything away once more! Plus, it was just good to be moving, felt like home! 😀
If you're in the area, we really enjoyed Myrtle Beach State Park campground. The beach was right next to the campground so it was easy to get out and enjoy the sunset over the ocean. Sure, it's the off-season so a lot of stores were closed… but it was pretty empty everywhere we went. Our kind of touristing!
Adventuring away,
Matthew & Ashley
P.S. – During the week, Matthew's been having fun sketching. He dug out supplies in December and has been playing since. Finally getting around to updating his art website – french-holt.com – you can see his doodles, and the progression, starting with this post. If you want to read it, just keep following the "next post" to see each new bit in order.