Shortly after Bill and Carol headed to the office we hopped on the motorcycle and steered toward IdyllWild, a town in the mountains. Bill helped us plan out a fun route through the country, avoiding the major roads that the GPS tried to send us through.
Wound our way through Wine Country and ended up in Hemet where we stopped to check out the Farmer's Market. Ashley found a soap/candle maker that she liked and picked up a scented candle for the RV (she's been wanting one for months now) and we found a hummus/dip vendor that was fabulous. I walked a bit closer just to see what he was offering and he asked if I wanted a sample. Sure! So he gave me one, then another, then another. After the first I was going to get one, it was so tasty. But Ashley was still looking at candles so I was going to wait and let her pick one. And another and another – he gave me at least 7 samples. And they were all amazing! There was a price break at 3 and another at 5 – we would have gotten more than three if we thought they might fit somewhere on the motorcycle. 😀 And then, to top it off, we didn't have quite enough in cash (the only form of payment he accepted) so we got a further discount. (I felt bad, but I certainly didn't want to have to choose one to put back!)
On up the mountain we wound – what a fun ride and a fabulous series of views. You can really see all the way through the valley from there!
Into IdyllWild, a little mountain community in the San Jancity mountains. It was beautiful – built into the pine forest on the mountain top. We loved the feeling of being back in the forest, smelling the trees. Wandered around and through town – exploring shops, eating our picnic lunch, and stopping for a coffee. I loved the first art gallery we visited (Singerton Fine Arts) and enjoyed chatting with the painter there. His paintings reminded both of us Lennon's work (a past art teacher), but more involved and intricate. He included gold flake, inks, and more to give layers of depth to the work.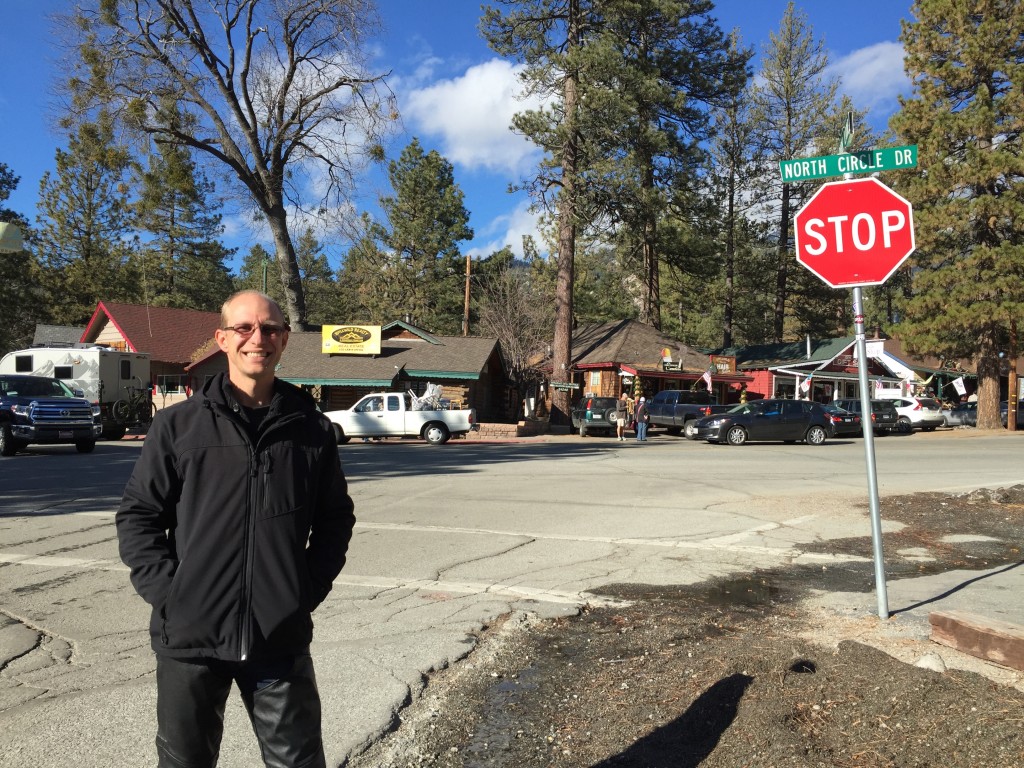 It's interesting how differently people are wired, and how obvious it can be. Dan really lights up when he talks about the ocean, about water. Ashley enjoys visiting the beach, but that's about it. A mountain town set amid the trees and rocks, however, is where she feels most comfortable and really seems most peaceful.
After visiting everywhere that caught our eye we headed back down the road. We wound around and around and eventually made a turn that we remembered from the trip in via the RV. After a few miles, we ran into a traffic jam. We crept along for a bit, skipped a few, and finally decided to detour down a side road. Our random decision worked out perfectly, as we were back on familiar roads after 1/4 of a mile and actually shortened our route.
Back home, we hopped in the Mustang (Ashley was surprised at the rumble when it turned on) and headed over to the Lindsey's to pick up the RV. It's been 72 hours so we needed to shuffle around again. Back at the house I hopped in the hot tub for a bit before getting ready for our dinner. Bill and Carol invited Dan, Michelle, and the girls to join us at a Chinese restaurant for the evening! We had a fabulous meal – everything was delicious! They had a huge lazy susan in the middle of the table and so the different dishes were placed on there and just circled around the table for everyone to sample from.
After supper, everyone parted ways. We headed back to the house and after chatting for a bit stumbled off for food-induced slumber.