Journal entries are just that – the digital copy of my hand-written entries in my journal. If you aren't interested in the daily details of our adventure, feel free to skip on to the next "regular" post.
We wake up early and hit the road, basically with the sunrise. But it's cold. The 10 miles into town freezes my fingers (I really need to hook up my heated gloves) and all of Ashley. We top off the gas and head to Ernie's Bakery for some heat. We both get coffees (black for me and some creamer for Ashley) and split a bagel. The steaming mugs feel great in our hands.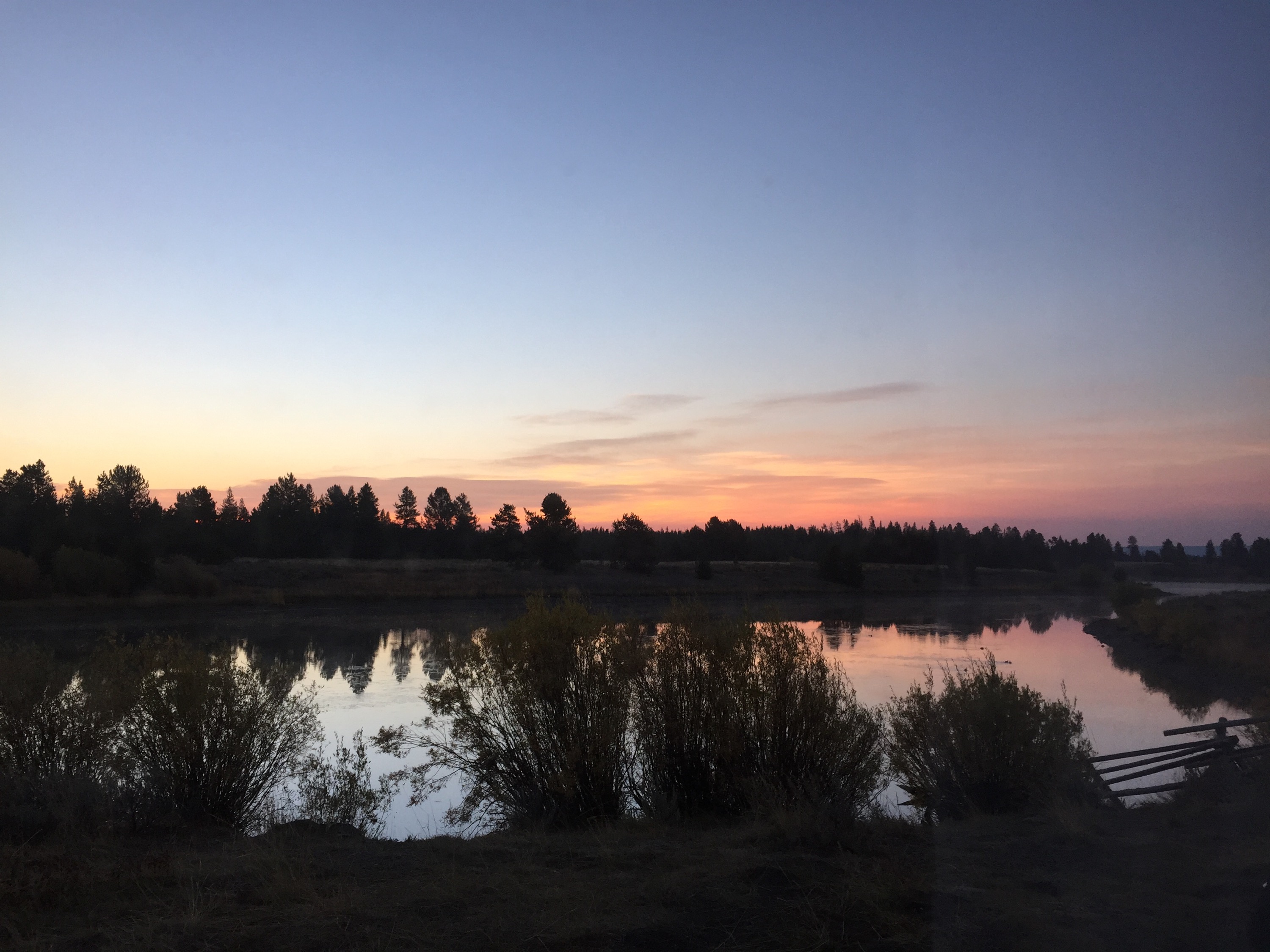 After sipping our drinks and taking care of email we finally head on our way. It's still cold out but is tolerable now. We get in to the park an hour or hour and a half earlier than the last two days.
Heading south on the loop we detour through Firehole Canyon Road – a beautiful road that parallels the river for a bit, highlighting some falls and rapids. Well worth the detour. We stop at Grand Prismatic Springs. It's beautiful – and warm enough that we can feel the warmer air. But at a flat view we know we're missing out. The next parking area has a trail running to the other side of the spring and we can see people up on the hill above it, so we head there. A short hike and we have a spectacular overview of the whole area. No wonder it's such an iconic image!
After snacking and soaking in the scenery we head on to check out Old Faithful. After some debate we decide to sit on the lodge porch and fix lunch – we brought the JetBoil and some dehydrated meals. Once we finish we have just about 10 minutes until the estimated eruption. I sketch a bit while we wait. "Thar she blows" and we make a couple of quick phone calls while waiting for the traffic to pass.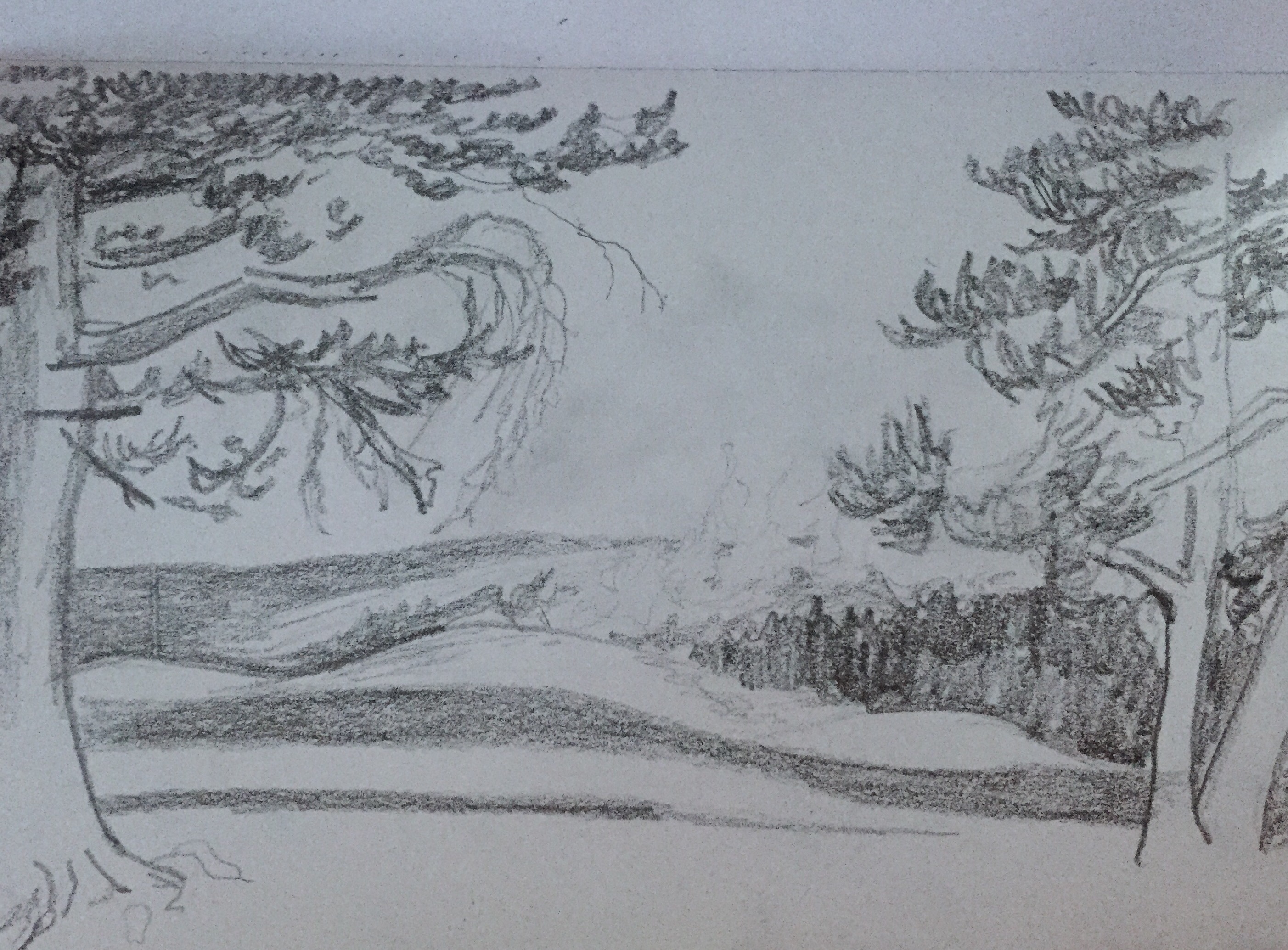 On around to West Thumb, where we walk around and see more geysers and springs, right along Yellowstone Lake. Fascinating how the hot springs and geysers can live along or in the cold lake! Black Pool is stunning, though it looks like a caribbean underwater cave rather than living up to it name.
Next is Fishing Bridge where we refill water and gas. It's growing rather overcast and the weather forecast is calling for rain so we rush along. In Hayden Valley we hit a line of traffic – a pair of wolves caught an elk and it's supper time. They're down the hill and across the Yellowstone River, so no worries. Still surprising how large they are! Everyone is stopping for pictures – a lot of telephoto lenses and some pro photographs in the lineup.
On to the Grand Canyon of the Yellowstone. We head down South Rim Drive, checking out Artist's Point. It is an absolutely fabulous view of the lower falls – and we finally see yellow stones! Filled with busses full of people, though, and that's just absolutely frustrating.
A short ways up is Uncle Tom's Trail – a short trail mostly consisting of stiars down nearer the bottom of the falls. We pause at the bottom and I quickly sketch the view before grabbing a photo and heading up. And up it is! Whew! It feels like we're out of shape but we went up steeply and quickly.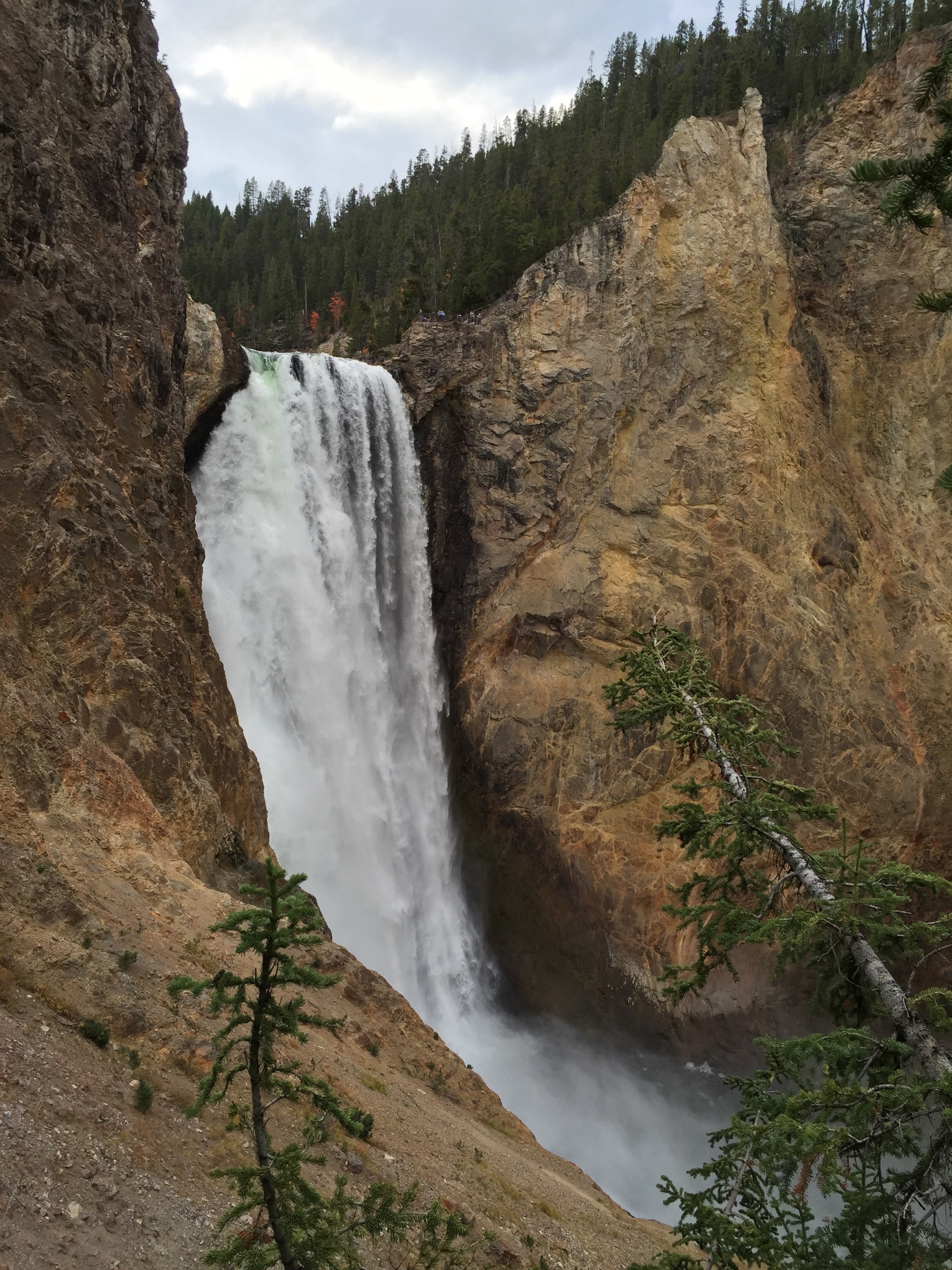 Now the rush is on – back home, hopefully before it rains. We don't make it. Just a few hundred feet before the park entrance (exit?) we stop to add back layers. Moments later we get rained on. It's cleared up by the time we get home. The forecast says this is only a break, though, so we take the opportunity to pack up for tomorrow's departure.
We found a nearby campground that is only $22 a night – but only electric hookups.We can go hide from the next few day's rain there and veg out to movies, reading and writing.
After supper we decide to try the campground next to us, about half a mile down the road. They have 4 electric sites and their website shows one as not being reserved yet. Once we get there, however, there is a paper reservation in place. So we head back to our spot by the river – ready to hit the road at first light.