Journal entries are just that – the digital copy of my hand-written entries in my journal. If you aren't interested in the daily details of our adventure, feel free to skip on to the next "regular" post.
Today's adventure is a hike up The Narrows, perhaps the most famous trail in Zion. There are only a couple of cars lined up at the gate so we are quickly in, parked, and on the shuttle. Today we ride to the last stop on the line, Mt. Sinawava, and walk up the paved Riverside Walk.
We wade into the river and make our way up the canyon. There is no trail, we are simply working up the Virgin River – alternating between crossing exposed rock beds, hopping across boulders, or wading through the water. We've paid extra attention to the weather – with the 1,000′ canyon walls on either side there is nowhere to go but up or downstream and any bit of rain can bring about a flash flood.
We pass by Orderville Canyon and find a downed log on a sandbar. What a fabulous place for lunch! The canyon alternates between spectacular cliff walls and vertical gardens growing on the stone. The river provides water for the whole valley, turning this area from a desert to a veritable Garden of Eden.
After a couple more miles we stop for a snack and decide to head back. On the way we detour into Orderville Canyon, scrambling up a short waterfall and enjoying a smaller, less traveled canyon. A few people we pass describe it as a long obstacle course. Thus far we've stayed mostly dry and hope to remain so. When it becomes inevitable that we will get wet it's time to turn back and head on down.
We try to rinse off the bulk of the sand from our shoes before leaving the river and returning to the Riverside Walk. Along the Walk we pass a woman with her easel set up, painting the river.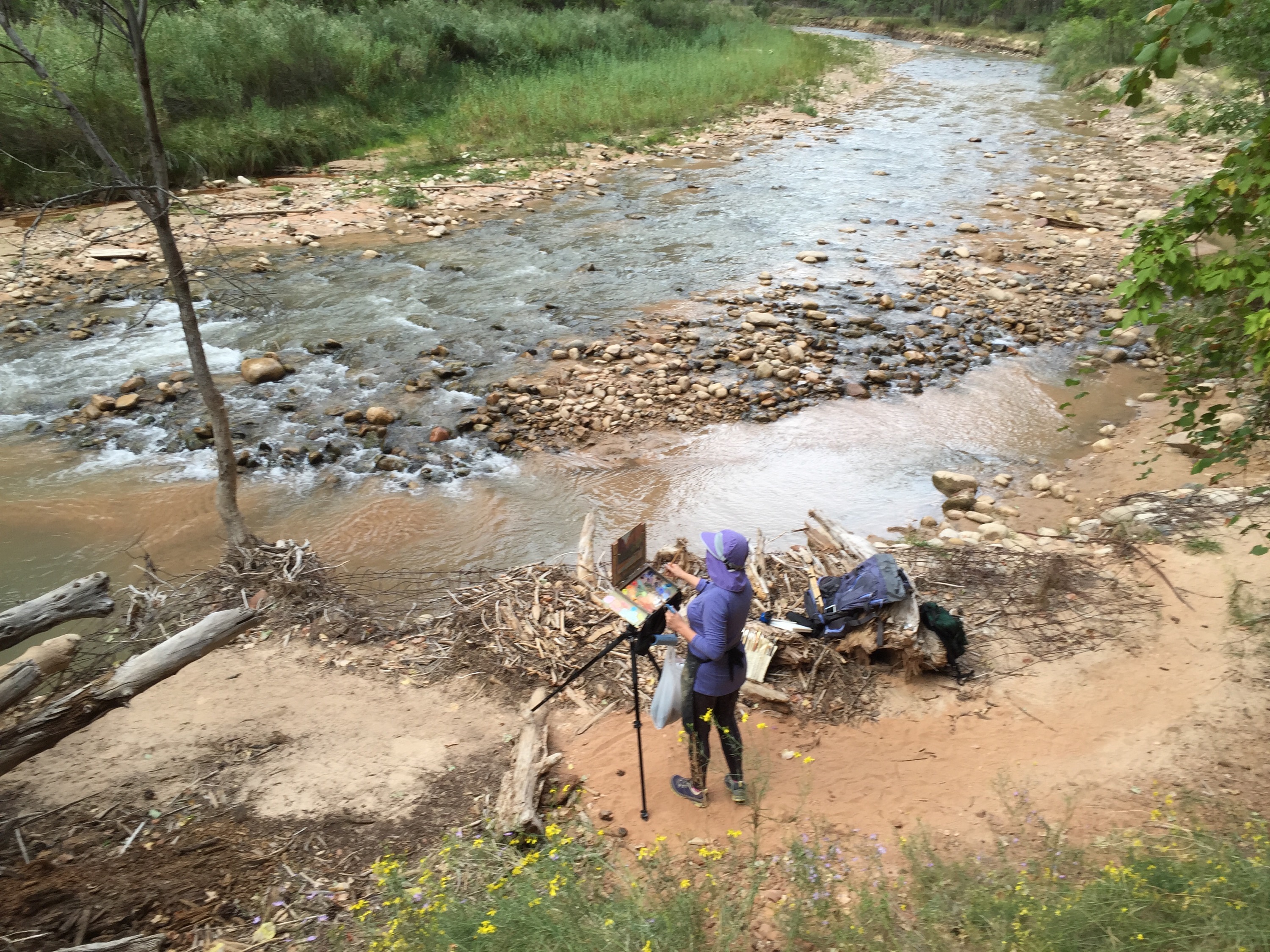 Back at home we shake our boots out and I put them up on the roof, hoping they will catch more wind and sun there and dry out faster.
We eat and read before bed.