Journal entries are just that – the digital copy of my hand-written entries in my journal. If you aren't interested in the daily details of our adventure, feel free to skip on to the next "regular" post.
I didn't sleep well last night (or the night before). Before leaving we top off the propane. Convenient to know that the Flying J's can have "RV Islands" with separate pumps, water, dumps and even propane available.
We skip breakfast and head west, toward Nevada, off the interstate. Beautiful views as we pass through mountains, deserts, and seas of sagebrush. Stopping at a summit along the way I make food and we enjoy brunch. We cross into Nevada and the Pacific Time Zone together, arriving about lunch time.
At a quick visit to the visitors center we learn of free camping at the south end of the park and that we have arrived at a great time for the fall colors.
After a couple of false starts we motorcycle up to the Wheeler Peak parking area. Our RV can't go as the roads are too curvy and nothing over 24′ is allowed. A sign at the entrance proves accurate – "Caution narrow steep winding mountain road next eight miles". Over those 8 miles it climbs almost 3,000 feet. Along the way are 3 guardrails. Not stretched along the length of the road but in total covering about 500′.
We really did time it perfectly – the aspens are absolutely beautiful! A fireworks display of yellows with hints of orange. They're lit up by the sun and contrasated by the blue sky and evergreens.
We hike about the glacier lakes trail, visiting Stella and Teresa Lakes. They are ponds formed by glaciers and refilled each year by snowmelt. Overlooking everything is Mt. Wheeler.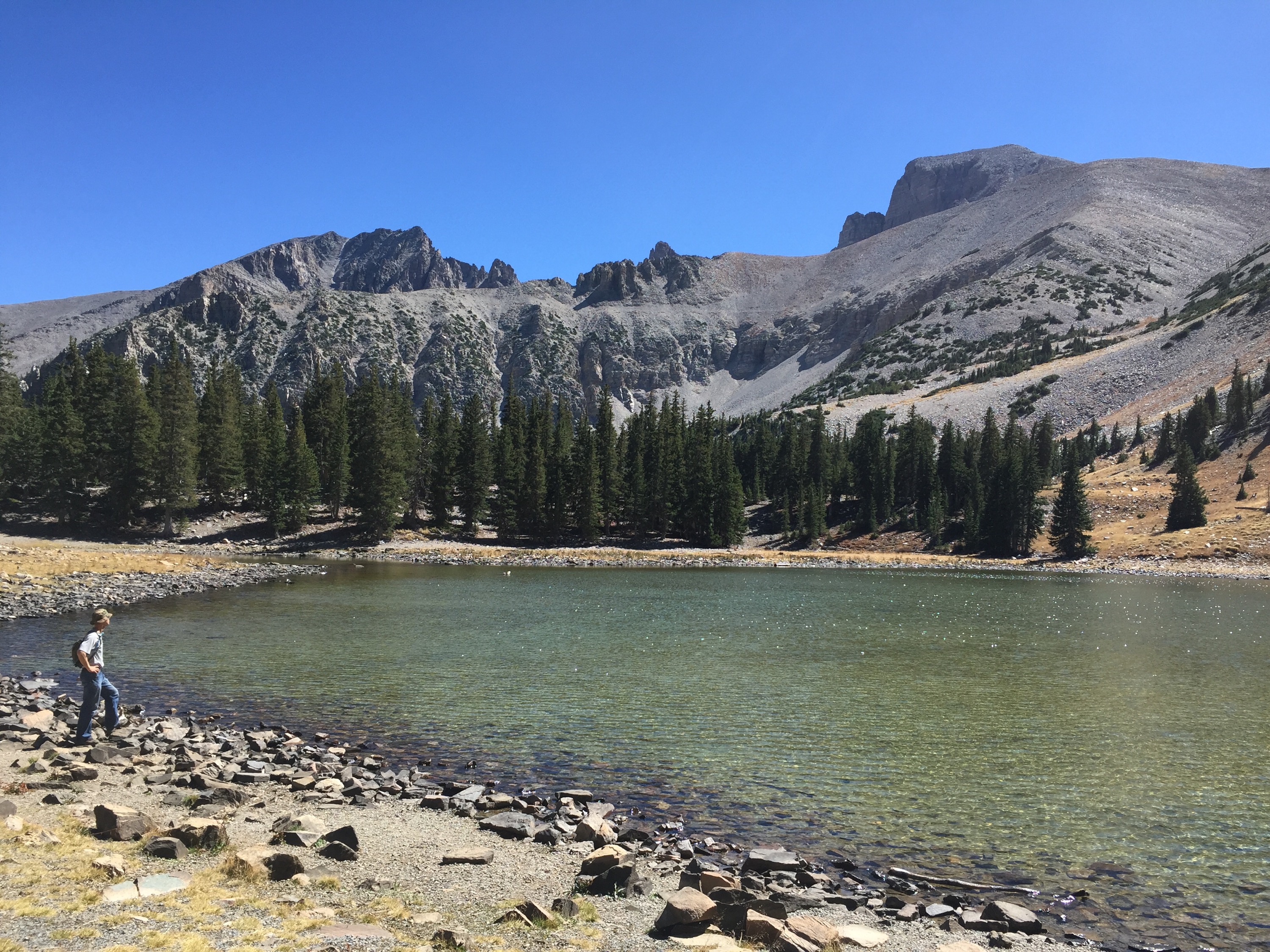 On up in to the Bristlecone Pine Grove. They're the oldest living organisms on earth – some found to be almost 5,000 years old! Their needles alone nearly have a human lifespan, living up to 40 years. I took an Egyptian Art History course that covered the last 5000 years – some of these trees were already old when the pyramids were built! They're fascinating to learn about and see. Long lasting, even when dead, we walked past one mummy that had been dead for 300+ years. They are very resistant to dying – all but a sliver up the trunk and a single branch can be dead. The oldest live tree we saw was 3,200 years old!
Due to the environment (I imagine) they grow in very twisted ways. No straight trunks for these guys! That makes them gorgeous – gnarled trunks full of swirls and patterns. Their silhouettes are fascinating.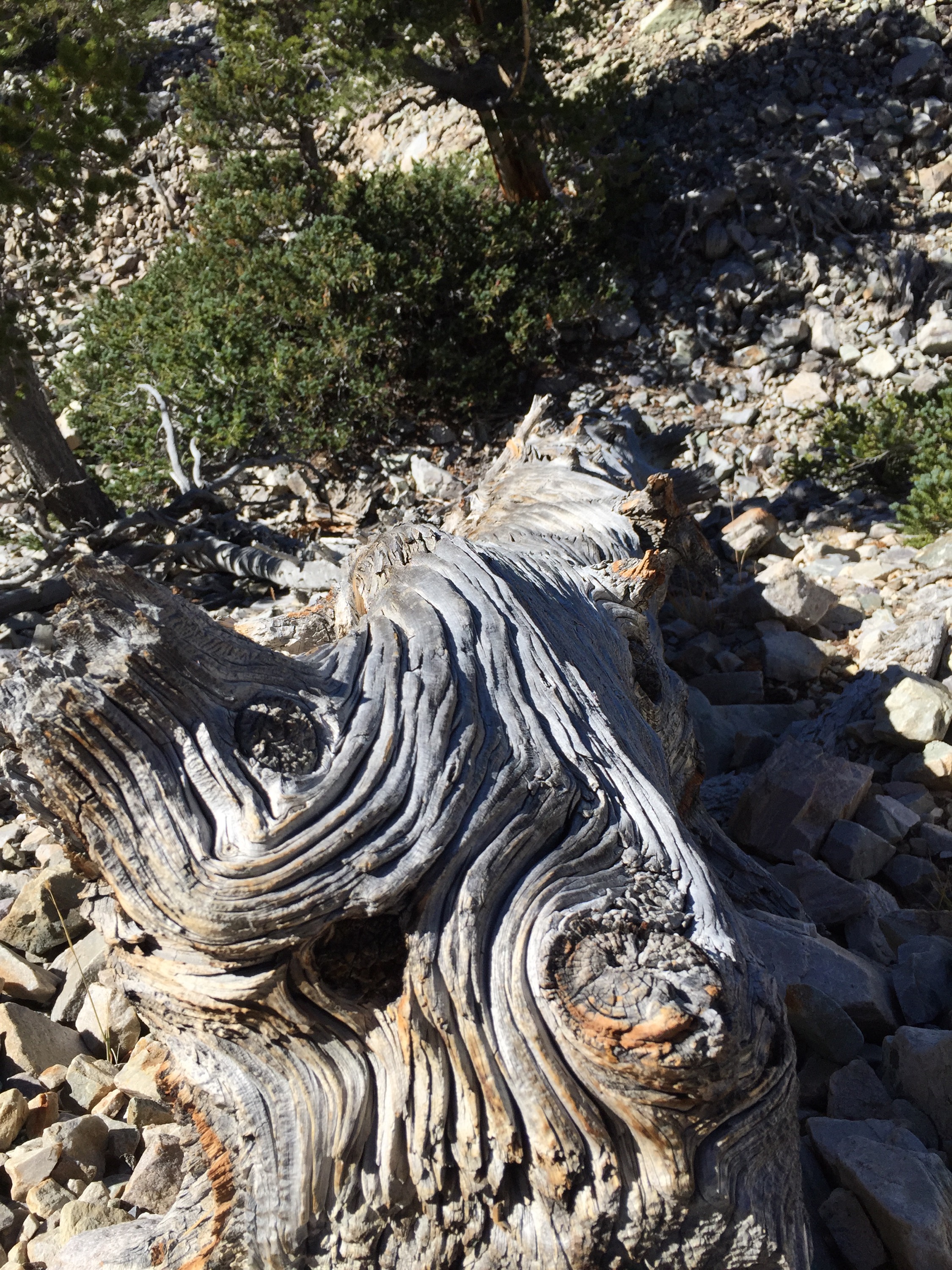 Passing through the forest and up to the foot of Wheeler Peak leads us to Rock Glacier. We snack overlooking a remnant of the Ice Age – towered over by looming, rocky sentinals on three sides.
On back we hike, heading for the bike. We gear up and head back down the mountains. It's like driving on a real life topographic map, with elevation markers showing every 500′ in change.
Back at the visitors center we load up the motorcycle and head south to find camping. It's a few miles back on a gravel road, but our site is spectacular – dual parking areas (for RV and trailer), a grill and fire pit. The Snake Creek runs just behind us. As we pull in a Jack Rabbit runs away. He's big, with long legs – more like a cat, size-wise.
After supper we wrap up in blankets and lie on the picnic table, stargazing. The half moon is bright but we still spot three shooting stars, a dozen planes and as many satellites. The burbling creek and short waterfall combine with the crickets, frogs, and rustling leaves to provide a wonderful auditory backdrop.
Eyelids heavy we finally head in to bed.