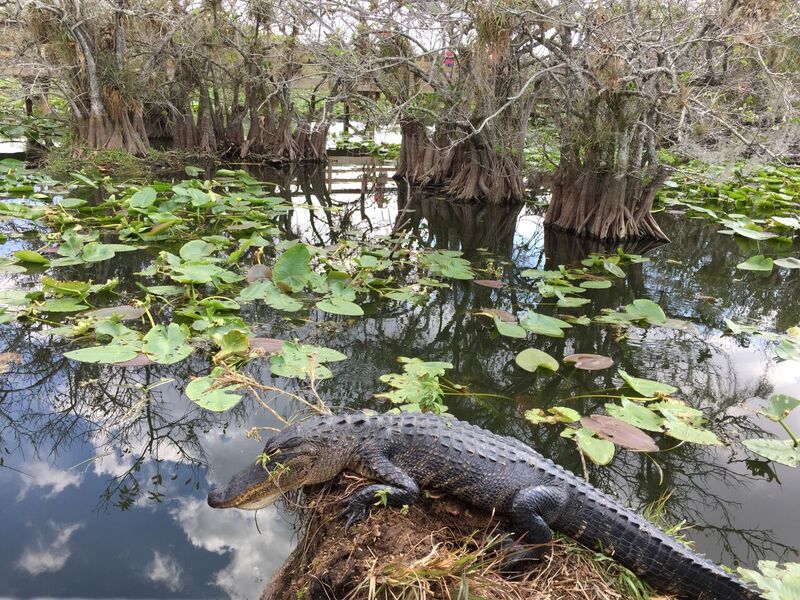 Current Location: The Everglades, FL
We're a part of the natural world, not separate from it, and shame on you if you don't take advantage of the opportunity.
~ Rudy Mancke
~~~~~//~~~~~
What a whirl-wind of excitement we've been having! Though we might have been sitting still in North Carolina for a few months, the last couple of weeks have been quite full.
After leaving Fayetteville we headed south, returning to South Carolina for a visit to Congaree National Park. Though they don't have any RV campsites, we were able to park at the visitor's center and tent camp in the campground – giving us more time in the park – including a chance to see and hear owls (having a very heated debate!) while visiting the boardwalk! Day two found us hiking most of the trails offered in the park, out to the Congaree River bank for lunch. It was a great chance to stretch our legs on the trails once again!
It was a quick visit and then we hit the road again, working our way down the east coast to the Everglades where we set up home at Long Pine Key Campground. A few days of exploration let us discover lots of alligators and swarms of mosquitoes (only one of which got any piece of us). We participated in a "Bike Hike" ranger-guided program. We got to learm all about the park while pedaling along and being guided by a park volunteer, a fellow Kentuckian, actually! A day trip over to Biscayne National Park was capped off with Park After Dark – a live concert by a musician/historian, s'mores, telescopes, and a chance to explore the park after-hours. We lucked into the perfect time to visit for the activity, since we missed out on the boat that travels out to the keys.
Whew! We also prepped and packed up our motorcycle for a trip across the keys (as recommended by Matthew's g-mom) and time on Dry Tortugas – which is where we've been this week. And with no internet, which is why this email is so delayed! But that's a story for the next email on Monday…
One thing's for sure, we've been having a blast in Congaree and the Parks of South Florida. They are definitely places worth exploring and preserving. All of them seem to be experiencing problems with resource depletion or budget constraints, so now more than ever is a perfect time to give them our support. With our days spent out on the trails and bicycles again, we are feeling an overwhelming love for the beautiful, simple, and natural places in our homeland 🙂
Floating along,
Matthew & Ashley