Current Location: Moab, UT
The sky overhead,
the earth below,
the mountains around.
I stand in the middle place –
at home.
~ Dr. Rina Swentzell
~~~~~//~~~~~
What a lot of country we've seen since our last email! Or so it seems… After leaving Santa Fe we headed north into Colorado (now we've visited all of the western states!) We found a great spot of wild camping on BLM land outside of Great Sand Dunes National Park. Ashley had been to a section of the Park before, and wasn't super excited about returning, so imagine her surprise that we loved it! We hiked up to the High Dune to enjoy the view and then had fun hiking down the Medano Creek, cooling our feet in its shallow water. Afterward there was even time to head up a trail to the Dunes Overlook.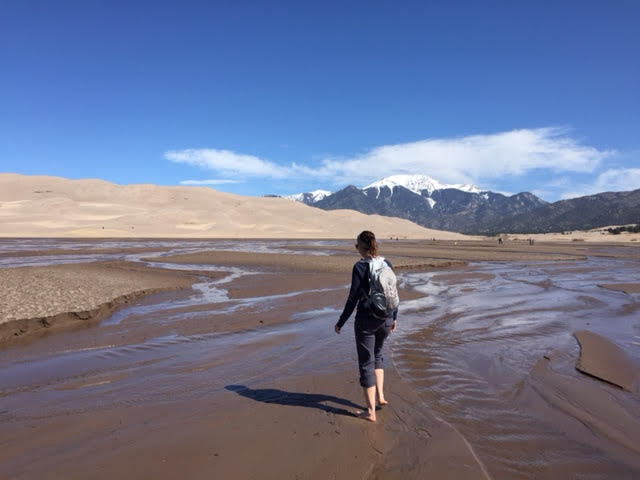 Then it was time to head west, returning though towns visited on previous trips, including Durango, which used to be home to the best sandwich shop in the world. Alas, it seemed to have closed since our last visit! That was a bummer, they really did have the best sandwiches.
Next up, Mesa Verde. The motorcycle seemed to be slowly leaking air from the front tire. So our first day was spent exploring the park in the RV, checking out overlooks and above-ground pueblos. It was fascinating to see the development of the culture over time – more complex architectural styles, the intentional discovery of pottery, and changing food production technologies. Our second day included a ranger-led tour into Balcony House, one of the major cliff dwellings. As amazing as it was, the highlight of the tour was Ranger David Night Eagle playing the traditional wooden flute he made. It was truly a work of art!
Some people live in tiny houses on wheels, while others chose tiny houses in cliff alcoves.
36 States
41 National Parks
8 other NPS Sites
Continuing North, we ended up in a BLM campground a few miles outside of Canyonlands National Park. The motorcycle was flat again, so we ended up leaving it parked and heading into the Needles portion of the park in our RV for a hike out to see the convergence of the Green and Colorado Rivers. There was a clear distinction in the color of the waters as they ran into each other and began to slowly meld together. We spent two days enjoying time simply spent outside, relaxing into the slower pace outside of rural areas.
Next up, that outdoor mecca, Moab! We found a motorcycle shop that not only had the appropriate tire in stock but also had an empty lift at the time, so we were quickly fixed and back on the road once again. Apparently Utah is where the French-Holts get motorcycle tires! (When we were in Bryce Canyon about a year ago we had to get a new back tire due to a nail puncture).
We found another BLM campground outside of town, settled in and hopped on the motorcycle to ride into Arches National Park. The ride was spectacular, paralleling the Colorado river and weaving among the feet of red cliffs! The park is in road-repair mode and thus is closed over night from 7pm-7am. That means we're missing the prime time to see the colors emerge at dusk, but it's a stunning landscape none-the-less! We toured for two days, checking out amazing sandstone arches and hiking among fantastical stone landscapes.
Whew! No wonder we're ready for bed at dusk. There's so much more to see in the area that it doesn't feel as if we've even scratched the surface. With new shoes on the motorcycle it's been fun to just get out and pleasure ride for a bit. Being out in natural areas consistently for the last couple of weeks has also been a relief, helping us to slow down a bit as we've been planning the next leg of our journey and considering future adventures.
We're staying in the Moab area through the weekend, exploring a bit further. There's no signal at our camp so if you don't hear from us it just means we can't quite shout loud enough to make ourselves heard! 😀 We do love the area – any place that our dusty RV fits right in, where there are more 4×4 vehicles than not, that has dirt bikes and bicycles sharing the road, and that has plenty of bicycle and hiking trails – that's our kind of place! Oh, and did we mention the plentitude of breakfast and coffee shops? If nothing else, it's the perfect place to pause for a couple of days before we head on to our next adventure.
Playing among the red rocks,
Matthew & Ashley