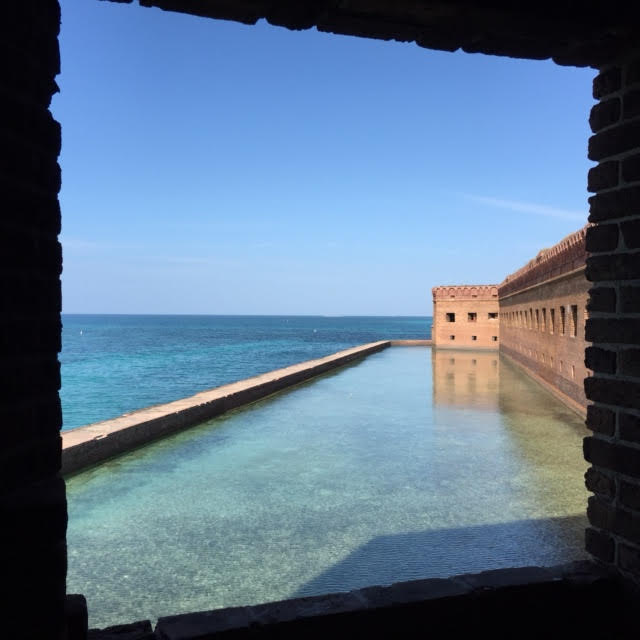 Current Location: Gainesville, FL
Those who dwell among the beauties and mysteries of the earth are never alone or weary of life.
~ Rachel Carson
~~~~~//~~~~~
Our last email mentioned the parks we've been visiting and touched on our stay at Dry Tortugas. For those of you who aren't familiar, Dry Tortugas is remote National Park, 68 miles west of Key West, FL. It consists of 7 Keys and their surrounding waters, but the park is centered around a military fort relic, Fort Jefferson, on Garden Key. For us to get there, we left the RV in a campground in the Everglades, loaded our motorcycle up with camping gear, rode along the Keys, and then caught a ferry boat out to the island. Then we set up camp and stayed for three nights! The only way to access this interesting place is by taking the ferry boat called Yankee Freedom – the only concessionaire the park uses, by seaplane (but it's very expensive and you can't camp due to weight restrictions), or by personal boat, of which we do not have.
32 National Parks (of the 47 in the contiguous US)
30 states (of 48)
6 National Park Sites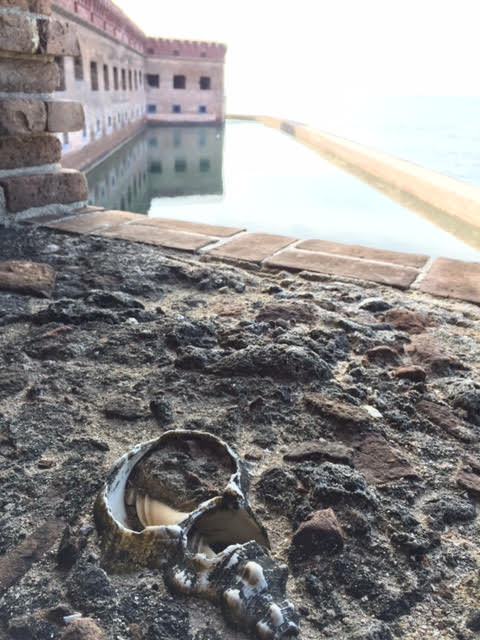 There was no wifi, cell signal, running water, lights, or electricity, and only a handful of people when the ferry boat wasn't docked each day. Fort Jefferson was incredibly interesting (although nothing really happened there historically speaking) and it was a testament to masonry of the past – built in the mid-1800s using 16 million bricks! – complete with a moat and a resident crocodile (Carlos). We snorkeled with the fishes, explored coral and plants growing outside the moat and in the sea, hiked the moat/sea wall dozens of times each day, tried to guess when Pelicans would dive into the water, chuckled watching the hundreds of hermit crabs that made a neighborhood behind our tent site, watched the sunrise and sunset from the beach and fort walls, and generally just enjoyed ourselves. Matthew spent a lot of time drawing and even tried his hand at a couple of watercolor paintings.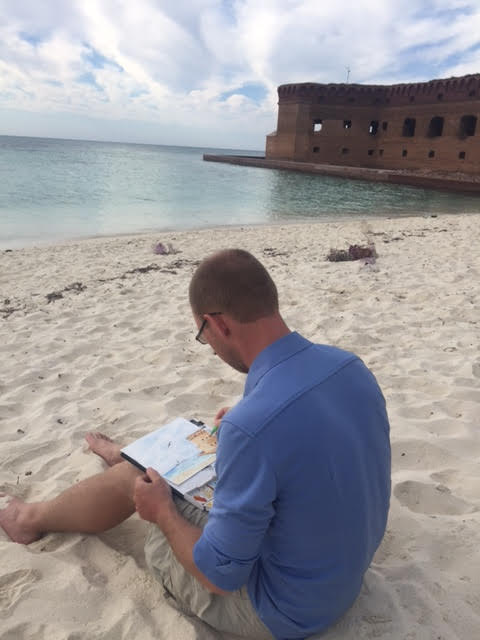 It was a fabulous mix of nature and (old) man-made structure – with new surprises to be discovered each day. We spent hours looking down into the water, just seeing what we could see. Barracudas, "pencil fish" (that's what we named them because we're not sure of their actual name), sargent majors, goliath groupers, lobsters, glow-in-the-dark jellyfish, and so many more sea creatures! The ~16 million bricks held a lot of interesting masonry work, rooms, and just a massive structure to explore out in the middle of the Gulf. It poured rain one night and drizzled until about 11am the next morning, so we spent the morning wandering around the massive fort, listening to rainwater seep through the ceilings, drip in puddles on the floor and enjoyed the gloomy solemnity.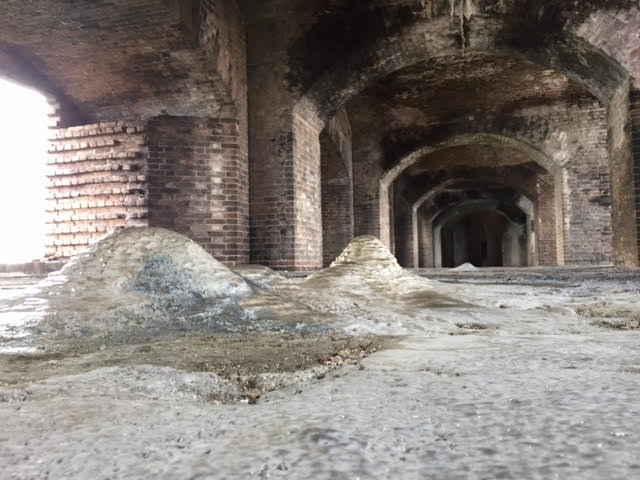 But it was a relatively cushy "roughing it" scenario, we thought. We had to bring our own fresh water as none is available on the island (hence the name "Dry") and couldn't use our backpacking stove. So we had a creative menu of non-cook meals (chicken/avocado salad sandwiches, tacos, and backpacking pizza). However, the ferry boat arrived each day for ~4 hours and provided coffee/tea, cold drinking water, and even warm fresh-water rinse showers on the deck to clear off some of the salt. And when it left, there were only about 50 people on the island. 20 or less campers, 20 staff (who lived inside the fort), a couple of sea-plane tourists, and private boaters docked out in the harbor. With everyone cleared out, Carlos moved about more and we enjoyed the spectacular sunrises and sets.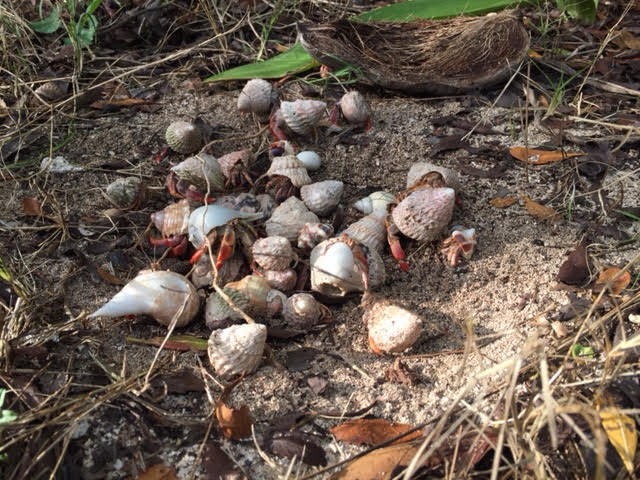 All good things come to an end, and we were glad to be heading home to our RV. Thursday we headed out on the ferry and re-loaded the motorcycle for our trip back up the Keys home. Matthew's grandmom's urging to motorcycle the Keys was a sound one, as we thoroughly enjoyed the view of the sun setting behind us, tinging the sky and highlighting the mangrove clumps scattered about the water. Though we wondered how different it might have been when they motorcycled the Keys, less commercialized and built-up, we assume; that's the problem with humans, we seem to destroy beautiful places in our greedy pursuits. A proper shower and night in our own bed was delightful!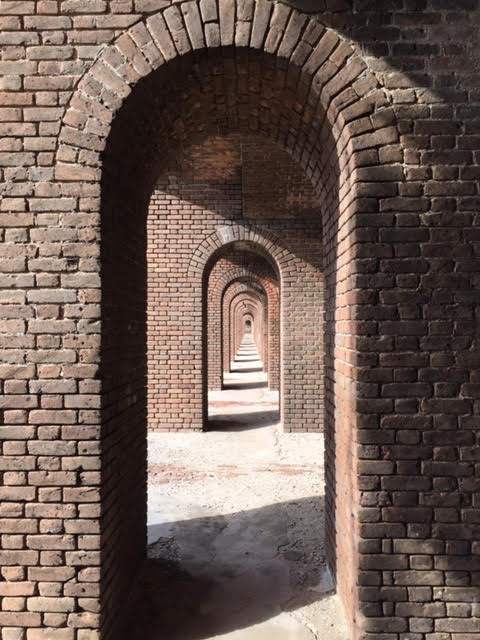 Back in the Everglades, we joined a ranger-led canoe trip through the mangroves, which included paddling among gators and sharing a pond with a 14-foot crocodile. Then we headed out and stopped in at Big Cypress National Preserve. We only wished we were able to spend more time there so that we could explore further!
And this weekend we've been working our way north, catching up on chores and looking forward to a visit with some family.
Aimlessly Ambling,
Matthew & Ashley
P.S.- Ashley is selling some of her recently made soaps on Etsy (there's only so much soap that one person needs). The link is as follows if anyone is interested in some: www.etsy.com/shop/AdventureSomeSoaps