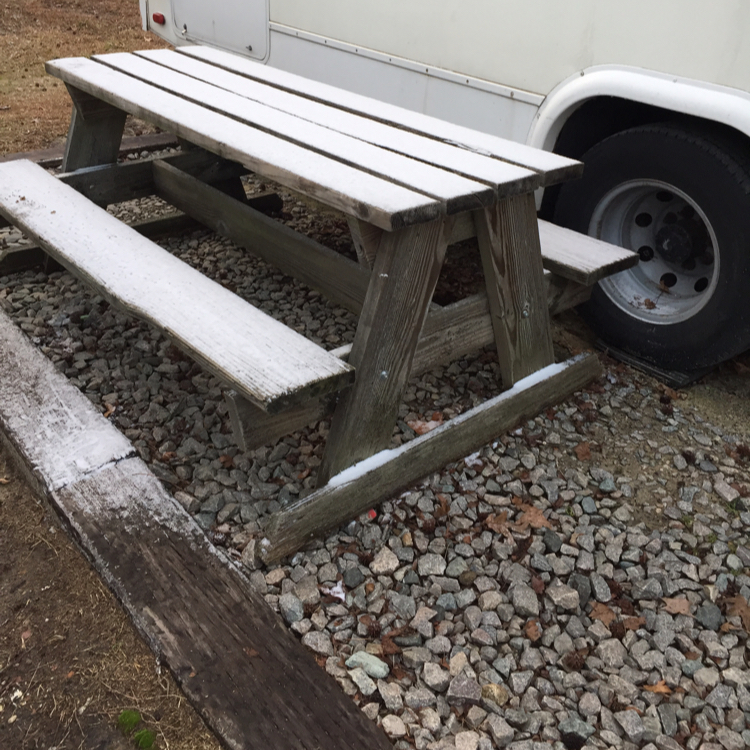 Current Location: Fayetteville, NC
Sunshine is delicious, rain is refreshing, wind braces us up, snow is exhilarating; there is really no such thing as bad weather, only different kinds of good weather.
~ John Ruskin
~~~~~//~~~~~
Well, we survived the great predicted snowpocalypse of Jan 2017. The storm threat that magically cleared bread, milk, and eggs from store shelves. The hospital informed all staff (at least on the unit we have contact with) that they were required to make it for their scheduled shifts and that, if necessary, they could sleep on the floor of the conference room or use one of the broken, defective bedside chairs that were waiting to be repaired.
Fortunately, Ashley simply got a ride home from a coworker who lives nearby before the great storm broke. We waited and looked out our window to see… a heavy frost. -rolls eyes- (Our accumulation shown in the picture above).
There was a lot of hoopla and, at least in our area, nothing came of it. It rained, some of that froze, and then we've been simply waiting out the cold. I know it wasn't like this everywhere, but it can be comical to observe the hysteria that can occur. Better safe than sorry, I suppose.
In other news… we've noticed (once again, I believe) a trend in peoples' views of living in an RV. We're staying in a campground that is filled with long-term occupants. Some of our neighbors are retired and live full-time in their RVs and some are basically nomadic workers, following their jobs in a mobile abode. Whenever we first speak to them, it always seem that the workers make sure to mention that they have a home back… wherever. They ask where we live and I point to our motorhome, "right there."
Even though they are living in an RV themselves, they seem to view it as a lesser lifestyle than living in a home. A couple have mentioned being "homeless". Houseless – absolutely! Homeless? Not at all!
It's just interesting to see others' viewpoints. One person's everyday-normal is another's abstract-foreign. Different doesn't mean wrong, and you can't compare directly since everyone is coming from a completely unique viewpoint, their own.
Well, it looks like we're having an above-freezing, delightfully sunny day. So we're taking our coffees and going to enjoy a bit of time outdoors.
Adventuring away,
Matthew & Ashley