Journal entries are just that – the digital copy of my hand-written entries in my journal. If you aren't interested in the daily details of our adventure, feel free to skip on to the next "regular" post.
We plan on riding in to Yellowstone and exploring the northern loop of the figure 8. Ashley suggests a trip to Bozeman instead, as we'll be in Yellowstone soon enough and it will be a full day of riding, much of which we've already done. Unfortunately, Bozeman is further away than the park and pretty much all interstate so that's a no-go.
Part of the morning passes as we disuss plans and we decide to knock out some of the items from our todo lists. Ashley sews the velcro holders on our curtain stays where they have been coming loose. I head outside and change the oil in both the motorcycle and the RV. Not sure what it would cost to get either of them done by someone else but I'm sure we saved a decent amount, plus we didn't have to wait for an appointment!
While climbing under the RV (which might be the easiest oil change I've done) I looked around for the mice's entry spot. The only real option that I noticed was a gap between the walls and the wheel-well trim. We'll get some spray foam to block that.
Ashley started changing the inner-tube on her road bike's front tire and I help her finish that. Darn thing seems nearly impossible to get seated correctly!
We eat a late lunch and head in to town for errands. Drop trash off on the way to the hardware store where we get pest-resistant spray foam, some self-tapping screws, weather stripping for the screen door (this home-ownership thing never seems done) and priced a portable propane heater ($99.99 and Walmart has
them for $79.99 so we'll be waiting). Then to the Family Dollar for some groceries, top off gas and air in the motorcycle and we decide to take advantage of being in town for a date.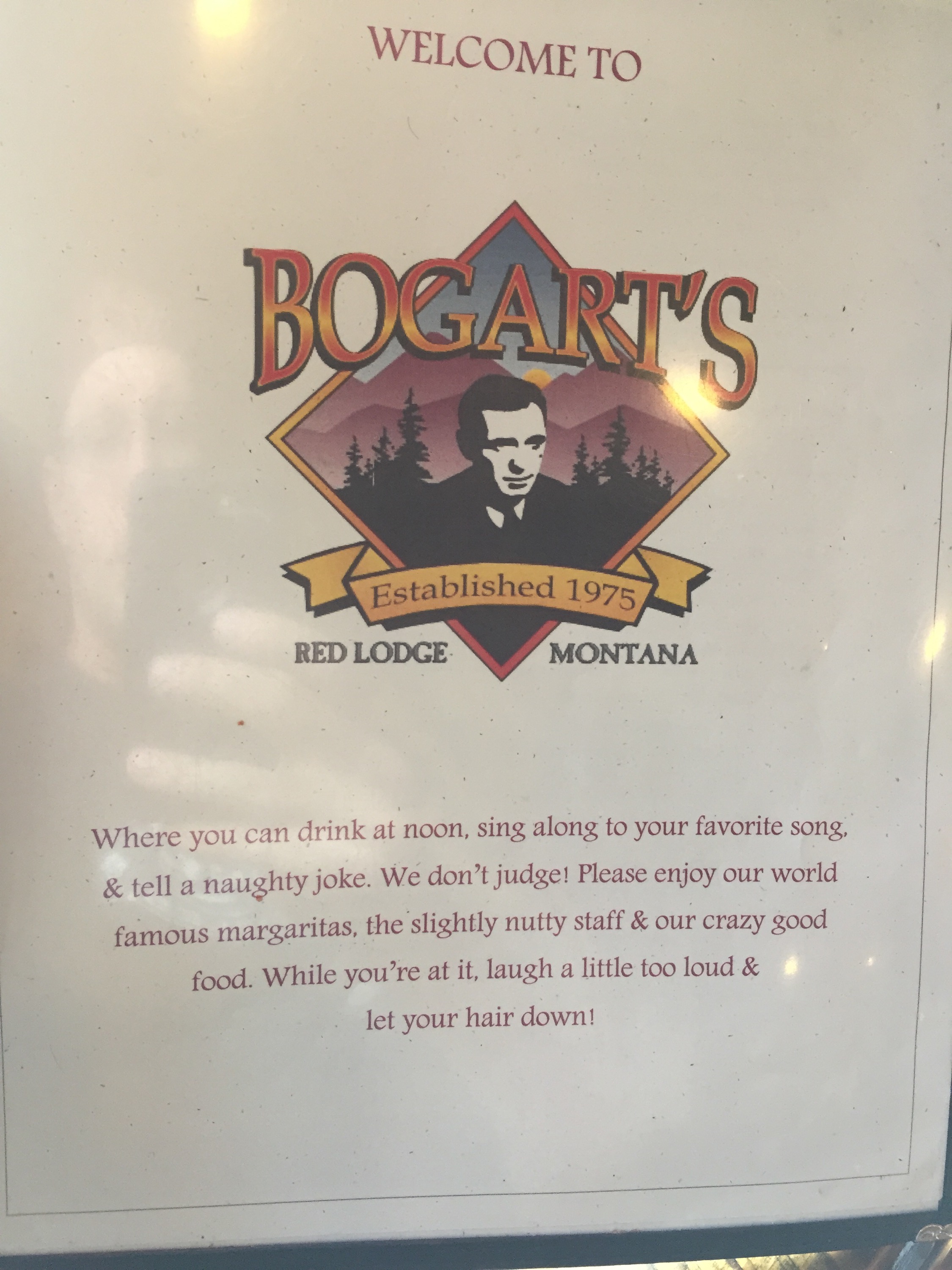 After walking up and down Main Street, reading menus, we settle on Bogart's. They serve chips and salsa while we wait (one of our favorite snacks – we eat two servings) and I get a burger while Ashley gets a small pizza, and we share a margarita. While waiting for our food, we check Facebook and see that Pete and Heidi stayed in Red Lodge and recommend getting pizza at Bogart's. What perfect timing to read their suggestion!
We didn't realize it but the drink was half-price. The burger was decent and the pizza was, in fact, delicious! The Garden Pie – olive oil and garlic base with avacado, tomato, and mozzarella toppings. Ashley ate half and I had two of the other three slices.
Other than the water refill that was – I believe – pickle juice, everything was good enough that we'd be interested in returning to try more.
Finishing supper we walked to the grocery store for a few last items. We've enjoyed Dale's chats and plan to invite him for supper tomorrow so we grab few items to share. We also pick up a pint of ice cream to split – a compromis between going to the ice cream shop for cones.
Shopping over, we rush home to enjoy our ice cream. Ashley holds two bags and I place the other in my lap. Too many items to fit in our saddle bags.
After enjoying our ice cream (it goes so fast!) we use the spray foam to plug up the wheel-wells. But not before I empty the trap yet again. Hopefully this will be the last.
Uh oh, Dale's motorcycle is loaded up. That probably means he's leaving tomorrow. If so, we waited too long to invite him to supper.
We pack our day packs for tomorrow's hike around the Beartooth Loop Trail.