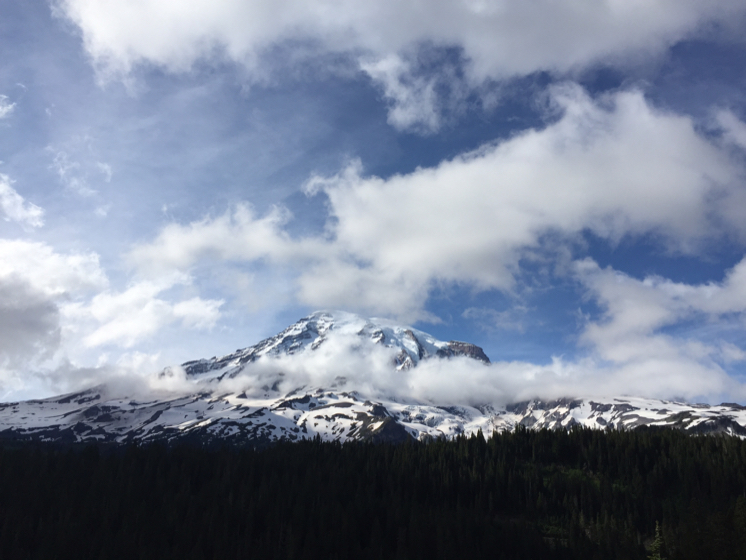 (Pictures are all available in an album in FaceBook.)
Current Location: Bremerton, Washington
One day you will wake up and there won't be any more time to do the things you've always wanted to do. Do it now.
~ Paulo Coelho
---
This week's edition of Adventure-Some takes us to Mount Rainier National Park! 🙂 We headed out early Thursday morning for a new adventure, a visit to a volcano! And a very large volcano at that. Mount Rainier National Park is only a two and a half hour drive from Bremerton, and before long we had claimed a campsite in Cougar Rock campground and were off to the visitor center at Paradise to see what they had to say. Upon exiting the theater after watching the park video we were dismayed to see the rain pouring down. But with a handful of trails starting right at the visitor center we weren't going to let the rain hold us back too much.
So we donned our rain gear and headed out anyway. With clouds everywhere we skipped the scenic vistas and headed out to see the nearby Myrtle Falls. There was only one other group on the trail, so while we couldn't see the massive mountain that we were standing on, we had the trail to ourselves and enjoyed a wonderful view of the waterfall.
The sky then decided to open up into a downpour, so we headed back to the campground for supper and to prepare for an early start in the morning. We've definitely been enjoying the freedom of tent camping these last few months. While we love the RV, in the Parks it is often a lot easier and less cumbersome to find camping for a car and tent versus a motorhome.
Friday started with drizzle and an early hike. Just across the road from camp was the trail head for Carter and Madcap Falls, so we headed that way. Two falls in quick succession was a fabulous way to start off the day! Further up the road we headed to the Cushman trail, crossing over Christine Falls, past Cement Falls and then to the amazingly impressive Comet Falls. The rain and clouds may put a damper on seeing grand, scenic vistas, but it only enhances the beauty of waterfalls. And there were plenty of those to explore, though Comet was the best in our opinion. If it hadn't been cold, we would have enjoyed a nice refreshing drench right under the towering 380 foot, tiered falls.
Though it had been raining off and on throughout the morning, by lunch it was mostly dry and we were able to pack up our rain gear. The skies were still cloudy, however, and we had yet to spot the massive mountain that we heard was nearby. So we headed on to the Reflection Lakes trail, a loop that circles around two small lakes. From atop a cliff we were able to look down at the valley, over lakes and rock formations. As we turned to leave the cliff and rejoin the trail, moving clouds offered us a brief glimpse of the volcano's peak, catching us off-guard. We got so excited! But just like that, the clouds moved swiftly as smoke and covered Mt Rainier as if it wasn't even there. It amazed us how such a topographically prominent landmark could hide so easily. Could you imagine being one of the early peoples to the area? To come upon the area on a cloudy day, go to sleep after an exhausting day of travel in the mountains, and wake up to find such a massive, unbelievable peak, BAM! right in front of your face. I can only imagine them thinking "how did I not see this yesterday?" Ahh-mazing is all I have to say.
One more nearby trail took us up past Bench Lake and on to Snow Lake. It was a beautiful emerald/teal mountain lake, tucked into a secluded basin. We spent quite a while just soaking in the views…and used the out-in-the open composting toilet! There is something very unique about sitting upon a porcelain throne (well, plastic in this case), atop a mountain in the middle of nowhere with the wind in your hair. You don't get that experience everyday 🙂
Headed back down the trail, the sky cleared and we finally saw Mt. Rainier in all its stupendous glory! Its indescribable beauty and mystique truly dominates the landscape and invigorates the human soul. If anything kindles the spirit of adventure and exploration, this mountain is it. We stopped and admired the view with every turn-off along the trail, Ashley practically running to the next prime viewing area in hopes of catching another glimpse before the clouds overtook it again. It was still blue skies and sunshine when we arrived back at the truck, so we headed back to Paradise for a quick walk along the Nisqually Vista Trail for closer views of the mountain and its glaciers.
1 lava tube briefely explored
2 volcanoes visited (though not seen)
24 National Parks!
Saturday we packed up camp and headed on down the road and coordinated meeting with Jackie and Mikel, who were on their way to join us for the last night. We stopped and hiked through the Grove of the Patriarchs, an old growth forest on an island. The river has surrounded the land, acting as a moat and protecting the old trees from fire damage that had taken the rest of the forest. It's always humbling to walk among trees 1,000 or so years old, and it's amazing how big they can be! We just can't imagine those little Christmas trees that we sold being the same as these giant Douglas Firs. 😀
Jackie and Mikel met up with us at White River campground where we set up camp before heading to the Sunrise Visitor Center. Eager to put our boots to work, we headed up the trail to Mt Freemont Lookout. It was still overcast so we didn't expect expansive views, but what we could see was amazing! Mountains, the snowy glaciers on Mt. Rainier's feet, beautiful green valleys…and the trail was a lot of fun, traversing a rocky mountain side and ending at the crest of a mountain at an old fire watch tower!
Back at the campground we experienced our first ranger talk (shameful, I know) where we learned about how the natives and settlers traveled up the rivers to the mountain and how they changed each other – the rivers, the mountain, and the travelers.
Leaving Mt Rainier (sadly) on Sunday, we made a side trip to Mt St. Helens before returning home. Unfortunately the weather never cleared and we didn't get a view of her, except for her feet, even though we drove along three sides. These Washington volcanoes are very shy! We did, however, get to stop and check out a lava tube, which we've been hearing about since northern California! Though we didn't have much time available, we headed into the cave for a few minutes to explore what we could. It's a completely different kind of cave than we've been in before and would definitely be worth a return trip to hike the entire length…
Lessons Learned (or relearned):
Rain gear means fewer people on the trail.
Waterfalls are great destinations even when the weather isn't clear.
Don't forget to pack the hot chocolate in inclement weather.
Mount Rainier is definitely a magical landscape full of amazing scenery, and we only scratched the surface. When the views are inspiring even in bad weather, you know you're in a pretty spectacular place.
Adventuring away,
Matthew & Ashley