Determined to make it up the hill on Pauba Rd on our bicycles that defeated us on my birthday, after breakfast we head that way. Not only will we get our 10+ miles in but we can conquer the hill… and we do! We're out of breath but elated. Accomplished, proud, and puffing! 😀
After completing the bike ride I finish writing the emails for this week and Ashley presents the idea of motorcycling over to the ocean for lunch. Sounds great to me! She puts together lunch while I grab a shower and we hop on the motorcycle and head west until we run out of road, back to Dana Point. It's a warm ride and the cool air as we hit the last few blocks feels wonderful!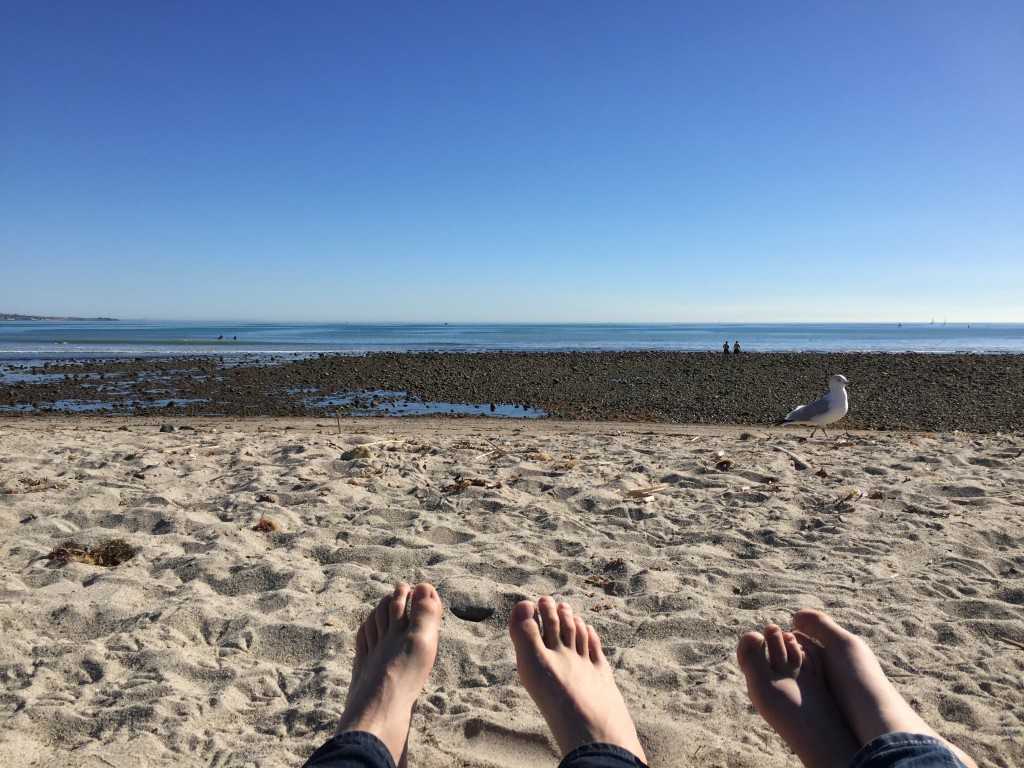 We find a parking spot and walk over to the beach. Spreading out a towel we sit down and enjoy lunch overlooking the ocean – watching the surfers/paddle boarders catch waves. Then we lay down in the sun and listen to the surf for a bit before going and wading in the shallows. Don't want to get our jeans wet so we roll them up and don't venture very far out – the water starts out cold but then feels good as we grow accustomed to it.
We know it's going to be a busy ride back but decide to head on anyway. Indeed, we hit some pretty good traffic – thankfully you can split lanes here and we jump on ahead of a few traffic lights. Still slow moving but so much faster than a car would be. The traffic thins out as we head back over the mountains but we're still in the middle of a line of cars. This slower speed gives me a chance to admire the view more closely, however, so we certainly enjoy that.
Ashley wants to check out the book store near the mall so we stop on the way home. She finds the two books she's looking for, though I don't see mine. Now she can prepare for the John Muir trail later this year and we have a reference for bicycle riding/training that will be pretty darn handy.
We beat Bill and Carol home by a few minutes, just in time to have started putting together a salad to go with supper. After finishing up our meal we play a couple rounds of CatchPhrase before catching the news and then trickling off to bed.