Journal entries are just that – the digital copy of my hand-written entries in my journal. If you aren't interested in the daily details of our adventure, feel free to skip on to the next "regular" post.
It's another cold morning. We wake and quickly bundle up for a ride in to town. To celebrate Ashley's birthday we're going to head in to Prindy's Place for breakfast. It's nice and warm inside and we both have coffees while waiting for our food. Ashley gets the special of the day, three pancakes and scrambled eggs. So big she can't finish them. I get a standard – eggs, hashbrowns, bacon and rye toast. Everything is tasty, a nice start to the day.
Apparently we beat the rush, so we head out to empty out a table. On to Honey's. Ashley specifically wanted a latte. She's happily warm and bundled up – we don't feel like heading home to change to go for a hike, so we're going to spend the day about town.
We get our coffees and I set about updating journal entries online. Basically, we pay for wifi and a seat and they throw in a beverage. Ashley really liked my posts, especially "Silver Linings" so I schedule that as well for tomorrow.
Finally finishing up we walk down to Lyon's Park to check out the Art Festival. Makes us think of the Art Fest in Lexington, just smaller. Lots of really good work, with a good ratio of crafts to arts. Ash liked the alpaca socks and I appreciated the traditional wood long bows.
Over to the grocery store. After shopping we dropped the food stuffs off in the saddle bags and walked down to the Tea Shop. They have IngenuiTeas, which Ashley has been wanting for some time. Mom deposited some birthday money in our checking account and Ashley is using that to buy her gift. She's so excited!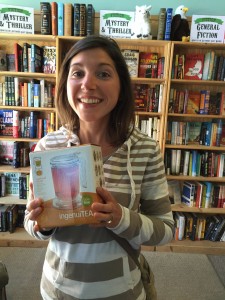 Gift collected, we head home to try it out. Her face lit up with delight as she made tea. She swears her drink has a richer taste due to the loose floating leaves, compared with them remaining compacted in the tea ball.
We head out for a stroll and find ourselves down at Wild Bill's Lake. It seems to be a popular picnic/fishing area. Apparently, in 1902, William dammed up a glacial gouge to create a recreation area. Stocked with white fish, built a wood-fired hot pool for soaking, added an outdoor fire place and even a dance floor. Must have been quite a lively place! Over time it deteriorated. In the 60s the dam was rebuilt (by Navy Seabees!) and now it's what we saw. Pretty lake.
At the far end, away from everyone else, we watched what we assume are muskrats. They swam up to downed logs and sat there, eating. Then dove off and came back to repeat. We spotted at least 5.
We mosey back up the road to home – stopping to snack on some raspberries. At home, we aren't very hungry – lunch was a bit late and pretty big – so we decide on a popcorn snack. We start discussing the animals we've seen and realize it's a pretty good list so we start writing them down – 20! That's pretty good, we think!