Journal entries are just that – the digital copy of my hand-written entries in my journal. If you aren't interested in the daily details of our adventure, feel free to skip on to the next "regular" post.
Ashley was ready to hit the road this morning. We got up, had breakfast and packed to leave. With chili in the crockpot, however, we had to wait until 2:00. We did a last load of laundry, filled all of our water containers and generally got ready for a few days of travel.
I consolidated pages worth of notes about art – business thoughts, subject matter, project ideas, and potential partners. Lots and lots of notes – it's so much easier to get an overview and sense of everything with it all on one big piece of paper – mind mapped out. Still more info that needs to be added but this helps a lot.
Finally the chili finished and we were able to unhook and hit the road. Though we are traveling a long way, we have all weekend to get there, so no rush. Our goal is to travel slowly to let the rest of the Sturgis crew clear out as much as possible. So we are going to hop from one overnight spot to the next – Walmarts and truck stops and such.
With the late start I don't expect to get far. It is a bit warm so, ideally, we can find a mall or somewhere to park and wander until later to help skip some of the afternoon's heat.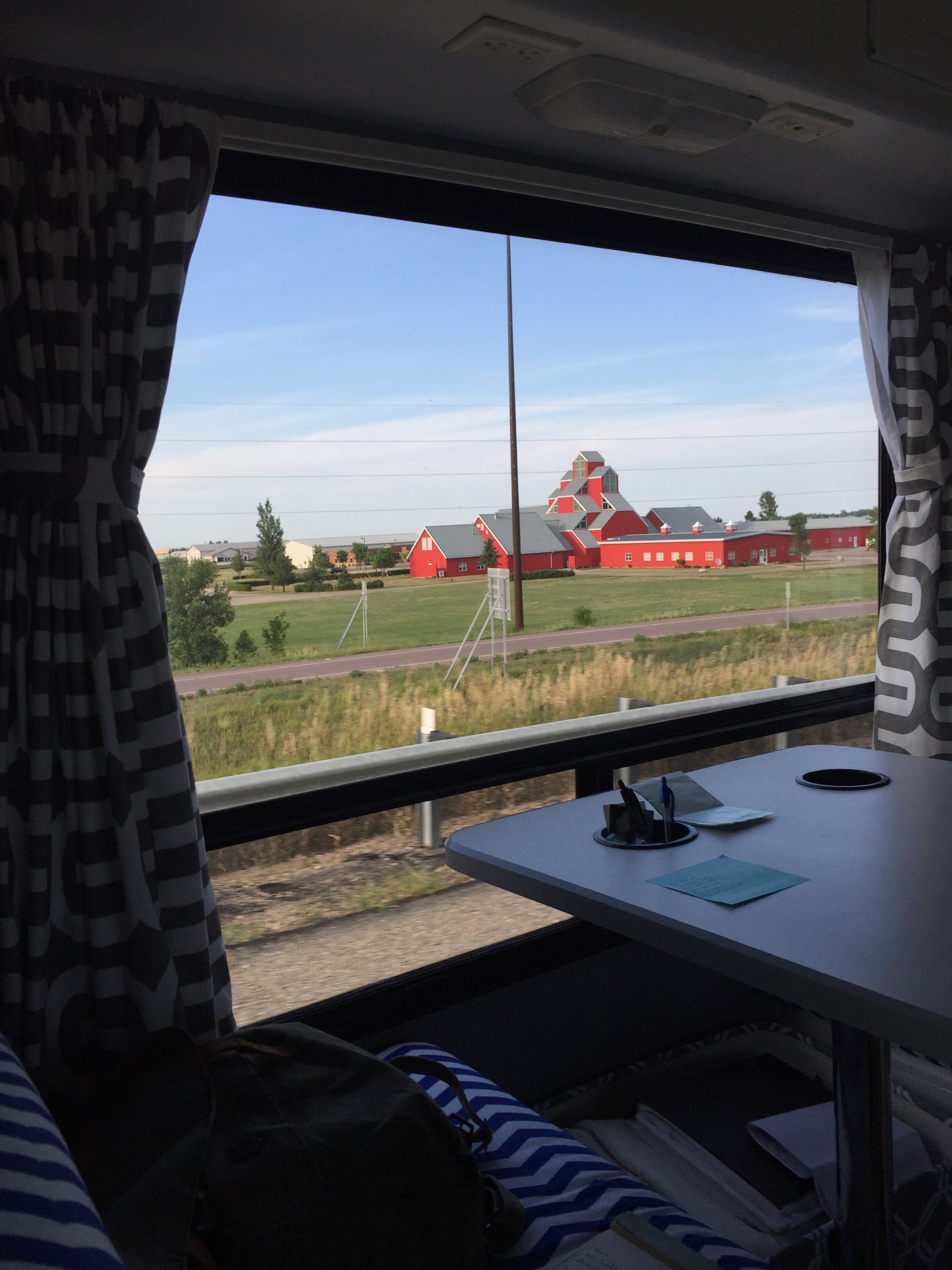 We pause at a reast stop to stretch and find a geocache. It's a quick grab, and that covers Minnesota. Now we have a find in every state we've been in.
Apparently the smell of chili all day has been too much. It's earlier than normal but we're hungry so we find another rest stop and pull in for supper. Quick salad to accompany – spinach, cheese, and grapes. Delicious meal!
Crossing in to South Dakota we find a Walmart in Sioux Falls. After a trip in for apples and a few odds-n-ends we walk next door to Target. Haven't been in once since, roughly Christmas. We really like Target a lot better than Walmart. They have some pants and shorts on sale and all of mine are too large – we can come by in the morning and see what I can find. That will be a good way to pass some time before heading further west.
Back in the RV, we open all windows for air flow and turn on the generator to make tea and popcorn. After a minute or two it dies. I start it back up and it runs for a few seconds before dying again. Oh no! I hope it didn't run out of oil. It's too late now so I'll check it out in the morning.
We read before bed.