What a full day! On Jennie's recommendation, we headed north to La Jolla for breakfast, to The Cottage. We had coffee cake as an appetizer with our coffee. It was absolutely delicious and roughly the size of Ashley's head! Ultra light and fluffy… I chose the lemon ricotta pancakes with blueberries grilled inside and Ashley had a Tuscan omelet with potatoes and a scone on the side. Everything was amazingly delicious… we didn't stop eating until we basically ran out of food, by which time we were stuffed to the gills.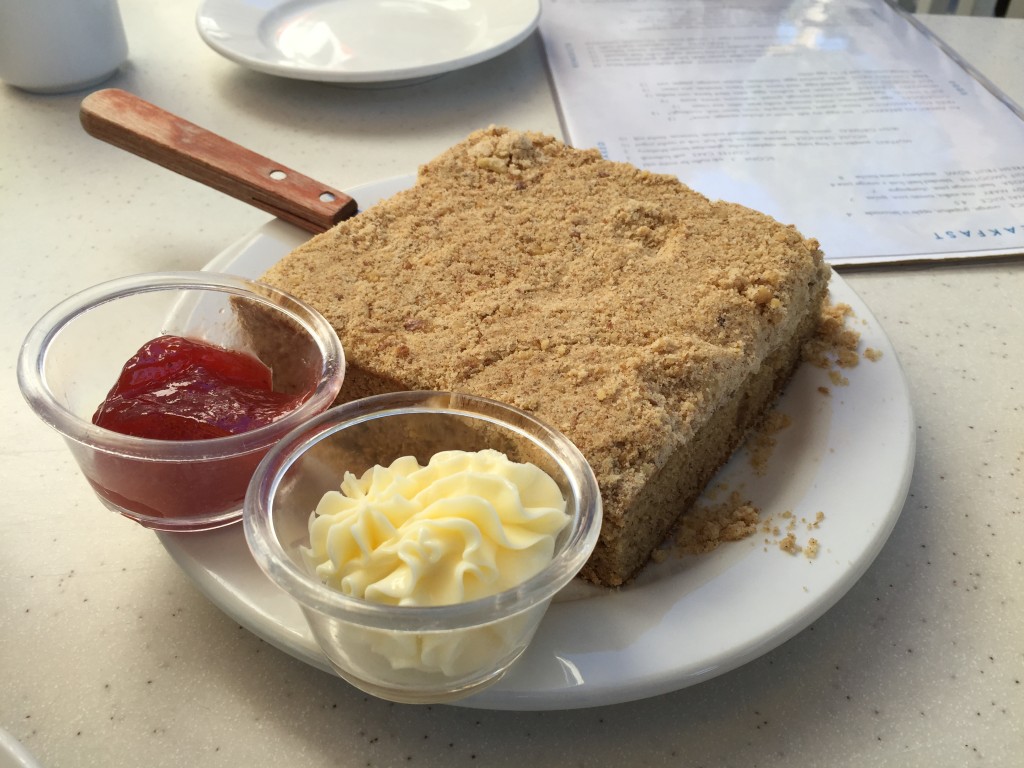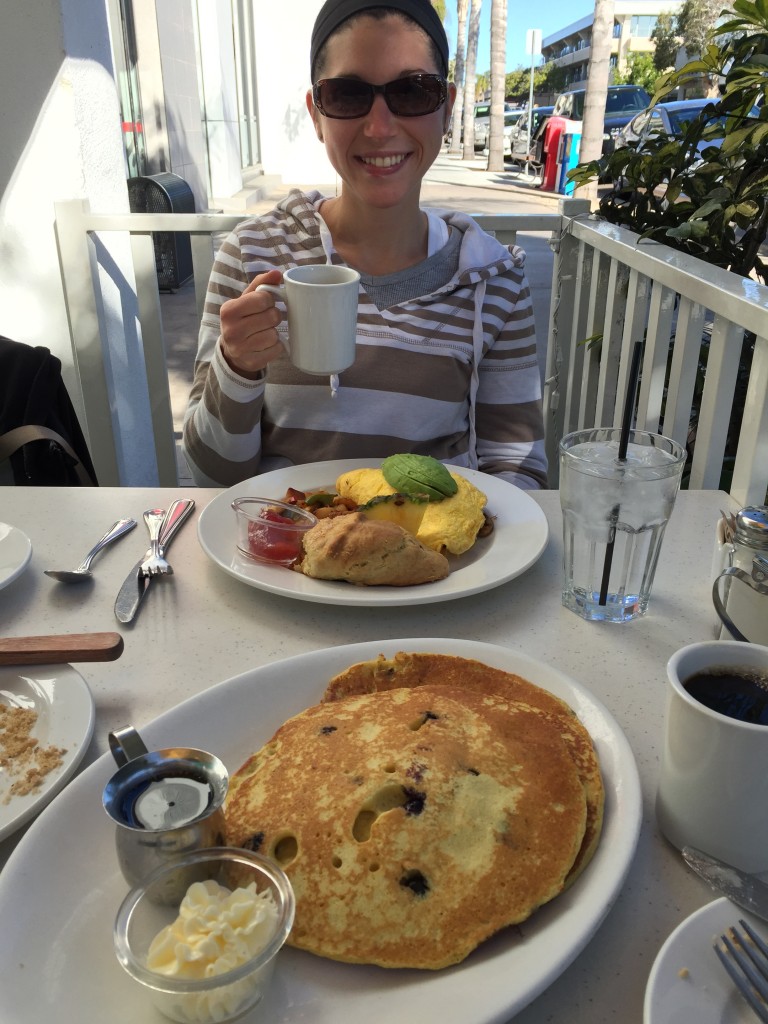 We had to stroll around for a bit to let everything settle, meandering around the area and checking out shops.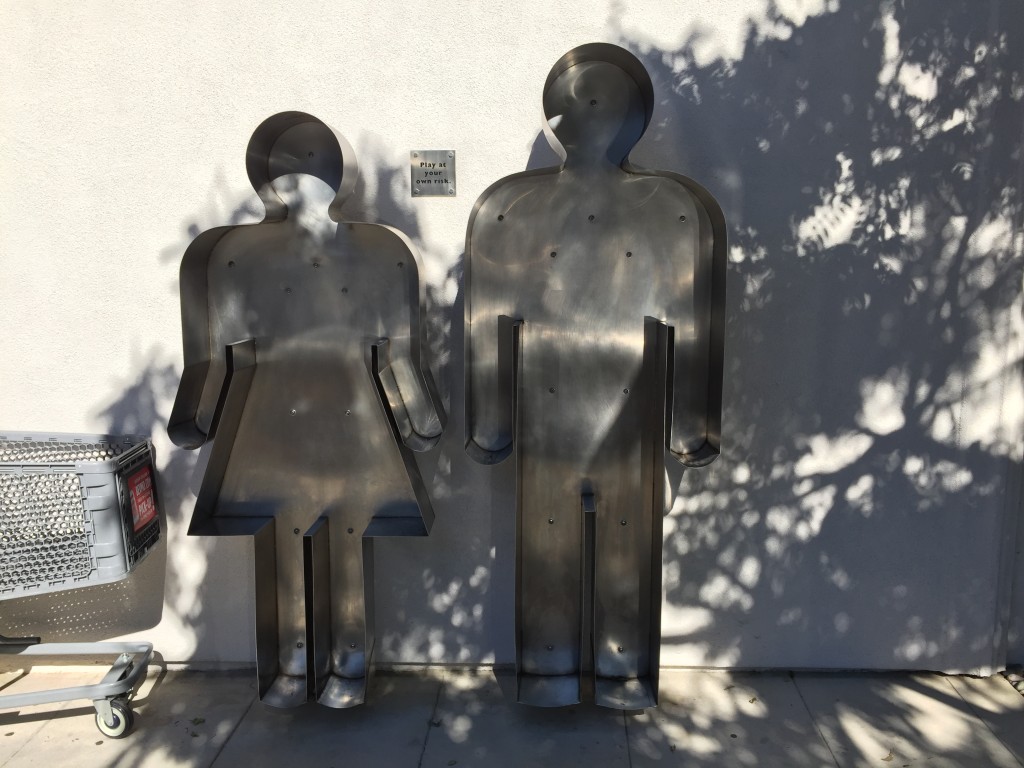 Back at the motorcycle, we headed south, following the shore line down past Mission Bay and on to Coronado "Island". We went past the bridge and headed out across the peninsula to reach it, passing by the Silver Strand State Beach – wow, is it beautiful! Blue ocean and white sand beach… And it stretched for a couple of miles! It's easy to see how delightful that would be if the weather were warm, to go hang out during the day, soaking up the sun and playing in the water. Of course, since it was still a tad chilly and the water is definitely not warmed up, I think we spotted about 5 people out there.
Circled around Coronado a couple of times and then headed across the big bridge over to San Diego. Big bridge, large enough that naval ships can pass underneath it.
We meandered downtown, to the Gaslamp distric. Found a parking spot and walked around for a bit. As always, we just aren't city people and only stopped a couple of places to check them out. Still full from breakfast, we didn't want anything to eat so no point in checking out restaurants (including the BarleyMash that Bill recommended – a friend of the family is a co-owner). So we hopped on the motorcycle and headed back to the RV. Much quicker trip when you're going directly there and not meandering around!
Back home we changed cycle types and headed out for a bicycle ride. Went over to Fiesta Island and made two loops around it. Beautiful place to ride and only a few cars to pay attention to. That's certainly nice! Lots of cyclists and we were passed pretty regularly. We're partially out of practice (and recovering from a cold) and partially they just ride faster than us! (We aren't fast, but we are persistent!)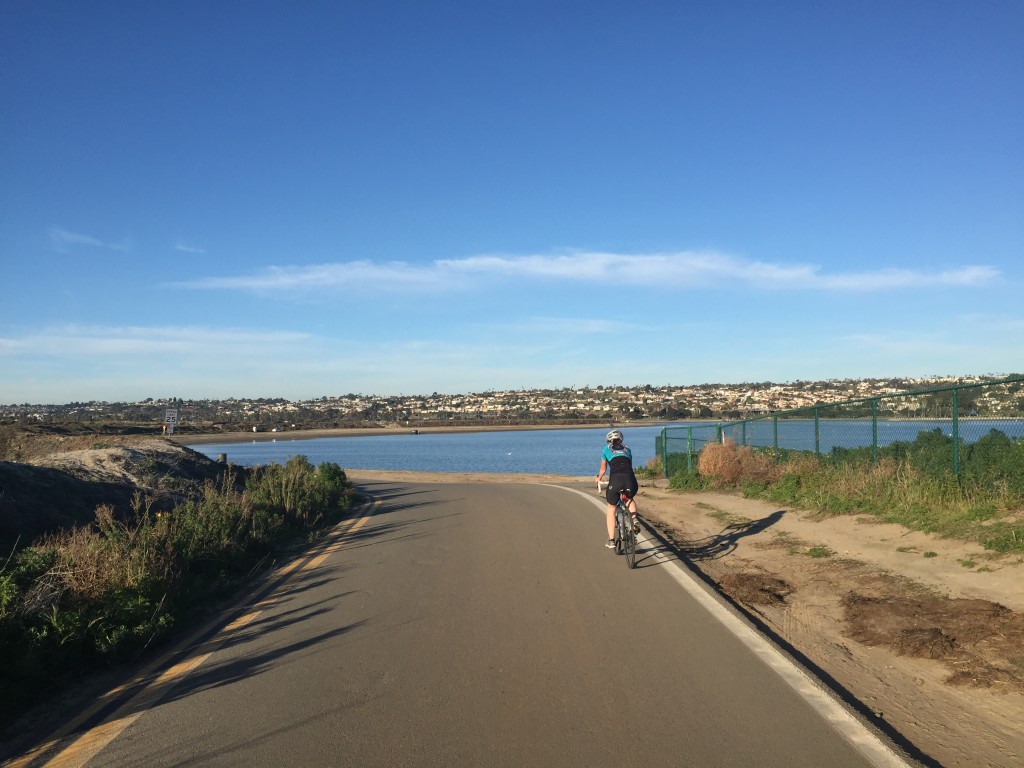 Wrapping up our second loop we head back home. Changing clothes we go for a stroll along the bay, enjoying the view as the sun sets over the water. Can smell a lot of grilling going on – guess we're finally ready for something to eat. 😀 Fix some skillet veggies for supper, play a game, and then time for bed.