(This is a guest post by our very own Ashley!)
Journal entries are just that – the digital copy of my hand-written entries in my journal. If you aren't interested in the daily details of our adventure, feel free to skip on to the next "regular" post.
We wake up, eat a quick breakfast, pack our day bags, and head out to Timberline Trail just down the road via washboard gravel. Close, but not close enough to walk, we take the motorcycle and alas, when we finally make it to the trailhead about 3 miles away, I feel like an egg that has been thoroughly scrambled. Washboard gravel is less than fun on the motorcycle, but although I feel like a bobble-head doll bounncing around the back seat, Matthew seems to have no problem handling the rough road. What a pro!
At the trailhead, we head up! The trail follows the side of the mountain for a while before heading back alongside a creek. As the name suggests, we are following the timberline, however the timber has been victim to the Cascade Forest Fire back in 2008. The trees are charred and desolate, but new growth has sprouted on the forest floor, so greenery and shrubs of all sorts populate the ground.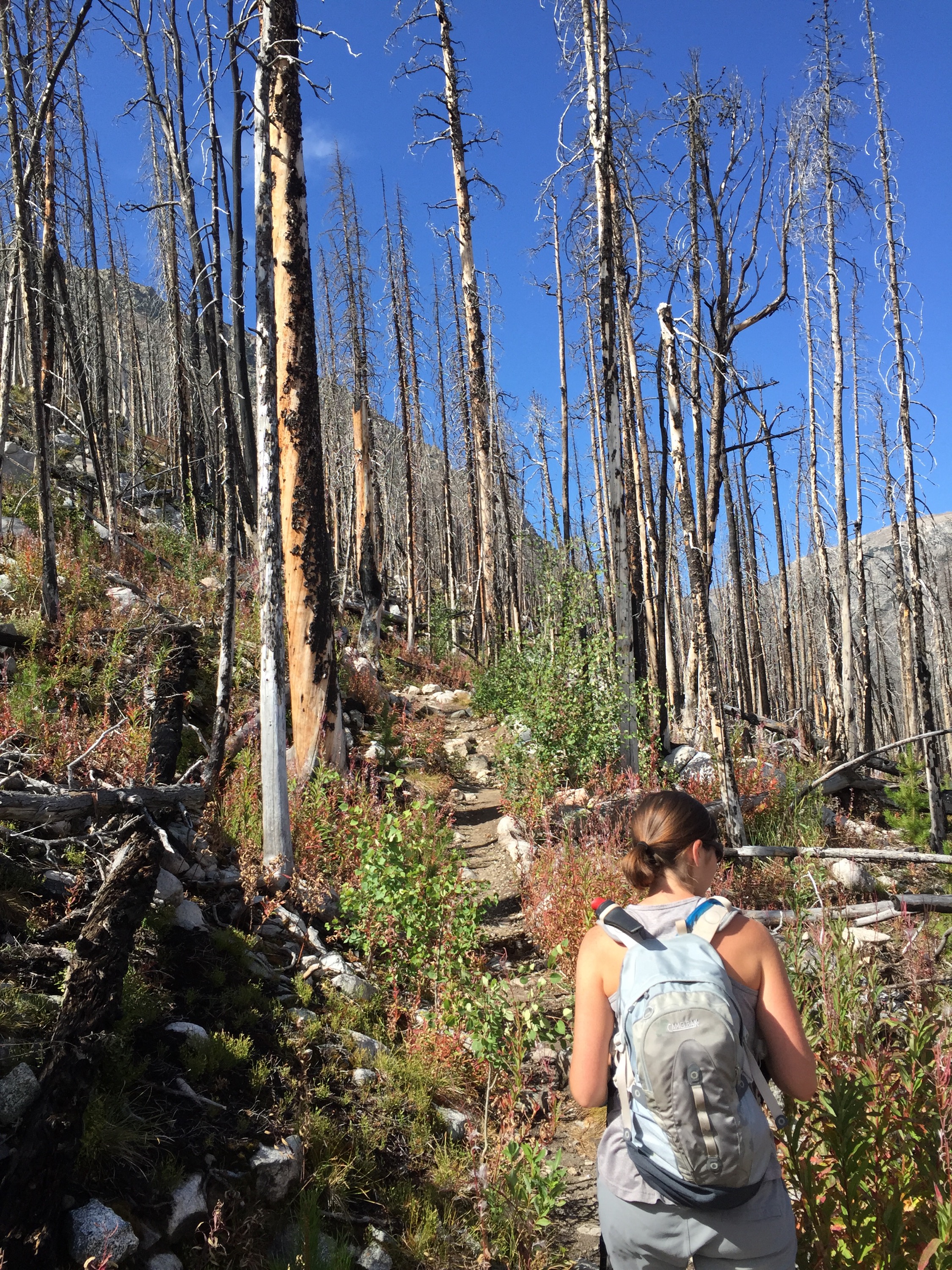 It is a unique kind of beauty; the barren trees allow for grand views of the surrounding mountains as we climb, and huge, white/gray smooth granite boulders are scattered about – some as huge as a cabin – making us stop and ponder how in the world they got there.
We finally reach part of the timberline untouched by the firey scourge and feel as though we are on a whole different trail. The shade of the bright green conifers create a lovely cool breeze and that spicy, warm aroma of pine immediately hits my nose – my most favorite smell in the world – and warms my soul! Matthew notices it as well, but I don't think he appreciates it as much as I do.
We continue along, passing another hiker and chatting for moment – he has his fishing pole with him, for our end destination is Timberline Lake. It should not be far off now.
Making our way across beautiful forests with soft, brown, piney floors we come upon Lake Gertrude, a small lake only 0.5 miles away from Lake Timberline. We stop and admire for a few minutes and then contine our climb for the final destination. The trail begins to crest the hill and flatten.
I get a quick view of the tops of rugged mountains to come and start to feel giddy, knowing the reveal of this lake is going to be spectacular. The air is fresh and the breeze is stronger and colder – sure signs we are almost there! We crest the hill and there stands Timberline Lake in all its clear, sparkling, majestic mountain beauty. Nothing makes me happier or feel more at peace than these beautiful alpine lakes surrounded on all sides by towering giant stone – the feeling is indescribable to one who has never experienced it.
Matthew and I excitedly explore around the shore, trying to find the perfect place for a picnic lunch. We find a spot with great views, relax, eat and continue our chatting. The hiker we passed on the trail is fishing and another couple we saw on the way up have made it and are relaxing as well.
Finished snacking, we sit and soak up the beauty for a while. There is snow clinging to the sides of a few mountains which make us start discussing the origin of this watery wonder. Soon, the fisherman/hiker meanders our way as he fishes and we strike up a conversation. Steve, we discover is his name, has been coming to the Beartooth Wilderness area since the 90s – he comes every year and backpacks/fishes with friends/family. He is an anesthesiologist from St. Louis, MO and once he learns of our story and current adventure has many questions and even takes our picture for his records and story-telling purposes! We thoroughly enjoyed talking to Steve and he gave us some great advice for other trails to traverse in the area.
Chilled by the cool mountain air, we head back down the trail. Some thunder clouds are accumulating and we almost make it back down before it rains, but not quite. About a mile from the trailhead, the dark clouds are just overhead and it begins to rain. It is amazing how nature's colors change and become more vibrant in such weather. The charred trees turn from a bleached white/gray to a magnificent shiny silver and dusted gold. The boulders are no longer just gray either, but swirls of light and dark and some with hints of green and rusty red. The greenery becomes a vibrant green that stands out and can only be describd as lush. Every plant and rock and tree glow with color and Matthew begins to notice raspberry bushes lining the trail with bright little succulent raspberries ready to be plucked – how did we miss these on the way up!
We don our rain gear and as I am getting mine on Matthew begins grazing on the raspberries. I look up from putting my rain pants on, half of the sky has turned bright blue and the sun is happily shining through as it still rains, and what do I see before my eyes but a huge, vibrant double rainbow!! It is so close, I feel like I could almost reach out and ouch it. Matthew, still enthralled in raspberry hunting, has yet to notice. "Look Matthew!!" I say "A double rainbow!" Thoroughly surprised and overjoyed we stand and admire it for a while until it begins to fade. What a gift to see!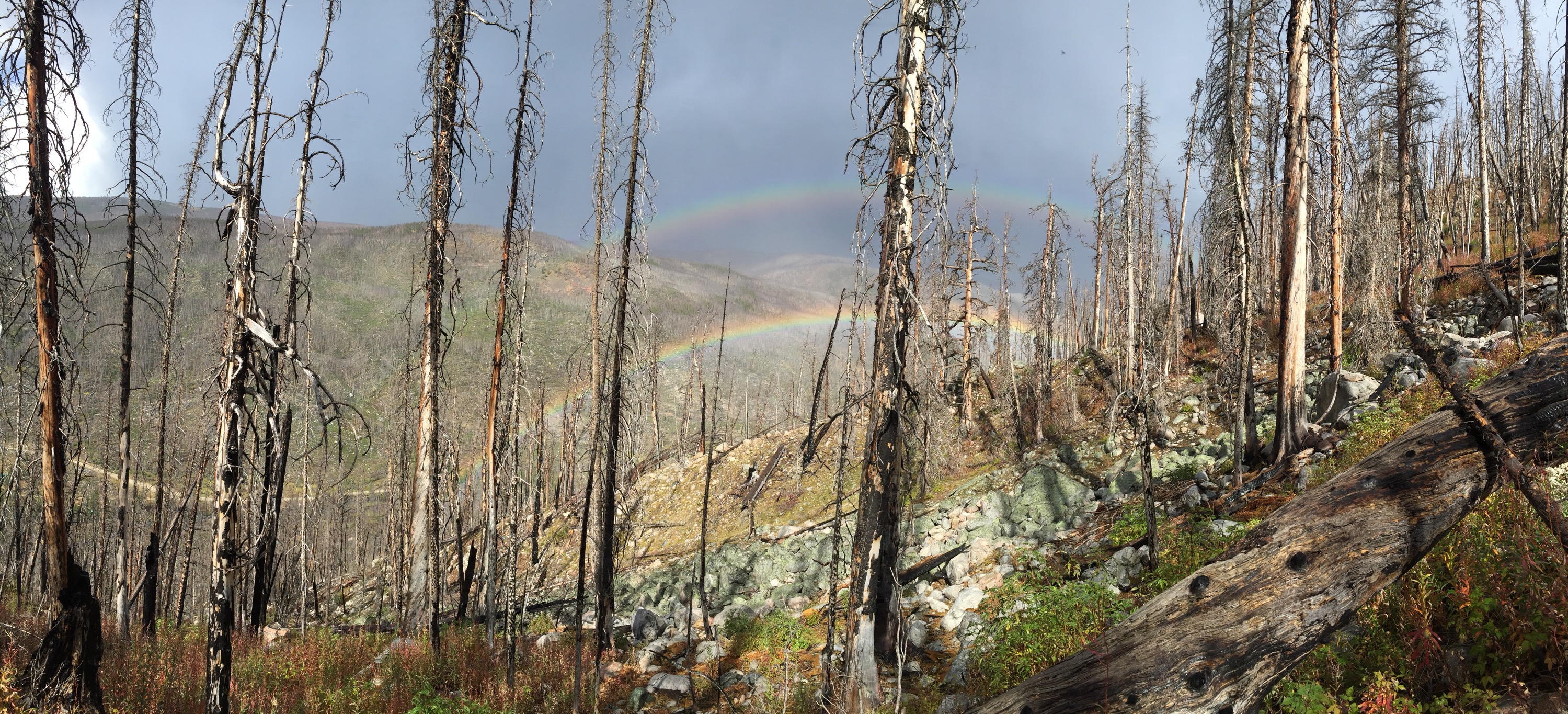 We are back down at the trailhead, ready to hop on the motorcycle and mosey home when I realize the bear spray I carry on my hip belt is missing. I realize I must have lost it when I put my rain gear on and, distracted by the rainbows, didn't notice its absence until now. So back up the trail we go – at least it's only about a mile. We pass Steve coming down but he didn't see the spray on the trail anywhere. A few minutes later we pass the other hiker couple coming down – Huzzah! They found the bear spray and gladly turn it over. Only about 1/2 mile back down the trail and back to the motorycle – Matthews grazes on more raspberries as we go.
We head back home, wash up, and eat home-made foil pack meals cooked over the campfire with a side salad. What a delightful day! Timberline Trail has been my favorite day hike thus far – magnificent scenery, friendly hikers, free raspberries, and a rainbow to trump all rainbows I have ever seen! There are some days when you feel, without a shadow of a doubt, that God is truly watching over you and revealing himself in all his glory – today was definitely one of those days. It is impossible to be submerged in such intricate beauty and not see the hand of some sort of creator behind it.