Journal entries are just that – the digital copy of my hand-written entries in my journal. If you aren't interested in the daily details of our adventure, feel free to skip on to the next "regular" post.
What a tiring day! We wake up early to the sounds of others moving around. So after breakfast we hit the road. Earliest pull out yet (7 AM)!
Out of the Bad Lands and over to the Black Hills. Ashley made a reservation at a campground, French Creek RV, in Custer City that we can use as a base while touring around and visiting Wind Cave National Park and Mount Rushmore. We go pretty slowly up some of the hills on the way.
Arriving at the campground I go to check-in. Our spot is still occupied so we park on the steet and wait for them to finish packing up. There is a paved bike trail so we get our bikes off the trailer and explore a bit of town while we wait.
We stop at the Bank Coffee House and share a delicious turkey, bacon, avacado croissant sandwich and a latte. Fun design/atmosphere for a coffee shop, great sandwich and pretty good coffee. The chalkboard outside was cute: "Friends don't let friends drink Starbucks."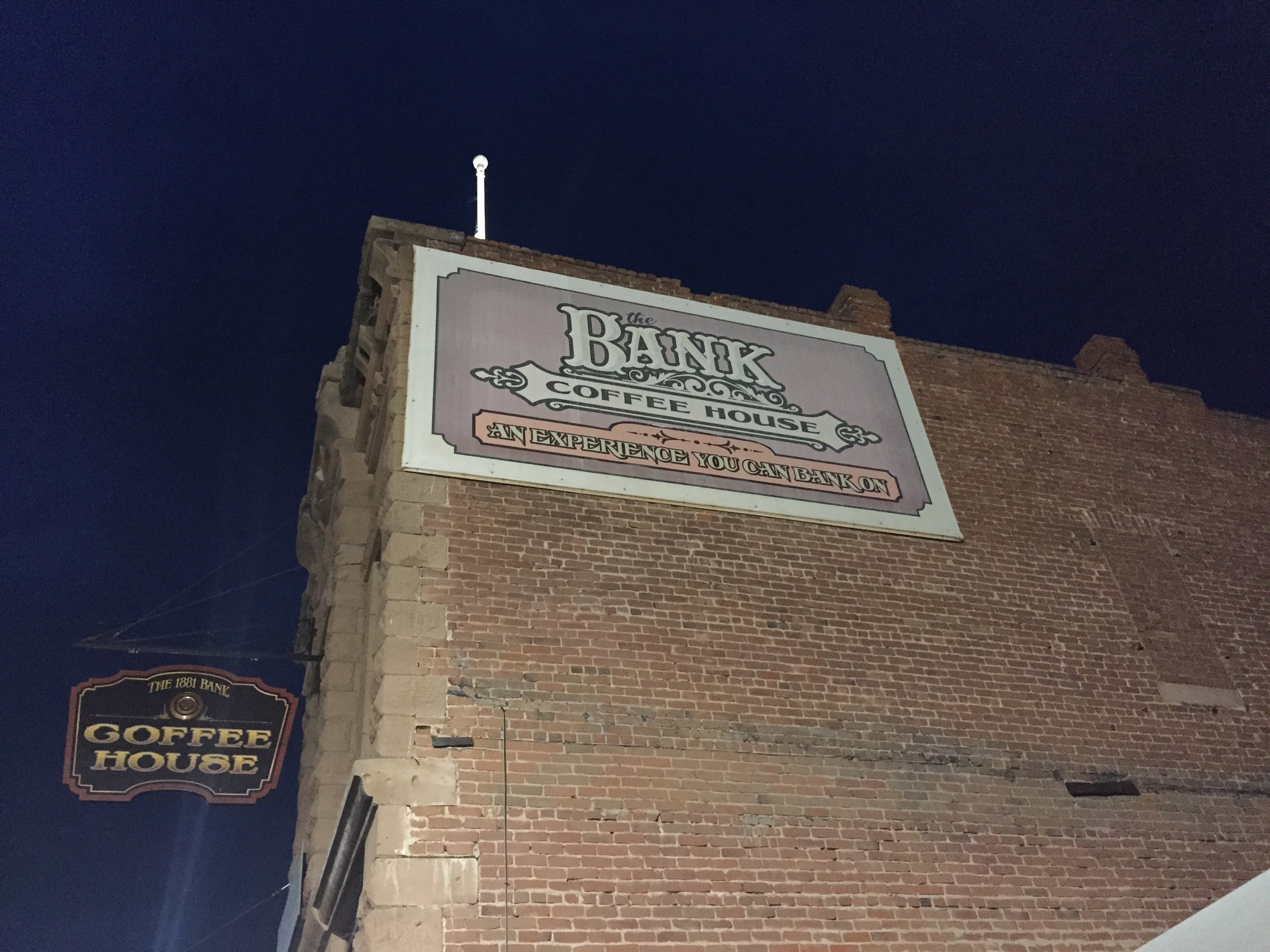 Back at the campground we are still waiting so we go and chat with Fred and his wife. They're on a 6 month journey. we really enjoyed speaking with them. They have been here for a week and are heading out in the morning. They gave us entrance/parking passes for Mt. Rushmore and Custer State Park. They won't be using them anymore and could potentially save us some cash (though I'm not positive, as they're car passes and we're going to be on a bike.)
Our spot finally opens up and we get settled. Time to ride over to visit Mount Rushmore. Except the battery on the motorcycle is dead. Curses! We hook up the charger and head back into the air conditioning while it works. I nap while Ashley reads. After I wake the bike starts right up and we head on out.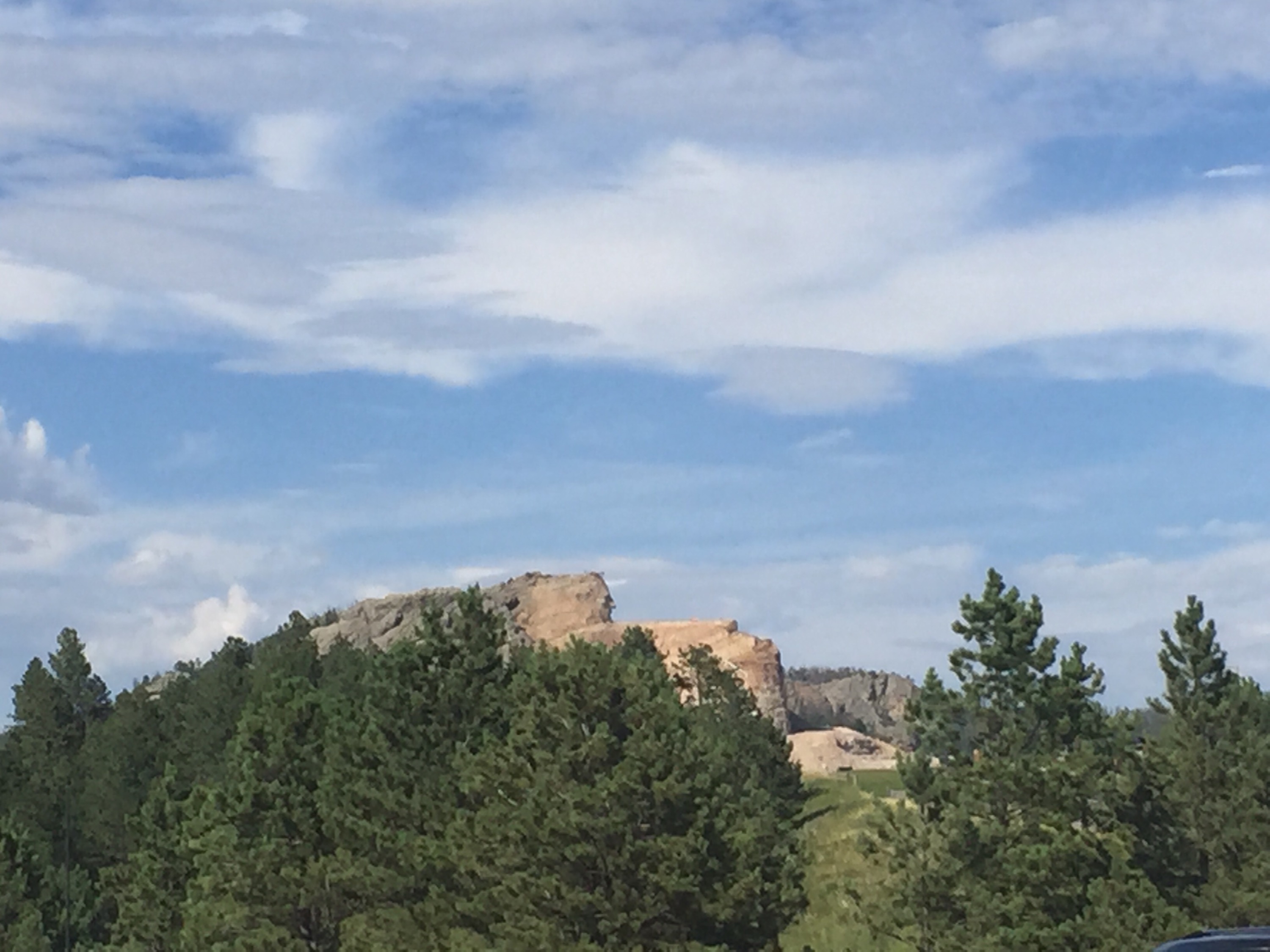 We pass the in-progress Crazy Horse monument and on to Rushmore. Approaching from the back we catch a side view of Washington from a pull-off. A picnic area that we read about offers a commanding view of the backside of the mountain.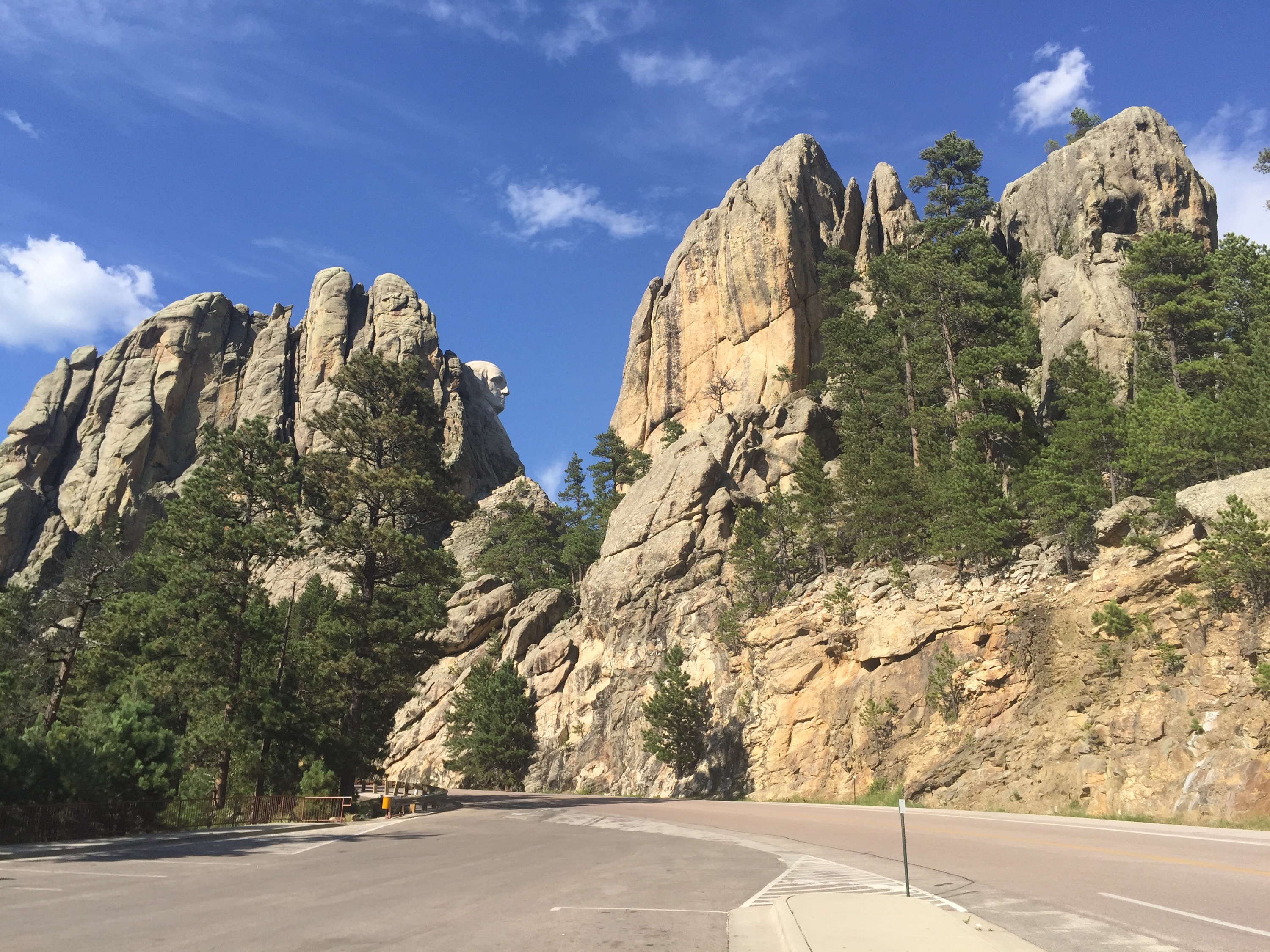 We're in the Black Elk Wilderness. It looks like a lot of fun to explore. Lots of hiking trails along the way, so we'll look into that.
We cruise on past Rushmore and into Keystone, a very touristy town. The only thing that catches our interest is a leather shop. I find a motorcycle jacket that would be an improvement over my current, too-large one. More than we want to spend and a lesser priority than a new helmet so we leave it hanging.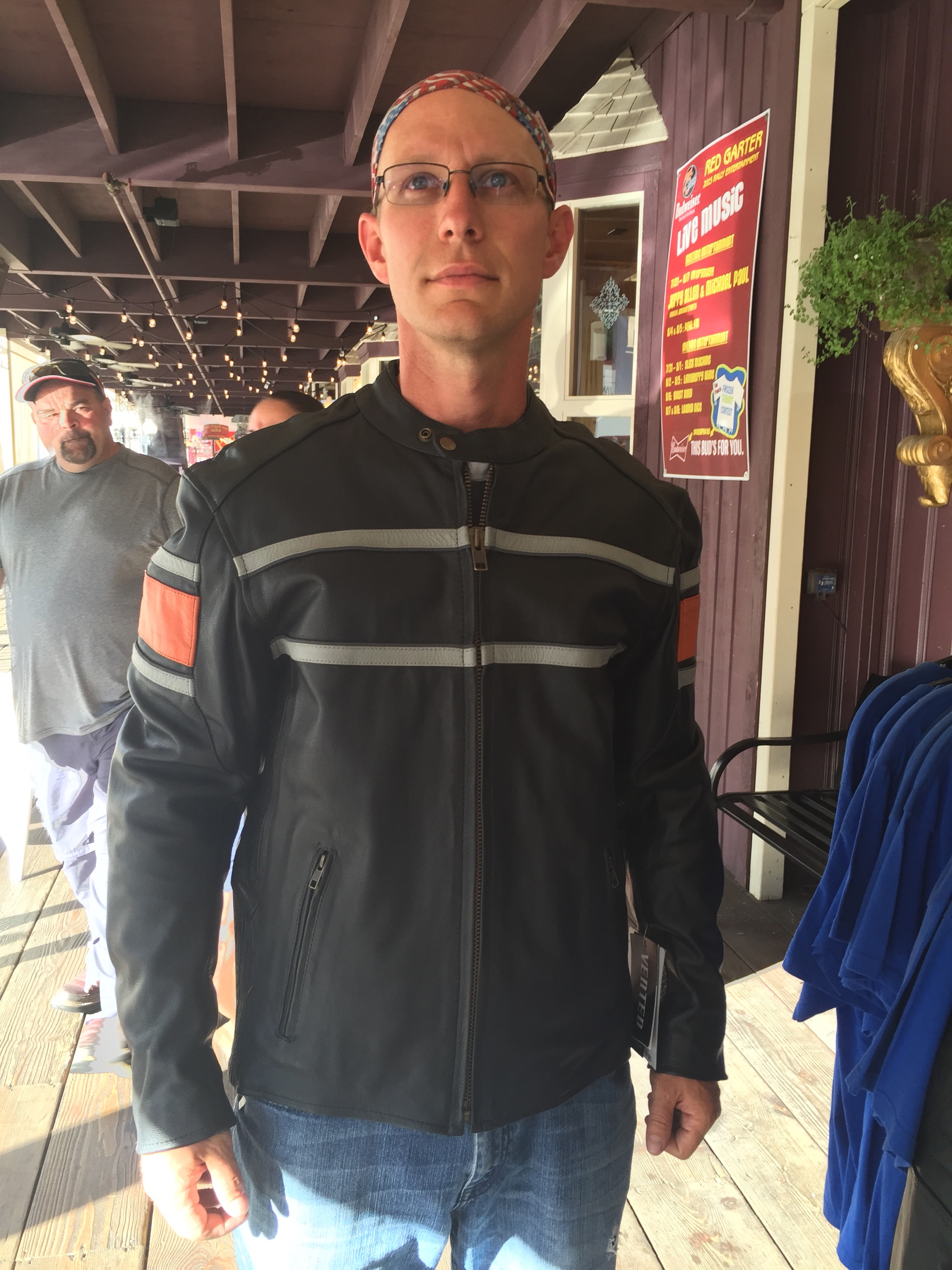 Back up to Rushmore. We stop on the roadside to appreciate the views. After debating, all the way to the stop light at the entrance, we decide not to go on in. I suspect our parking pass won't work on a motorcycle and we have seen the monument.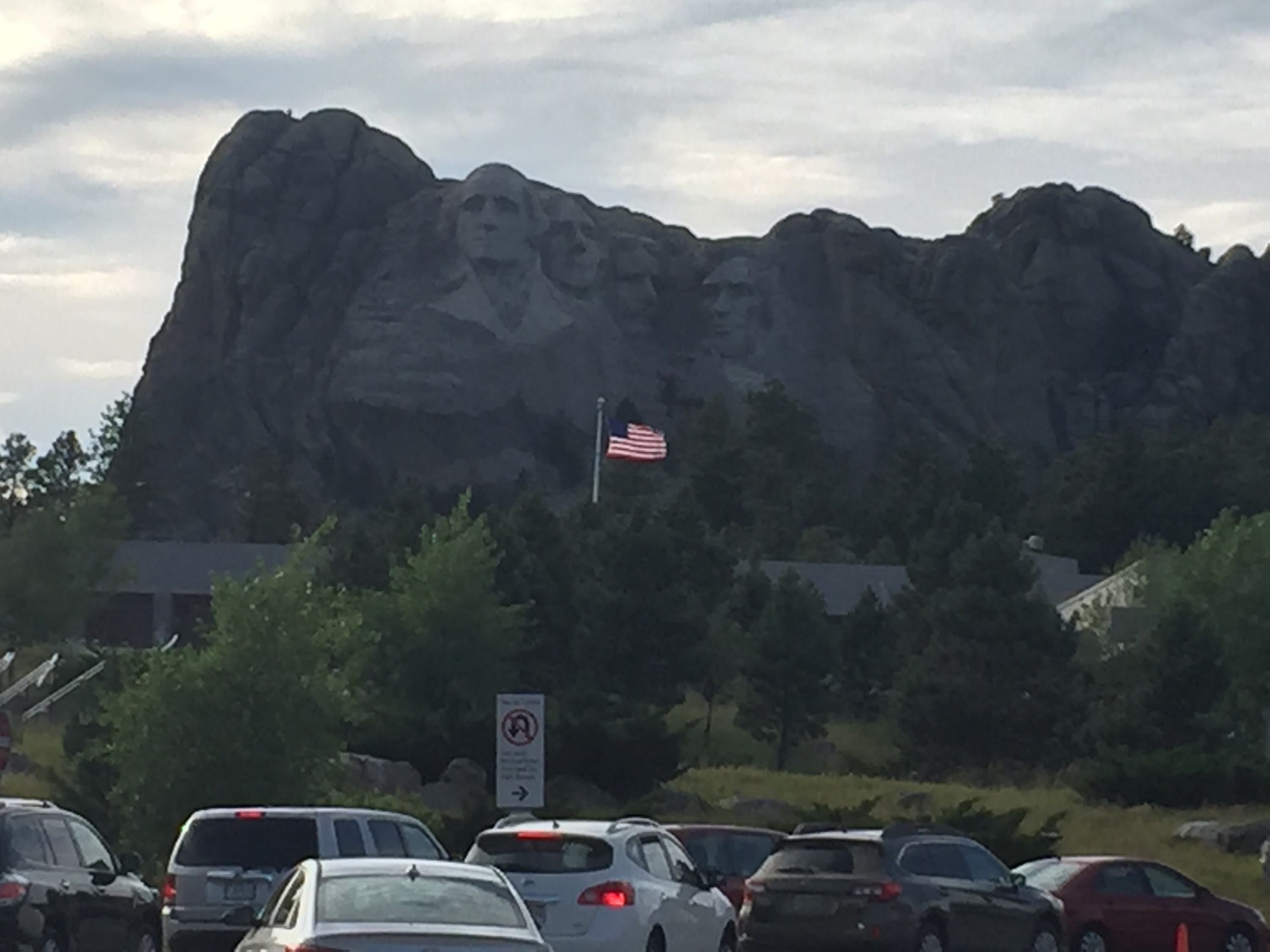 I wonder if we're bad Americans for not being willing to pay to go in. Ashley says we're not, we're bad tourists. And that's definitely true. We don't like crowds, activitely dislike the kotchke shops at tourist locations, and love natural magesty and beauty but only appreciate man-made structures.
We head back home. The ham in the crockpot smells amazing as we open the door. We change clothes and walk over to the grocery store for a wine to go with supper. I pick up a root beer and a sarsparilla to compare.
Supper was delicious and very filling!
As Ashley got ready to shower, we suddenly heard what sounded like water exploding under the kitchen sink. I run outside and turn off the water at the faucet. Apparently, due to some combination of water pressure and rattling loose during travel, a line to the secondary faucet in the kitchen sink came loose. Water went everywhere, soaking the cabinet and wetting everything in it. We pulled everything out and Ashley dried it while I put the faucet back together. After a couple of tests it was working fine and seemed dry. We left everything out to air dry over night. Phew, at first we were worried that a pipe had burst, so although inconvenient, we were happy the issue was simple and easily fixed.
Showers for everyone and then an over-due bed time.