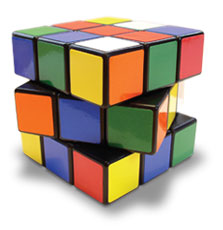 Do you remember these things? I had one when I was younger and finally, out of frustration, put it back together by peeling off the stickers and putting them where they needed to be.
Recently, I decided that I wanted to finally "beat" this toy and requested one for Christmas. "It will be a good way to pass time during my flight to Ireland," I thought. I struggled with it for some time before giving up, frustrated once again, and tucking it back into my carry-on bag. After arriving in Ireland, I placed the mixed-up cube on my desk. After seeing it every day for 3 months, I decided to take up the challenge once again. With some help from the good ole internet, I quickly discovered that there are many ways to solve the cube and set about learning one of them.
You might see this as cheating (I did initially), but I am pleased with the results. I learned from others and applied this information to my own situation. My cube has been solved a number of times now. I still have some trouble remembering the final steps required, but I only started practicing over the past weekend and have not yet focused on those steps.
What un-beaten challenges do you still have? This can be anything that you want to do but have never completed. Is there a book you always wanted to read, a race you want to run or a daytrip you want to take? What are you waiting for, go do it! Don't make excuses! How long have you been making excuses and have not completed your challenge? You don't want that to continue…
Many challenges don't have to be finished in one setting. Work on it during your lunch break. 15 minutes a day quickly adds up. Do one small task/part every day and you will be amazed at how quickly you finish.
Start right now! Take the initial step right now. Determine the dates for your race (giving you a deadline to work towards), order that puzzle or book you have never completed, or make a list of equipment you might need on your day trip. Don't make excuses and keep working toward beating that old challenge!