As with anything in life, our path to buying a motorhome, remodeling it, and then moving in as our primary residence has been one full of twists and turns.
Looking back Ashley and I have come to realize that we don't like sitting still. Between traveling and living in different places we have always been on the move and grow restless when we have been in one place too long.
9 years ago, Ashley and I connected over shared ideas about adventure, travel, and life.
8 years ago, we moved off to school and began exploring the Daniel Boone National Forest in central Kentucky.
We discussed the possibility of buying an RV and living in it as a way to mitigate costs while students
7 years ago, I married my best friend at a destination wedding within the Red River Gorge, a subset of the D.B. National Forest. We decided against buying something and let a short-term apartment, as we would be leaving in 6 months to study in Ireland for a school semester.
7.5 years ago found us living in a converted garage in Maynooth, Ireland while we attend school and jaunt about the country on weekends.
6 years prior, we returned from Ireland, drove to Colorado at my dad's passing, packed up his things and returned to Kentucky. We drove up to Lexington for a week's worth of apartment shopping to prepare for the upcoming school semester.
The next 4 years find us bouncing around apartments in Lexington as we work at various companies and finish our degrees. A trip is taken down to Donna, TX to visit Matthew's grandparents. We buy a motorcycle as a second vehicle. Ashley sneaks away the last summer to join family on a 7-day backpacking trip in Colorado (sadly, Matthew could't get off work). We go and visit Ashley's oldest sister in the Seattle, WA area.
With the beginning of our careers looming we debate where to live. Other than visits, we have always lived in Kentucky. While it is a beautiful state, with much to offer, our wanderlust has by no means been quenched and we are eager to see more of the country, and world. However, we also enjoy spending time with our families, the core of which happen to live within just a few miles of each other.
2 years ago, we pack up everything and return to our home town, leaving favorite restaurants and great friends to live close to our families. Ashley is able to transfer from the hospital she had been working at for two years to another one within the same network, beginning her career as a nurse. We sign a two-year lease, agreeing with each other that if we have fallen back in love with the area we can settle down once the lease expires. However, the conclusion of the lease also signals time for us to mosey along if the urge to travel is still strong.
1.5 years ago find us settled in place. Both of us have jobs, one of us with a company we love and that could be good enough to consider retiring from. We picked up another car. We have discovered new restaurants and coffee shops and have a routine of visits with our respective families. There was another backpacking trip in Colorado – and Matthew was able to join on this one. We take an impromptu trip to the Bahamas for a vacation.
1 year ago, we begin looking at houses for sale. It feels like time to move. We want something that we can decorate and really make ours. Years of renting make us ready to own.
The houses and property that catch our interest are more than we want to pay. Maybe we can just buy land and build our own home. Ashley's dad did just that and we love his house. So the search for land began. Alas, nothing seemed to match our respective desires.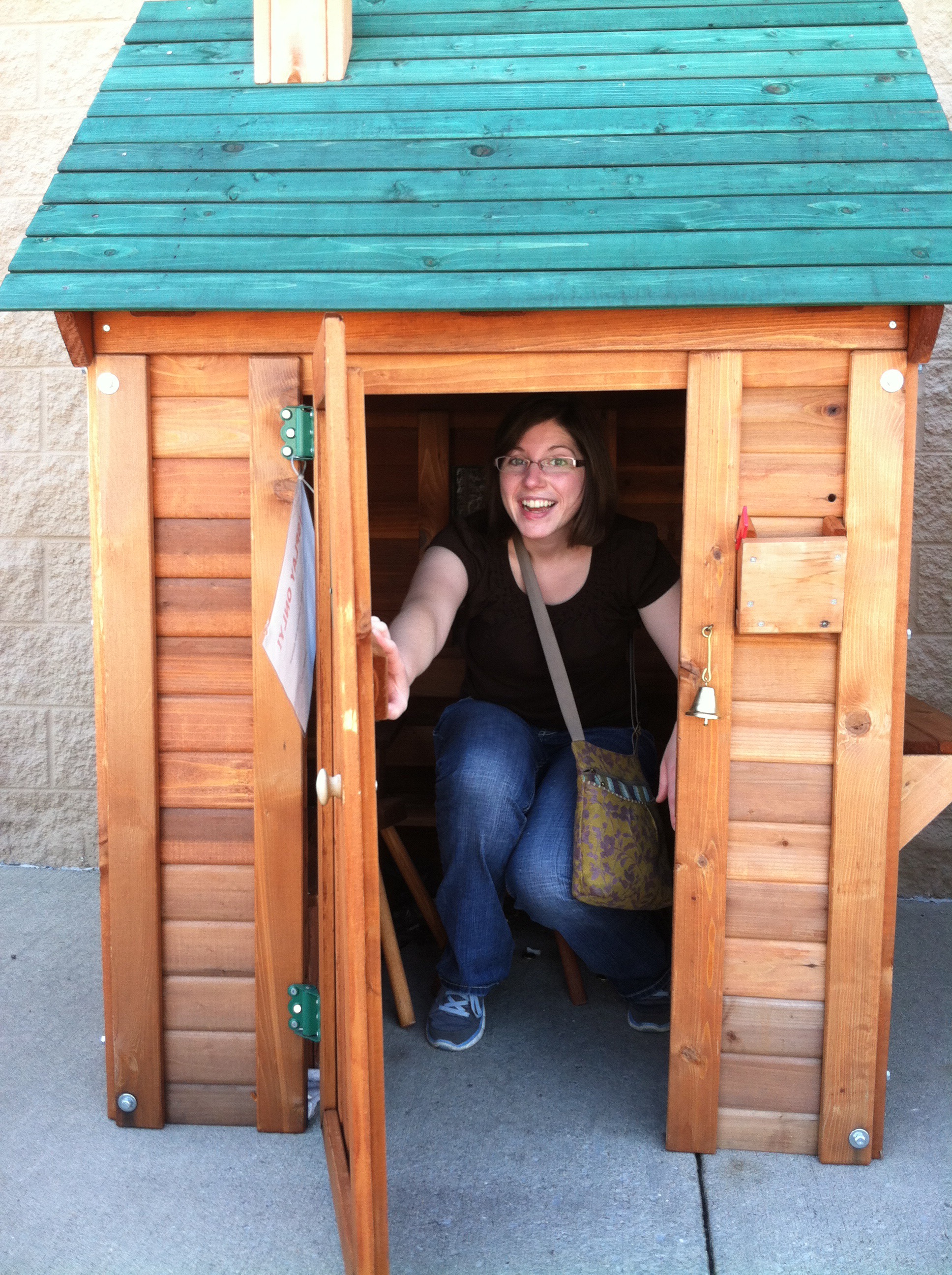 10 months ago it occurred to us that perhaps the land isn't the important part. Maybe we could just build a tiny house and rent a spot from one of our parents (or bounce between them in an attempt to not wear out our welcome.) Research began. We settled on tiny house plan that we both loved. It was big enough to feel spacious and small enough to be economical – something we felt confident that we could build and since it was on wheels it was portable so we could travel and take our home with us! But something just wasn't right.
8 months ago, after lots of frustration with her employer, Ashley dropped down to part-time. She was much more relaxed, had more energy, and even began pursuing some personal interests.
I read Chris Guillebeau's newest book, The The Happiness of Pursuit and it clicked. A tiny house would be ours and would allow us to travel while having our own home with us. However, while they can be moved, it doesn't seem like they do well when they are frequently mobilized. An RV, however, is made to do exactly that.
After much discussion, we agreed. A tiny house has some advantages over a motorhome/RV, and is a project for a future day. A motorhome would allow us to travel around the United States and explore the different places that we might want to live.
Building on the idea of the quest, presented in The Happiness of Pursuit, Ashley decided that she wanted to see every National Park and National Forest in the continental United States. That almost covers every state, so I added visiting all of the lower 48 to our todo list.
Now the idea stuck with us and we began figuring out what we would have to do to make it a reality.
We decided not to wait until "later", influenced by the passing of loved ones who didn't get to live out their dreams.
6 months ago we started looking at Motorhomes and debating how to bring what secondary vehicle along with us. My mom and step-dad had a class-C that they'd used on a handful of trips over the past 3 years. They offered to let us stay in their yard for a week so that we could see what we liked/didn't like about RV life (important information to have, seeing as neither of us had stayed in an RV since we were wee children). We enjoyed it so much that we stayed for a second week, and then offered to buy it from them. They had been discussing upgrading and we worked out a deal.
5 months ago we pulled our new-to-us motorhome into a workshop on Ashley's mom's property so that we could begin the remodel that we had in mind. I removed the couch.
3 months ago I put in my notice at work. There was much crying and gnashing of teeth. I list my car for sale.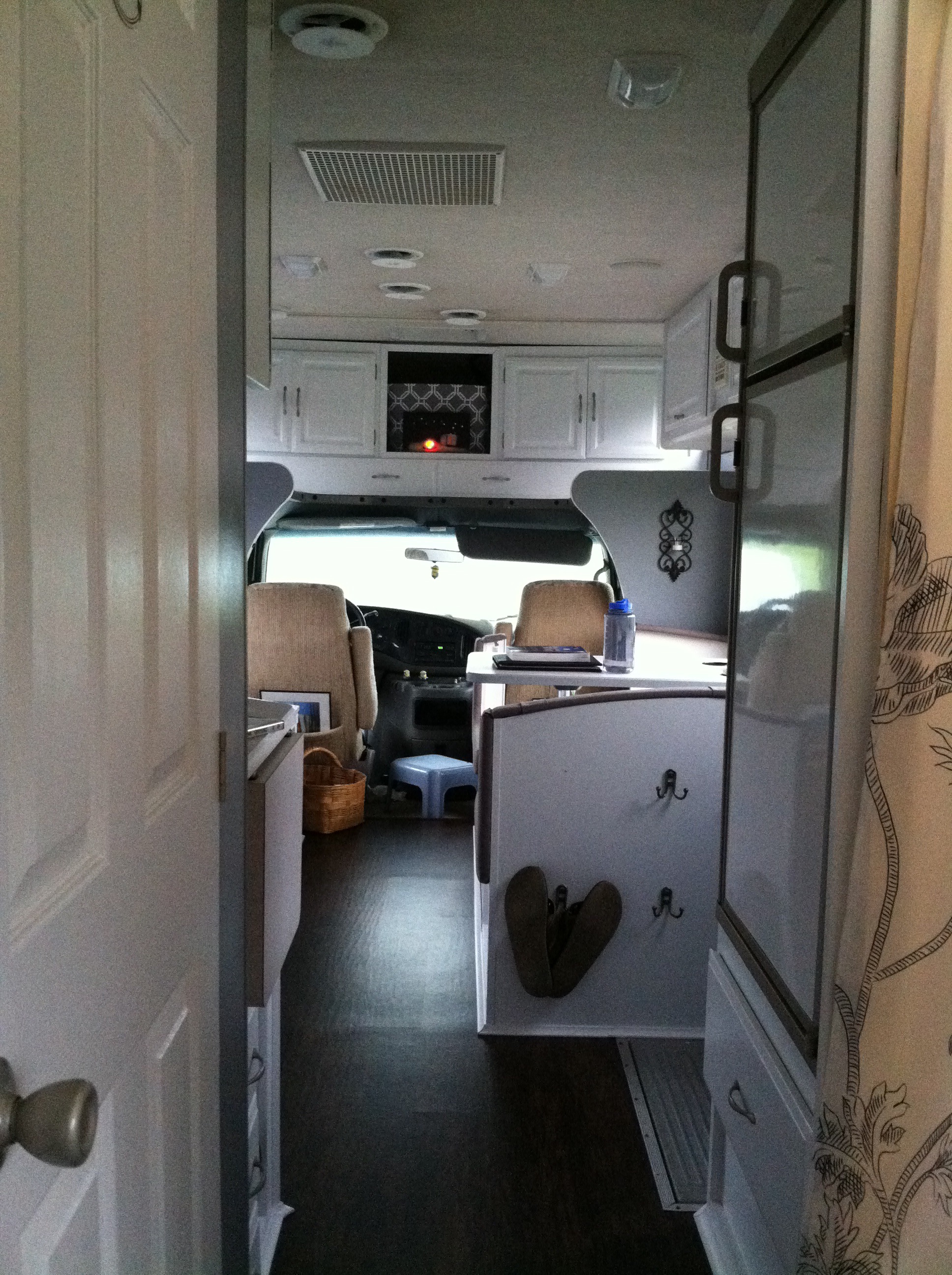 2 months ago we began actually remodeling the RV and paring down our belongings. We decided to go for a full remodel after much debate. We might be hurting the resale value if we tried to sell it back to a dealership, but we don't ever see that happening. If we sell it, it will be directly to an individual, and they will appreciate and value the upgrades that we have done. Painted all of the walls and cabinets (with much help from Ashley's family), replaced the carpet with linolium wood flooring (which is waterproof) and began building a window seat with storage underneath to replace the couch. We even managed to squeeze in a yard sale.
5 weeks ago we were still working full-steam on the remodel after work hours, living at Ashley's moms house to help minimize commute times. We reupholstered all of the cushions and my mom so graciously made us new curtains (with love).
4 weeks ago we moved the RV to our apartment and began moving into it. A weekend project lasted two as I struggled to pare down a lifetime of pack-rat-itis to fit into our new home. The second car finally sells. We hold a final yard sale.
3 weeks ago we migrated back to Ashley's mom's house and moved into the motorhome full-time. We change plans for a support vehicle and begin searching for trailers. Our list of small upgrades/changes may never end. I pass off all of my duties in my final days at work.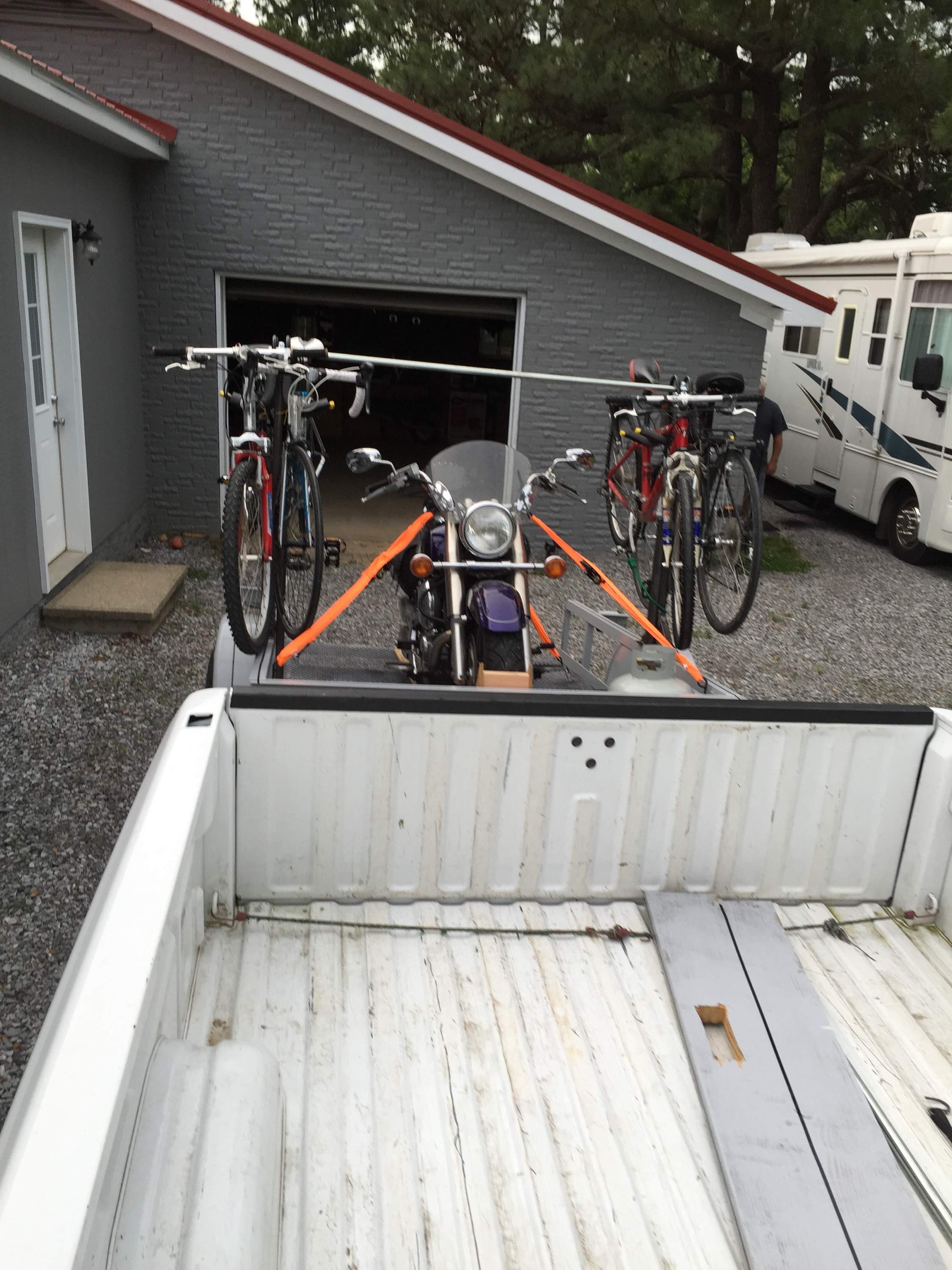 2 weeks ago we begin preparing for the surprise send-off BBQ planned for the weekend. We buy a trailer and my step-dad builds a bike rack attachment for it at his house while I stand by and hand him tools. It doesn't work as planned. After a night's sleep we come up with a modified solution. Motorcycle chocks are built. We load the motorcycle and bicycles on it and take it on a test run to get it over to the motorhome. The BBQ is a delicious success!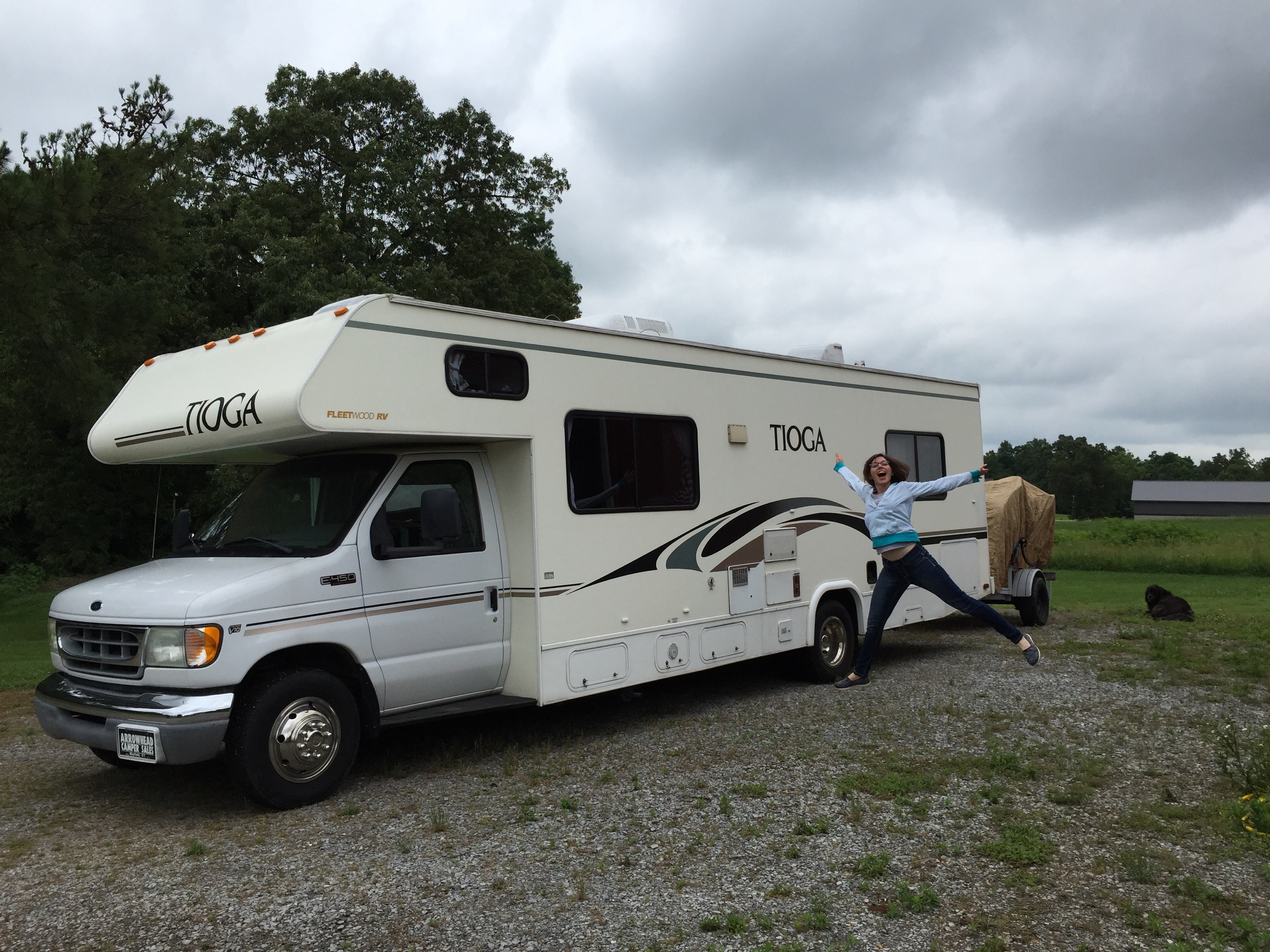 1 week ago we hit the road, off to explore the world around us. We love our new home and the opportunity that it provides us!
This post vastly simplifies the process that we went through. There was much debate throughout each of these steps. Comparing options, researching solutions, seeing what others have done, etc. A number of issues were revisited multiple times. Sometimes a decision was made and external factors caused us to change directions mid-process.
Few, if any, adventures have straight paths that lead to them. Much of the fun is the journey!